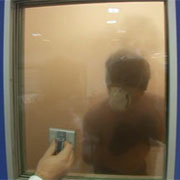 On the eve of the Cheltenham Festival, the race organisers are battling to repair the storm damage after ferocious winds have been bashing the West of England. Cheltenham is one of the biggest events in the racing calendar and for one of the most famous jockeys, Tony McCoy, a little storm damage has been the least of his problems.
McCoy fractured two vertebrae in a fall two months ago and things were not looking good. But last week, the British Horseracing Authority gave him the green light to race at the festival.
A miracle?
Well maybe. The newspapers have been full of reports that McCoy has been undergoing a healing technique called kriotherapy where the customer is placed in a chamber at -130 C for a few minutes. It has been fantastic news for the owners of the Kriotherapy Clinic as the story has hardly been off the racing pages for weeks now.
Sky News tells us,
It has previously been used by international rugby players, footballers and jockeys and its reputation is growing. Kriotherapy, popular in Japan and Poland, works by stimulating the hormone system and enhancing blood circulation, leaving the patient feeling extremely alert. In addition to helping recovering athletes it has been used to help people suffering from depression.
McCoy has been enjoying this freezing treatment twice a day for a while now. We are also told that,
Kriotherapy expert Dr Anthony Soyer believes that the treatment effectively shocks the body into getting better.
Dr Anthony Soyer is also an expert in a "holistic and an integrated approach to Cancer treatment" and works at a clinic that specialises in,
treatments in Acupuncture, Chinese Herbal Medicine, Electro-Acupuncture Diagnosis, Homotoxicology (Complex Homeopathy), Integrated Medicine and Shiatsu – specialising in the treatment of low-grade bacterial, fungal, parasitical and viral infections.
Marvelous.
Well, good luck to you Tony. I hope my money is safe with kriotherapy. Hot Tip on Cold Cure?