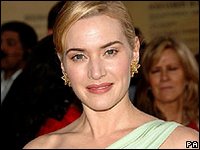 It pains me to write this, but I have a nasty feeling that Kate Winslet might have been to visit a quack. I guess I ought to be careful as she has just won a 'substantial' settlement from Grazia magazine after they printed outrageous allegations that she had been to visit a 'diet doctor'.
Now to be fair to Kate, she has been outspoken, and rightly so, over the media's obsession with stick-thin models and actresses. The thought that she was overly concerned with her weight might make her look like a hypocrite. The magazine has now fully accepted that she went to the clinic over a 'neck problem'.
What has been missed out by the press is that this clinic is The Chinese Healing Institute on Wilshire Blvd. Santa Monica (9 Canards). The clinic appears to specialise in acupuncture and 'herbology'. I wonder just how that neck problem was treated? I really hope it was one of Dr Pan's special massages.
Dear Kate. I love you. I love your work, and I wished we had married. And I also support your stand on weight issues. But, how about taking a stand on other aspects of clear thinking about health and science?