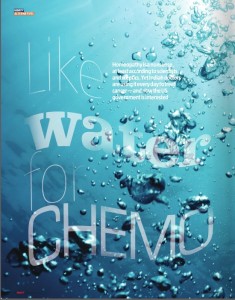 Dr Michael Fitzpatrick, a trustee of Sense About Science, has written an article, in online magazine Spiked, criticising the detractors of magazine What Doctors Don't Tell You.
In the article, Even Quacks Must Have Free Speech, Fitzpatrick says Simon Singh and blogger Matthew Lam are wrong to call for the 'consoring' or restriction of the distribution of this "fundamentally silly magazine".
The argument appears to be one of simple free speech: that no matter how much we dislike the contents of the magazine, the authors still have a right to publish it and we should not get in their way. He says,
No matter how stupid or irresponsible WDDTY's articles are, it is an important matter of principle that we uphold its right to publish and distribute them. We in turn insist on our right to challenge and to expose what we consider are its stupid and irresponsible articles. Let the public decide.
Fitpatrick sees the attempts to have High Street retailers stop selling the magazine as patronising to the public and not the way scientific disputes should be debated.
From Lam's condescending perspective, the general public and readers of supermarket magazines are mere passive dupes of propaganda who need the protection of an enlightened elite. But this 'not in front of the children' approach is no way to deal with scientific controversy.
Now, Michael Fitzpatrick is no friend of Lynne McTaggart. Indeed, he has been at the forefront over the past decade or more at dispelling the insidious myths about MMR and vaccination and exposing how Andrew Wakefield was wrong. He supports Sense About Science, which must be horribly confusing to WDDTY, and I enjoy a glass of wine with him once a year at SaS events. So, we must take his arguments seriously. Indeed, I doubt there is anyone engaged with exposing WDDTY who has not thought through this issue.
Some years ago, a hiker's magazine ran an article on tips for climbing Ben Nevis. Unfortunately, the issue contained an error about what bearing to take from the summit if the fog came down. If hikers had followed that bearing it would have quickly imperiled them and put their lives at risk. I understand there were attempts by distributors and stockists to withdraw the magazine and a correction was printed in the next month's edition. That is the responsible approach for all involved.
Now, WDDTY habitually and systematically prints information that is misleading, error strewn and could put lives at risk if followed. In fact, the only thing in the magazine I actually trust are the date and price on the front cover – but even then I check. Why should the editors, distributors and retailers not be taking steps to stop such dangerously misleading information reaching consumers? What it inherently different between a climbing magazine and this pseudo-medical magazine?  Does being systematically and consistently misleading cause less of a problem than being rarely in serious error?
Fitzpatrick claims that "this sort of nonsense should be treated with derision – not as the occasion to send in the science cops." Perhaps it should just be treated wit mockery. Perhaps it is so obviously nonsensical that we should not expect people to take it seriously.
If the shops were stocking What Hikers Don't Tell You perhaps it would be easy to deride. If the magazine continuously nitpicked at tiny errors in Ordnance Survey maps and instead uncritically espoused the use of divining pendulums for navigation on moors, we might laugh. If it railed against the evils of Karimor and Berghaus and instead recommended carrying lucky crystals to keep bad weather away when you were on Dartmoor, then perhaps we would deride. But this parodic advice is no more bonkers than WDDTY devoting this month's issue to telling its readers that cancer can be cured with magic water.
As Lam points out in his response to Spiked, the problem is that WDDTY is not presented as some sort of crystal dangling,  patchouli and purple wearing hippy magazine, but as a serious addition to scientific debate about treatments that the public may not be hearing about,
I can assume that Fitzpatrick has not recently followed the WDDTY press releases where they repeatedly claim that (1) they report on scientific evidence and (2) they have researchers that check for accuracy and validity of their claims.  If this is the case then they would be more scientific then journalists and editors from other media outlets and thus, believe that they have scientific credibility to back up their articles.  It has been shown on many occasions that this is not the case.  It is commonplace for WDDTY to use references that don't back up what they are claiming and misinterpret or misuse statistics.  I have also shown how they have just made up quotes from researchers without their knowledge.  This makes WDDTY more dangerous than a sensationalist health piece in a newspaper because they are attempting to appear scientific and be a trusted source on what they report.
Like Michael Fitzpatrick, I trust the public to make good decisions – most of us are capable of that. But all of us are capable of making very bad decisions if we have been systematical deceived by sources of information we thought we could trust. It is the context that WDDTY makes its claims that makes it so insidious. That context is its insistence on being based on well researched science and then sold through mainstream retailers.  If it was perched on a shelf in a health food shop in Hebden Bridge or Totnes, surrounded by food that tastes like cardboard and fading adverts for the local sacred circle shamanic warrior and goddess workshops, then I suspect that none of us would worry that the magazine's content was going to distort someone's decision making capability too far from where it already is. Plonked in an aisle in Tesco, 50 feet from a pharmacist, and it gains an expectation of authority that it does not deserve. And in that context, may well do harm.
So, it needs to be said once again. No one is trying to silence Lynne McTaggart. No one is trying to ban the magazine. We are asking retailers to make a balanced choice: between the fairness to all publishers to provide a platform for their writing and a moral consideration that in doing so you are not harming people.
One might argue that the same shelves are choc full of errors, misleading claims and anti-science. And perhaps they are. Again context and intent are important. The hikers magazine corrected itself. Newspapers may print nonsense – but they also print very sound articles: their readers are genuinely exposed to views and evidence that aid debate and choices. Not to say that it is perfect, far from it. But WDDTY appears to people like me to be irredeemable, not interested in accuracy, but only is misguided agenda. It has not incentive to correct itself if an error appears. Indeed, such a thing would undermine its very reason for existence – to provide that facts that other are hiding or getting wrong. It cannot flirt with fallibility.
It is indeed an important matter of principle that we uphold the magazine's right to publish, but it is also an important matter of principle that we do not mislead people into making dangerous decisions. That is the balance that needs to be struck.
This month's edition on homeopathy and cancer can only increase the number of very bad health choices being made by people. It will do harm and may kill. I do not think that free speech would be harmed if retailers were to say that they were going to have no part in that dangerous publishing venture.