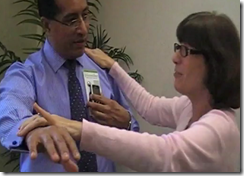 There is little industry of companies that like to sell devices and remedies to protect you from the evils of mobile phones and Wifi. Given that there is no compelling evidence that there is a significant and meaningful threat from such technologies, the major challenge of these outfits is to convince the public that they need their services.
This problem will no doubt be helped by last week's decision by the Council of Europe into accepting the conclusions of a small bunch of pseudoscientists and the discredited and unbalanced Bioinitiative Report that we must protect children from the threat of electromagnetic radiation.
One company that will hope to thrive from such nonsense is called Phoneshield. It sells little buttons containing magic crystals that you stick on your phone or Wifi to protect you from the evil rays.
Phoneshield make many outrageous claims,
With so much electromagnetism at home and the office from computers, monitors, laptops, cordless phones and every other electrical device it's no wonder we feel so drained and headachy, can't concentrate, feel confused and generally under the weather.

We need natural quartz wi-fi Shields to reduce our exposure to electromagnetism – that's better
Even if it is discovered that mobile phones and Wifi do pose meaningful risks, the idea that a quartz crystal stuck to your phone can reduce your risk is simply absurd.
However, I have a feeling that after writing this article, Phoneshield will suffer a thorough fishbarrelling from multiple sources that may make their ability to trade much harder.
But while they exist, let's enjoy them a little further.
The company say they make 'no outrageous claims'.  But they do claim that it is a FACT that the magic crystal buttons can "reduce fatigue, poor concentration and headaches'. If, let's say, Phoneshield did have to provide evidence to substantiate their claims to some authority, how would they do it?
On their web site they provide several ways. The first is to use the authority of 'eminent scientist' Mr Roger Coghill. You may remember Coghill from a few years back when he hit the headlines proclaiming that suicide rates were in high in Bridgend due to the presence of phone masts. This quickly proved to be nonsense and Roger Coghill's qualifications were not as 'eminent' as we were led to believe. In fact, it turns out that Coghill was also in the business of selling questionable 'solutions' to the 'problems' caused by radio waves.
However the best evidence for Phoneshield would appear to come from the diagnostic technique of Kinesiology.
You have to watch this evidence for yourself. Here it is. But be warned, do not watch with hot liquids in your mouth as you may ruin your expensive electronic equipment.
You may not be surprised to learn that Applied Kinesiology was invented by a chiropractor. It is a technique where customer and practitioner get locked into the mutual delusion that muscle strength can be altered in the presence of 'good' and 'bad' substances. It is widely used to diagnose allergies and other health problems, and then on the back of a fake diagnosis, sell lots of vitamin pills, diets and dubious devices. It is an unconscious fraud caused by suggestion and the ideomotor effect.
The beauty of applied kinesiology is that it can be used to diagnose anything – even non existent problems – and then be used as a justification to sell anything –including nonsense quartz crystal sticky buttons. It lies at the heart of much quackery and I hope that the Nightingale Collaboration will be making it a Focus of the Month in future, as this nonsense really needs to be challenged.