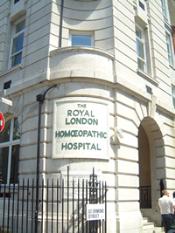 Homeopathy on the NHS has nearly vanished. We see prescriptions have halved in the past two years and one of the last five hospitals has been confirmed to close. This is as it should be. The last vestigial remnants of nineteenth century quackery in the state health care system are being dropped from the tax payers burden. There is nothing unsurprising here. It is the natural result of an increasing awareness of the need to adopt evidence based practices. As much as quackbusters would like to think that it is their influence that has achieved this, I would guess what we are seeing is the result of more general and broader historical changes.
But the homeopaths, in their fabulously constructed fantasy world, see an army of quackbusters crossing the Vistula and are conspiring in their bunkers to strike back with what depleted reserves they have. We can expect to see increasing and bizarre attempts by homeopaths to bolster their position and smear their enemies.
The Faculty of Homeopaths, who represent medically trained homeopaths, has been hard at work. It has issued a press release reporting supposedly dramatic benefits for NHS homeopathy. 'Angry' Melanie Oxley, ex Society of Homeopaths, appears to be issuing press releases for the Faculty.
In one press release, she tries to discount reports that doctors are not prescribing homeopathic pills any more. She says there are three reasons:
Although balanced by increased patient numbers, the proportion of prescriptions actually written by a GP is not representative of the whole; other health professionals such as nurses and pharmacists have prescribing rights.
Of course, the Faculty do not appear to have any evidence that there is a massive shift to nurse based prescribing of homeopathy within the NHS. That would be fascinating in its own right.
The cost of buying a homeopathic medicine over the counter is often less than for a NHS prescription (prescription £7.10, homeopathic medicine typically less than £5.00). Increasingly, prescribers are recommending their patient buys the
remedy over the counter, saving the patient money.
This may well be true, but many people on long term illness, the young and the old, do not pay prescription charges anyway. Again, there is no evidence to support the assertion that doctors (or nurses) are asking patients to cough for their own sugar pills.
Only a tiny proportion of the 3,500 plus homeopathic medicines available are listed in the computer software for GPs, and so most homeopathic prescriptions are handwritten. It is not clear whether these are entered into the data.
Mmmm. The computer says, 'No'. Yes, there are thousands of remedies, but most prescriptions are undoubtedly for the common dozen you can find anywhere. Is the NHS really prescribing hyena saliva and Vacuum Cleaner Dust remedies? I doubt it.
The latest piece of rubbish to emerge from the Faculty is about a paper that has just been published from research at the Bristol Homeopathic Hospital in the Faculties comic, Homeopathy. This follows the appalling 'Spence' paper from Bristol that claimed to show that 70% of their patients reported health improvements. There were no control groups in this study. There was no evidence that homeopathy was the cause of the health improvements. It was rubbish and Bristol have not learnt the simple lesson.
This time we learn that "Nearly 60% of patients who had received a series of homeopathy appointments reported an improvement in health that affected their daily lives." Again, nothing to compare this figure to. No way of knowing what the health improvements would have been without homeopathy. We just find out the startling truth that some ill people get better. But this is unsurprising as the paper was about a pilot study to test methods in quality assurance in homeopathic hospitals. It is a way of conducting homeopathic customer satisfaction surveys and tells us nothing about the effectiveness of the magic sugar pills.
But being good PR people at the Faculty, the truth will not get in the way of a good story. The Daily Mail has already reported on this nonsense, The alternative Holby City that treats 30,000 patients a year.
The Mail says,
But with budgets in crisis, critics claim spending on complementary medicine is frivolous – and last week it was revealed that GPs' homeopathic prescriptions have fallen by 40 per cent in two years.

Yet according to the journal Homeopathy, among those receiving these remedies, 60 per cent say their health improved after treatment. We spoke to a range of patients at the hospital who have turned to homeopathy.
In other shock medical news, children who have visited hospital tend to grow taller over the following year. And so, the Mail trots out the anecdotes. In one hilarious one, a patient recounts the failure of homeopathy,
Dr Saul Berkovitz, who leads the clinic, put me on homeopathic remedies at first – causticum, which is supposed to help stiffness, and cimicifuga, which alleviates aches. Neither helped.
But never mind. Some chinese herbal medicine was the thing that 'worked for her' in the end. We also find out how Gertrude does not get colds anymore and how Joshua's childhood eczema cleared up. Also, in a remarkable testimony, Nike Jonah's headaches have been helped by real medicine, but now she has taken some homeopathy and is waiting to see if it works. And 95 year old Jane swears by arnica for her bruises. You could not make this stuff up.
The Faculty of Homeopaths are taking entirely the wrong track here. They are swimming against the current of science and reason. As the (relatively) sane wing of the homeopathy movement, the Faculty really ought to be having a frank discussion about the practicalities and ethics of using an entirely placebo based therapy in modern healthcare. That is what all the science and evidence says homeopathy is and that is the only discussion that could feasibly save homeopathy on the NHS. Can they muster the insight and courage to have that conversation?