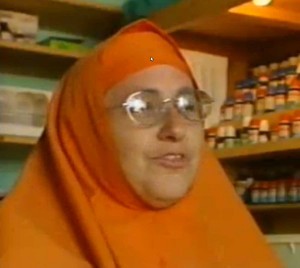 So, today has seen a thorough investigation by the Independent into the Abha Light homeopathy clinics in Africa where HIV positive people are told to forgo life saving medicines in favour of superstitious homeopathic sugar pills.
What is more, the investigation found that this quack clinic is being funded through NGOs by UK charities. Who are the people that are funding this shocking enterprise?
The answer to that question is even more shocking.
Abha Light itself describes where its money comes from. Gimpyblog has already described the UK charity SHEAF Trust and its support for Abha Light. Money mainly from homeopaths is channelled through this organisation by Dorset homeopath Penny Rowe. Support for such dangerous activities is not a fringe activity within UK homeopathy, but is actively supported through homeopath's trade bodies, such as the Society of Homeopaths.
The largest provider of funds though, both in the UK and worldwide, is an organisation called AMURT. This NGO appears to do lots of good work in the world in the area of "community development work and disaster relief." Whilst providing clean water and schools is all admirable stuff, the NGO appears to focus quite a lot on funding homeopathy clinics around Africa.
AMURT describe themselves as an "an international relief and development organisation, founded in India in 1965". What it does not make clear in its description is that the Ananda Marga Universal Relief Team is actually a wing of the world-wide Ananda Marga sect. This Indian-based sect, the "Path of Bliss", describes itself as a "social and spiritual movement that aims to transform society through meditation and yoga".
The founder of Abha Light is an Anada Marga nun known as Didi Ananda Ruchira, or by her original American name, Barbara Lynn. Ruchira wears the orange robes of a yogic nun and studied homeopathy in the UK at the British Institute of Homeopathy. She was sent to Kenya under the instruction of Ananda Marga, which she calls an "an international socio-spiritual organization."
Others, however, have different ways of describing Ananda Marga.
The Chicago Tribune ran an article on Ananda Marga that reported that the cult was under investigation by the CIA and FBA as a terrorist organisation that "has left a trail of blood around the world". The Los Angeles Times reported that there were allegations of "murder of former members, wife beating, child molesting, and the sale of illegal drugs".
The founder of the cult, Prabhat Ranjan Sarkar, or 'Baba', was convicted and jailed for the murder of seven members of the cult who wanted to leave. During Sarkar's time in jail, cult members engaged in terrorist activities around the world in support of their founder.
One of the most deadly acts of terrorism on Australian soil was thought to have been conducted by Ananda Marga cult members when the Sydney Hilton Hotel was bombed in 1978. The Commonwealth Heads of Government were meeting there, including the Indian Prime Minister Moraji Desai. It is also thought the cult were behind the attack of the Indian attaché in Canberra and the stabbing of an Air India employee in Melbourne. Released cabinet papers showed that the government thought that Ananda Marga might be behind a long term revolutionary campaign.
Indeed, Sarkar boasted that the cult would "rule the world by 2005". His views may be shown to differ from Ghandi's somewhat when he said,
Like materialism, spirituality based on non-violence will be of no value to humanity. The words of non-violence may sound noble, and quite appealing, but on the solid ground of reality have no value whatsoever.
Helen Crovetto, in an article entitled "Ananda Marga and the Use of Force" in the The Journal of Alternative and Emergent Religions claims that the cult has a "well founded doctrinal basis for the use of force". Terrorist activities appear to have taken place in London where three cult members were convicted for conspiring to murder the Indian High Commissioner and stabbing a member of the Indian Commission.
Sarkar died in 1990 and his dream of taking over the world with him. The University of Maryland National Consortium for the Study of Terrorism now classes the group as 'inactive' and says "Although Ananda Marga has ceased to carry out terrorist attacks, it continues to flourish as a religious movement, and has become one of the most well-known Hindu-based new religious movements in the West".
Amanda Marga may no longer be deliberately killing people by stabbing them and blowing them up, but by funding homeopathy clinics to treat Africans with malaria and HIV and telling them that they should not take their medications, the death toll attributable to this cult will continue to rise. They might not be identifiable deaths, or the deaths of ambassadors and Prime Minister's, but the deaths of nameless and desperately poor Africans living in the most helpless places in the continent.
The support of people in the UK and America for this death cult is unforgivable. If they stuck to building wells and schools they would be lauded, but their strange, irrational beliefs represent a form of violence that will kill people as surely as a gun, knife or bomb.