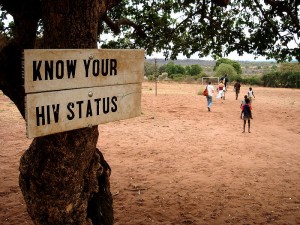 The charity Homeopathy Action Trust represents pretty much everything that is wrong with homeopathy in the UK today. Homeopaths would not be under such pressure and scrutiny if they did not fund and support HIV clinics in Africa, did not agitate for public funding on the NHS and did not advocate homeopathy for serious and life-threatening conditions. Other forms of alternative medicine do not do such things (at least to any large extent) but homeopaths appear to be fuelled by a fundamentalist and arrogant zeal.
The Homeopathy Action Trust (HAT) is a charity whose aims are to fund and promote just these things. They are supported by pretty much all the leading homeopaths, trade groups and businesses in the UK. But their latest Report of the Trustees for 2015 shows that donations to the charity have plummeted by three-quarters over the past year and expenditure has barely changed.
HAT has cropped up on this blog before. It is at the centre of much of the homeopathy world, receiving  support from the main homeopathy organisations. Its stated aims, as listed on the Charity Commission web site are to,
PROMOTING HOMEOPATHY THROUGH EDUCATION AND RESEARCH TOGETHER WITH A COMMITMENT TO WIDEN THE AVAILABILITY OF HOMEOPATHY THROUGH LOW COST CLINICS AND RAISE FUNDS TO SUPPORT HOMEOPATHIC ACTIVITIES.
The same declaration says its activities are in England and Wales. In reality, its activities appear to be focussed around funding various homeopathy clinics in Africa, mainly to treat HIV, promoting the use of homeopathy to treat cancer and providing 'professional services', which appears to be mainly supporting and offering 'secretariat services' to the homeopathy lobbying and PR group, 4Homeopathy, which I have recently written about a few times.
A consistent focus has been on Jeremy Sherr and his HIV clinics in East Africa. Simon Taffler, a trustee and key figure in HAT, presented Camilla Sherr with an Honorary Fellowship this year for her work with her husband in treating HIV+ people in Africa with sugar pills. Their outfit, Homeopathy for Health in Africa, claims to treat thousands of people in Tanzania and around with HIV, malaria and other serious illnesses. They claim not to interfere with anyones use of ARV treatments but will use homeopathy to treat the many complications people have. These people effectively remain untreated. As for the claim that they do not discourage real medicine, I suggest you watch their promotional youtube video that says ""Homeopathy is the only medicine that God wants."
As for the claim that HAT promotes homeopathy through 'education and research', we need to look at the activities of 4Homeopathy. This is an organisation that brings together the leaders of the UK homeopathy community to unite in providing a common public relations and advertising front. It is behind PR campaigns to get homeopathy in the newspapers through endorsements from celebrities. I find this something of a stretch to describe this as a legitimate charitable activity that deserves the benefits of the tax breaks thus conferred. Of the £81,543 of expenditure last year, £31,882 was spent on professional services,
The Trust is helping to build momentum across a spectrum of activities, from media training to consolidated promotional activities. These are all being achieved through regular meetings between all the UK-based homeopathic professional and public-facing organisations and this new UK collaboration is becoming the model for international homeopathic communities.
I am not alone in being concerned about whether the activities of HAT fall within the definition of charitable activities. The blogger Majikthyse has undertaken extensive investigation and communication with the Charity Commission on the subject of such homeopathic charities. The commission have made a clear statement concerning the nature of charities promoting 'complementary or alternative therapy'.
…the onus is on a charity, or organisation seeking to register as a charity, to prove, on the balance of probabilities, that the particular complementary or alternative therapy or treatment it advances will tend to promote health. This means that there is an empirical, scientific evidence base for the claims made…
Majikthyse argues quite rightly that it is incredible that an urgent review is not undertaken of the status of the charities he investigated.
So, the 2015 reporting year appears to have been a very difficult year for the charity although you may not have got that impression straight away from the Report of the Trustees. The first thing that stands out is that three of the trustees resigned. The most notable one was Noam Bar. Bar is the business partner of Yotam Ottolenghi and together they set up their deli and cooking empire in London. I reported in July 2014 how Ottolenghi had been using profits from their business to fund Jeremy Sherr and his charity' Homeopathy for Health in Africa. It is possible that both Bar and any financial help are now gone.
The report says of its donations, "We are grateful for the continued support of the Trust by Helios Homeopathy and the Homeopathic Supply Company.", both manufacturers and suppliers of homeopathy in the UK. However, it looks as if donations have fallen off a cliff for 2015. Whereas, in previous years, donations were around £100,000 year on year, in 2015 the income was only £25,000. Expenditure did not change much with outgoings amounting to £82,000 – a slight increase on the previous year. This required a huge transfer of funds from reserves and leaves the charity precipitously close to running out of money. The funds carried forward dropped from £91,116 in 2014 to just £34,701 in 2015. Enough to keep it going for a few months. The costs of generating income and the support costs appear to be much bigger than the actual charitable activity expenditure which amounted to just £24,000. Actual charitable donations dropped from about £61,000 £14,000. Quite why this seismic shift in their financials has occurred is not made clear. But it does look like one or more significant sources of income is no longer giving.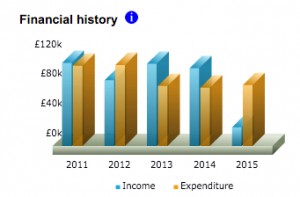 The trustees do say that it has been difficult raising unrestricted income. And that as a result they are going to stop paying their Executive Director and for administrative assistance. Volunteers and trustees are expected to pick up the load.
It does look like 2016 will be a critical year for HAT and we shall see if it can step up to the mark and recover. If it does go under, this is one charity that no-one should shed a tear about. Its activities do not promote health but actively endanger it. Quite why we allow such charities to exist in the UK is a mystery.