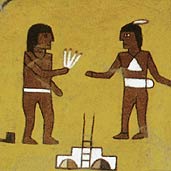 Quacks like to tell us that their healing arts are thousands of years old and based on ancient principles that have withstood the test of time. Like most things in their advertising spiel, it is a canard and does not bear any resemblance to the truth. Reiki, Reflexology, Osteopathy and Chiropractic are around a hundred years old. Homeopathy is about 200 years old and even acupuncture as we know it may only be 300 years old. Real ancient healing beliefs, such as a belief in the humours and treatments such as trepaning are strangely absent from the quacks repertoire.
Hopi Ear Candling, or thermo-auricular therapy (TAT) as it is known, is a rather strange technique that involves sticking a burning candle in your ear. The mundane reason for doing this is that it can allegedly draw out the nasty wax from your ears. Quacks never like to restrict their techniques to the obvious, so the candle apparently acts on the 'energetic level' and can also detoxify you and treat all sorts of ailments unconnected with your ear.
The main manufacturer of ear candles is a German company called Biosun. Their web site tells us about the Hopi tribe of native Americans and their ancient wisdom. Pictures on their web site show tribe members and ancient murals showing the Hopi sharing candles. The problem is that all this is just made up nonsense. All of it.
Firstly, the Hopi tribe appear to be quite upset that western quacks are appropriating their name. Biosun tell us,
The Hopi, the oldest Pueblo people with great medicinal knowledge and a high degree of spirituality, brought this knowledge to Europe with the professional involvement of BIOSUN.Since 1985 we have been researching the use of Earcandles and re-establishing their popularity.
However, the Hopi have been telling people that ear candling has nothing to do with them. On one ear candling site, we learn,
The Hopi Cultural Preservation Office is not aware of Hopi people ever practicing "Ear Candeling." Biosun and Revital Ltd. are misrepresenting the name "Hopi" with their products. This therapy should not be called "Hopi Ear Candeling." The history of Ear Candeling should not refer to being used by the Hopi Tribe. Use of this false information with reference to Hopi should be stopped.We appreciate your efforts to stop this false representation the United Kingdom, and we will inquire as to whether Martin Gashweseoma gave permission for the use of his image for the promotion of ear candles. Thank you for your interest in resolving this situation. If you have any questions or need additional information, please contact Lee Wayne Lomayestewa at the Hopi Cultural Preservation Office.

Thank you again for your consideration.

Respectfully,

Leigh J. Kuwanwisiwma,
Director Hopi Cultural Preservation Office
What of the picture that shows the Hopi using candles (pictured above)?
Biosun say the picture is a "Coloured wall mural in the Hopi Tower, Grand Canyon".
What they fail to mention was that the Hopi Tower was built in 1930 as a gift shop for the Grand canyon, by the American architect Mary Coulter. You can see the mural in context on this page with the complete gift shop mural here. The picture has nothing to do with candles. The items being passed are feathers. One might as well say that the strange object below the Hopi warriors is a set of iPod portable speakers.
So, ear candling looks like it is little more than twenty years old and is just abusing an American tribe to make believe that the stupid practice of sticking a candle in your ear is ancient and justified. But then again, anyone who does go through with this nonsense probably has very little between their ears that could be damaged by such stupidity.