Remove hot drinks and sharp objects from your immediate vicinity.
Across the world, homeopaths today are trying to 'heal the oceans'. To do so, British homeopath, Grace DaSilva-Hill, has been writing to appeal to other homeopaths to drop some homeopathic remedies into the sea. She tells homeopaths that those not close to the sea can instead drop their remedies into a river. If even this is too challenging, then Grace advises homeopaths that they can flush their homeopathic remedies down the toilet. Yes, today, homeopaths worldwide are getting rid of their pills by flushing them down the toilet.
Now, hold on to something tight.
Grace tells her colleagues that even if they do not have access to the right homeopathic remedy then they can just 'speak the name of the remedy to a glass of water, and the water will memorise the energy of the remedy'. Apparently, it is best to do this with 'pure love and intention'.Never has there been a clearer example of Frazer's Sympethetic Magic. Homeopaths practice witchcraft.
The remedy that is to be used today is called Leuticum – a homeopathic preparation of the syphilis bacterium. Quite what the homeopaths intend to cure the oceans of with this is anyones guess. For completeness, a copy of the email, which landed in a public forum, is given below in its full comic sans glory.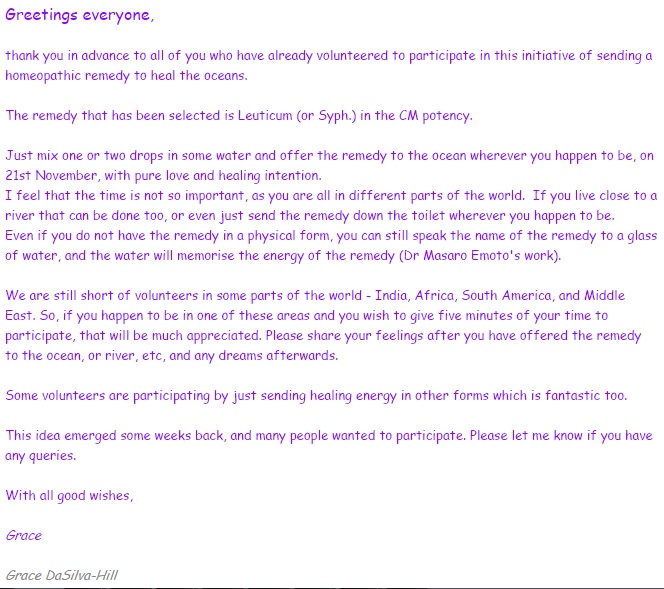 We might dismiss this as the fantasies of a small group of homeopaths. However, such thinking is widespread in homeopathic circles and has consequences. Grace is a well known homeopath in the UK, and in the past, has been a trustee and treasurer for the Ghana Homeopathy Project – an organisation that has been exporting this European form of quackery to West Africa. Grace believes that serious illnesses can be treated by a homeopath. For an article in the journal of the Alliance of Registered Homeoapths, Grace discusses treating such conditions as menigitis, malaria and stroke.
Homeopaths in West Africa have hit the news this week as a group tried to enter Liberia in order to use their spells on people with Ebola. The WHO fortunately tried not let them near any actual sick people and they have been kicking and screaming since. The Daily Mail's rather dreadful article reported that they
"had used homeopathic treatments on patients, despite the instructions from health officials in the capital Monrovia not to do so. She said she had not felt the need to quarantine herself after returning to India but was monitoring her own condition for any signs of the disease."
The homeopaths appear to have absolutely no understanding how how dangerous and irresponsible their actions have been.
A few weeks back I tweeted asking if the UK organisation representing doctors who use homeopathy would condemn those homeopaths who travel to Africa to try to treat and prevent ebola with sugar pills.
.@fohhomeopathy Will you speak out against homeopaths trying to treat Ebola at your conference today?

— Andy Lewis (@lecanardnoir) November 14, 2014
The Faculty of Homeoapthy have now indeed placed a statement on their website.
Ebola

15/11/2014

The Faculty of Homeopathy denounces the use of homeopathy as an alternative in the management of the Ebola outbreak. We support the use of homeopathy alongside conventional care in order to make a difference for any individual. Good public health has always been a cornerstone of high quality homeopathic practice.
I find this statement unacceptable. Whilst appearing to denounce the use of homeopathy near ebola patients it is still giving the green light for those homeopaths to go to West Africa in order to use it "alongside" real medical care. It is doing nothing to stop the magical fantasists from interfering in this desperate work to save lives. And this is from qualified medical doctors in the UK.
Homeopathy is stupid. Magical thinking. A nonsense. Anything goes. And whilst those doctors in the NHS who insist on spending public money on it without taking a responsible stand against the common and dangerous excesses, they can expect to remain under constant fire from those who think they are doing a great deal of harm.