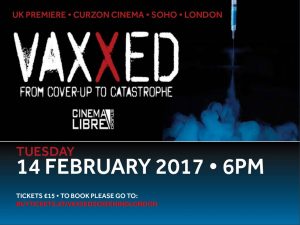 Curzon Cinema in Soho appears to screening a secret showing of controversial quack film VAXXED and holding a Q and A afterwards with the film's director – struck-off and discredited doctor Andrew Wakefield.
A ticket website is selling tickets for a screening on Valentine's Day and looks to be close to selling out. The cinema website itself does not appear to list the screening. In addition to the 'premier' screening, a Q&A session will be held afterwards with Andrew Wakefield who was found to have acted fraudulently in his research over whether MMR was dangerous.
Also at the screening will be Jackie Fletcher, the woman who together with Society of Homeopaths Director and Solicitor, Richard Barr,  worked with Andrew Wakefield to try to bring a lawsuit to get compensation for their beliefs MMR had harmed her children.
This film has a history of controversy and it is perhaps no surprise that Curzon Cinemas are not making a big thing of screening it. In the US, the film was pulled from the Tribeca film festival due to its controversial nature. This hit the headlines when Robert de Niro appeared to endorse the film. de Niro was accused of selling out to ant-vax 'crackpots'.
The film trots out the thoroughly discredited  and fraudulent ideas of Wakefield that MMR somehow is associated with autism. No one apart from the President of United States appears to believe that now. Wakefield rocked up at Trump's inaugural ball last week.
Vaxxed has had limited screening in the US. It is not a film that deserves serious attention and should be left to the darkest quack recesses of the web.
This is a junk conspiracy film of the worst kind. Its message is pure quack propaganda. Its message is one that will harm children by convincing some people that their children should not be vaccinated against serious illnesses. TO show this film at a respected cinema is thoroughly irresponsible and Curzon should follow the Tribeca Film Festival's lead by dumping this screening as soon as possible.  Asking Curzon to drop the screening is not censorship. Wakefield is free to spout is dishonest nonsense to whoever he likes and whoever will hear him. You cannot censor a man who is close to the President Trump. But you can limit the damage that giving this film legitimacy might do.
Curzon Cinemas – do the decent thing, protect our children, and drop VAXXED now.
Update 1pm Thursday 26th Jan 
Adam Rutherford reports on twitter that the cinema has dropped the film. Well done to all who kicked up a fuss.
The excellent @CurzonCinemas has responded to public pressure by cancelling the (private) screening of Andrew Wakefield's film #VAXXED.

— Dr Adam Rutherford (@AdamRutherford) January 26, 2017
Update 1.30pm Thursday 26th Jan
Tom Whipple from the Times has a statement from the cinema
Curzon cinemas are pulling the screening of Vaxxed. They said it was a private hire, and normally wouldn't intervene – but made exception. pic.twitter.com/CYvaHET7hK

— whippletom (@whippletom) January 26, 2017
The Cinema says…

"The screening is not part of the Curzon programme; rather it is a private hire hosted by the filmmakers themselves. Part of our business is to provide an entirely impartial, democratic event space in which anyone can hire our screens for events and film screenings. All private hires are unaffiliated with the Curzon brand or any of our venues and we consider such events to be an entirely separate concern from that of our public-facing activity.

The presentation of Vaxxed is an example of this distinction being unclear and we now unwittingly find ourselves at the heart of the discussion around it, to a degree where we must take a stance on the material.

In light of the responses we have received from members of the public, we have decided to cancel the private hire contract and pull the film from our venue. We do not wish to profit from a film that has demonstrably caused great distress."