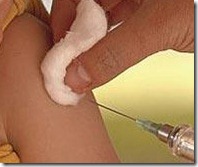 The Society of Homeopath's response to the latest BBC revelations was entirely predictable. The BBC investigation uncovered how homeopaths appear to be routinely offering their sugar pills as an alternative to childhood vaccinations such as MMR. Such unethical and unthinking behaviour can only lead to children being exposed to potentially dangerous infections.
Doctors appeared to have been shocked by these findings. But they should not have been. Antagonistic beliefs towards standard medical care, particularly vaccinations, is the norm in the homeopathic community. Indeed, homeopathy was founded on the principle that its beliefs are the One True Way and that other doctors use medicines to actually harm their patients, not cure them.
So, the Society of Homeopaths issued a press release that followed a very predictable format. They state that they "acknowledge that the evidence to support the use of homeopathic prophylactics, that is, using homeopathic remedies as a preventative treatment, is largely anecdotal and therefore the use of this method is currently speculative."
This is a dog whistle message.
To the outsider it might appear that the Society do not support their members offering such superstitious alternatives to real vaccines. After all, who would risk important decisions about children on anecdotal and speculative ideas? But to their members, a different noise will be heard. All homeopathy is based on anecdote and speculation. The Society do not explicitly 'endorse' any particular use of their pills. But what they are saying to their members is that they need not worry. The Society will not use its code of ethics to stop such nonsense from happening. According to the BMJ, the Society routinely promotes such speculative ideas in breach of their own code of ethics. As I first exposed on this blog: they have no interest in upholding their own code of ethics just because a member may be risking lives with unevidenced treatments. We can be sure that the Society will not be going to any trouble to try to stamp out this irresponsible practice within their membership. Their ethics committee will not be troubled by offending members.
Indeed, anti-vax views are easy to find on homeopaths discussion groups. And academic research has shown worrying levels of bad advice regarding MMR amongst homeopaths. The problem is in finding saner voices advocating a more circumspect approach to MMR and other childhood vaccines. There is no emerging leadership within the homeopathic world willing to address to the criticisms made of them. The leadership appears to be entrenched in their fundamentalist view of 'allopathic' medicine versus homeopathy. One of their leaders recently caught my attention – and I must admit, I am amazed that I had not spotted this before.
Barr is unusual amongst the directors in that he is not a homeopath. He is a solicitor.
Richard Barr is a Director of the Society of Homeopaths. He is unusual amongst the directors in that he is not a homeopath. Barr is a solicitor – and a solicitor, it would appear, who has experience of several ethics and standards committees with his local authority and the Law Society. As such, his profile says that he is a member of the Society's Professional Standards Committee, no doubt based on his experience of such matters. When Richard Barr is not assisting with the ethical problems of the Society of Homeopaths, he works out of his home office in Norfolk for a "virtual law firm" called Scott Moncrieff Harbour and Sinclair (SCOMO). He says he handles mainly medical cases.
Now Richard Barr ought to be a name familiar to you. I should have recognised it, but I did not. Maybe you cannot pin it down too.
So, let me take you back to 1992.
In December of that year, a small one-year-old boy by the name of Robert Fletcher became seriously ill with convulsions. Robert was diagnosed as being epileptic and was quite ill with several fits per week. His mother, Jackie, was convinced that his problems were caused by an MMR vaccine that Robert had been given ten days before his first fit.
Jackie Fletcher put an advert in a newspaper to see if she could find other parents whose children had become ill shortly after their MMR jab. No doubt, with a universal vaccine, it would not be hard to find children who became ill around that time – even if there was no link between the vaccine and the illness. Many parents came forward and the support group JABS was born.
This is where Richard Barr steps in. He began acting for the group and started to look for ways that the parents could gain compensation and started to ensure that legal aid was available for them. The only problem was that there was no evidence that MMR caused any of the problems the parents were sure were caused by the vaccine.
To get around that problem, Barr came up with a pioneering approach. He applied to legal aid to get funding to do some clinical studies into associations between the vaccine and problems such as autism. He formed a partnership with a sympathetic doctor called Andrew Wakefield who was paid £150 per hour by the law firm. The pair were awarded £55,000 to start their research. Over the coming year, Wakefield admits several of the JABS children to the Royal Free hospital to do tests on them. At the same time, Wakefield patents his own "safer" single measles jab.
In 1998, the Lancet published the paper by Wakefield that suggested a link between MMR and autism, based on the case studies of eight children. He also gave a press conference to state the same assertion – without mentioning that he was being paid by a group seeking compensation or his own financial interest in the failure of the MMR jab. The paper had not found a definite link – but based on this speculation, the newspaper industry created a politically fuelled scare that ensured parents would now question the safety of the vaccine and many would not have it given to their children.
The outcome of this farce is now well know. Wakefield was found to have been "callous, unethical and dishonest". He had performed invasive and risky procedures on children without ethical approval, had not disclosed he was being paid by Richard Barr and had not been honest about where the children had come from. Wakefield was struck off for serious misconduct.
The idea that MMR causes autism has been proven not to be true after serious investigations into the problem over the past decade. But nonetheless, vaccination rates have dropped to dangerous levels and many parents have been looking for alternatives – no matter how illusory. I am sure that the homeopaths, that their director Richard Barr now sits over on the ethics committee, will be benefiting from the unfounded doubts and fears created from this thoroughly misconceived venture.