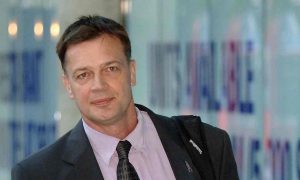 Andrew Wakefield's plans to have a glamourous premier showing of his new film VAXXED in London's West End failed after the cinema bacame aware of the content of the film and cancelled the contract.
There then followed a desperate search by the VAXXED team to find an alternative venue. They did this successfully and decided that to ensure this new screening was not 'sabotaged' by scientists the location would be kept secret until four hours before the showing on the 14th of February. It was all like being back at an illegal rave in the 1990's. The screening went ahead to triumphant roars of the antivaxxers.
However, this has not been a consequence free revival of the zombie film. Antivaxxers most ardent supporters come from the homeopathy community and it looks like to was homeopaths who found a solution.
The Centre for Homeopathic Education claims to be the only degree awarding course for homeopathy in the UK – much to the shame of Middlesex University for accrediting this pseudoscience. It claims,
The Centre for Homeopathic Education (CHE) is the largest school of homeopathy in the UK and offers the opportunity to study the art and science of  how to become a homeopath.
However, its course are taught at Regents University which a small private university in London mainly for visiting American students. It would appear that the homeoapths used their relationship to hold the screening there in the centre of London.
After the screening, the University did not appear to be too happy about this deception.
Regent's commercial business arm leases space to a range of clients & does not endorse the views of the film that hired our venue last night

— Regent's Uni London (@regentsuni) February 15, 2017
The name & content of last night's film was not disclosed to us, as a result we are re-vetting all clients & acting accordingly

— Regent's Uni London (@regentsuni) February 15, 2017
So, even the venue was not told of the nature of the film they were to screen on the premise.
As such, I have been told that that Regents have severed their contract with the Centre for Homeopathic Education (CHE). They are now homeless. A heavy price indeed to pay for this underhand works.
The homeopaths are hopping mad about this as you can imagine. Homeopath Alan Freestone writes,
Well whenever powerful interests are trying to stop our access to information, we should question why? What are they hiding? What don't they want us to know? It's pretty obvious in this case – mass vaccination is a disaster & is poisoning people on a massive scale. I suppose I'm in a fairly unusual position – I see the effects of vaccine damage every day in my work, and I see children losing their autism diagnoses after vaccine detoxes. I'm on the front line of this. These movie-makers aren't conspiracy theorists or con-men.
This is typical homeopath thinking. They believe they can treat autism. They believe they can 'repair' vaccine damage. To them, the vaccine 'industry' is a huge source of income to milk worried parents. Scaring parents about vaccines is part of their business model.
To be clear, this is not a film that deserves the light of day. It is antivax propaganda and is deceptive and manipulative. Scientists and campaigners are now taking control here and ensuring the press talks about the film on their terms – scientific and factual terms – rather than on the conspiratorial and pseudoscientific terms set by the film.