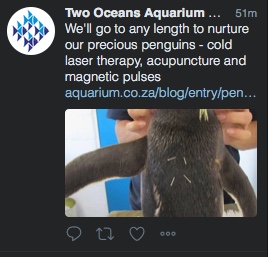 This morning, the Two Oceans Aquarium in Cape Town, tweeted that it was 'nurturing their precious penguins' by giving them a range of quack treatments including 'laser therapy, acupuncture and magnetic pulses'.
The linked article explains,
Teddy [a rescued rock hopper penguin with arthritis] has also undergone an operation on his right foot, had pulse magnetic therapy and receives medical attention on a regular basis.
Quite what this 'medical attention' consists of though is concerning. The blog post (dated 2013) describes how Teddy is undergoing "an extended series of acupuncture treatments." Who is giving this treatment is not clear. Nor why it is being given. Acupuncture is a pseudo-scientific form of treatment based on mystical beliefs about how bodies work. The evidence base for the success of acupuncture is woeful with rampant fraud in reporting, selective publication and poor research techniques. There is no good reason to think acupuncture can help with any condition in humans. As you might imagine, the evidence base is even poorer in rock hopper penguins.
The elderly penguin is also subjected to other unevidenced, pseudoscientific and superstitious treatments such as 'cold laser therapy' and 'magnetic pulses'. Cold Laser Therapy is an 'alternative medicine' technique often used by chiropractors and acupuncturists. The acupuncturists make a point of using the laser on acupuncture points – the imaginary special places on the body where needles are supposed to be inserted. There is no good evidence that such laser therapy has any therapeutic effects. Magnetic pulse therapy is as equally dubious. The use of magnets to treat ailments has an older heritage than modern acupuncture practices. The magnet was a regular tool of the mountebank and charlatan of the 18th and 19th Century.
I commented on the above tweet suggesting that such practices were unethical. The tweet was rapidly deleted without explanation.
When a human chooses to use an alternative treatment like acupuncture they do so through their own consent. The treatment can be viewed as ethically given when that consent is fully informed. That is, the person is made fully aware of the risks and is appraised properly of the evidenced benefits. Now, that this properly informed consent is rarely made is not the subject I want to discuss here. What is important, is for an animal like Teddy, the rock hopper penguin, informed consent is of course impossible. The owner, or carer, makes that choice. It is in these circumstances that the utmost care must be taken to ensure that any treatment given to an animal has robust evidence to support it and can be shown to be in the best interests of the animal. For acupuncture, there can be no such demonstration of benefit to the animal, and so such treatments must be considered as highly questionable and unethical.
Giving animals superstitious and pseudoscientific treatments can do great harm. It may delay more reliable treatment, if it is available. It may distort compassionate care decisions being made. For very sick animals, it may get in the way of making timely decisions about euthanasia. Animal suffering can be prolonged, stress levels increased and illnesses go untreated. And while the animal suffers, the carer may be the one receiving benefit by believing they are doing some good. Alternative medicine on animals is done for the benefit of humans – psychologically for carers, and financially for practitioners.
Animal acupuncture is often described as being thousands of years old and so can be justified as a tried and proven art. This is deeply misleading. The evidence for the ancient origins of acupuncture is not there. Nationalistic distortions are made of ancient texts that are actually describing primitive surgical techniques, such as bloodletting and cutting. Animal acupuncture has even more shaky evidence for ancient origins. A vet, who writes sceptical about such issues, has concluded that animal acupuncture can only really trace its origins to the 1970's. This corresponds to the massive rise in the popularity of acupuncture across the globe as it was taken on by the New Age movement after incredulous reports starting arriving from Mao's China of its supposed miraculous effects.
Just as back in the 1960's and 70's, the Chinese government is still deeply involved in promoting its 'national medicine' to the world. It is common to see waves of acupuncture propaganda coming from China promoting 'Traditional Chinese Medicine'. Just last month, most newspapers in the UK, including the Guardian, the Telegraph and the Daily Mail carried the same story and accompanying pictures from a Reuters feed about how the 'craze' for pet acupuncture was sweeping China. The article describes how a clinic in Shanghai is using techniques 'thousands of years old' to treat paralyzed pets as an alternative to having them put down.   The article were completely uncritical and carried the stories as if acupuncture was a meaningful alternative to 'Western' medicine.
This is Fake Medical News designed to promote the practitioners of quackery for nationalistic reasons and our newspapers carry it without thinking. The Economist has reported how China is "ramping up its promotion of its ancient medical arts". (Note, once again, they are not ancient.) The report started as saying,
ONCE eyed with suspicion for not being scientific enough, traditional Chinese medicine might just be about to take over the world." So opined China's state-run news agency, Xinhua, in an article last year. It was, of course, indulging in playful hyperbole—even the Chinese Communist Party has no plans to supplant modern medical science with ancient and unproven forms of treatment. But the party is serious in its efforts to promote the use of such remedies (commonly known as TCM) globally, and to reinforce China's own extensive network of TCM hospitals and clinics.
China is subsidising the education of acupuncturists and herbalists in western countries and see its export as a 'new source of growth' for the Chinese economy. Standards in exports of herbal products is appalling. And many vets in the UK lap this up as source of revenue for themselves. There is even an Association of British Veterinary Acupuncturists that claim to uphold ethics and standards among practitioners. The regulator of vets, the Royal College of Veterinary Surgeons, tolerate this money making from their members, just as they tolerate the inclusion of veterinary homeopaths in their fold. Animal welfare is obviously secondary to the ability of their members to make money from worthless and unethical treatments.
It always amazes me how we casually and blithely accept acupuncture despite the fact that is founded on obvious mumbo-jumbo and has an evidence base that is composed mostly of studies from China that are little more than simple promotional propaganda.
Our animals deserve better. If your vet offers acupuncture, find another vet. If your aquarium or zoo is giving acupuncture to its animals, choose another day out.