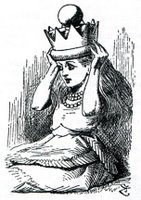 Homeopathy is fun. Pretending you can cure minor self-limiting ailments with magic water and sugar pills obviously brings countless hours of pleasure to lots of people and I, for one, would not want to take their ball away. Hey! You can even make some money out of it too, as lots of people like to join in and pay money to play patient and be part of the fantasy. But like all fantasy games, there really ought to be some pre-arranged agreement on limits; someone to shout a code word, or hold up a red card, when it looks like things might be going a bit too far, and where someone might get hurt. All participants can then step back, have a laugh, a cup of tea, and re-start tomorrow with some more bumps and bruises.
I have written many times on this blog that there appears to be nobody in the homeopathic community who really wants to take on this role of referee. Without someone to blow the whistle, people may actually get so deep into the homeopathic game that they really start believing they can cure serious illnesses, like malaria and AIDS. And, as part of the role playing is to pretend that real doctors are nasty, conspiratorial and in it for the Big Pharma money, some of the patients may also start crossing the safety boundaries.
There are a number of homeopathic members' clubs out there that have ethics codes and complaints committees, but after the BBC Newsnight/Sense about Science malaria sting which resulted in little visible change, one has to wonder how effective these procedures are? As Simon Singh, the science writer and broadcaster, said at the time,
I was shocked that there was such willingness to give advice and sell products that would leave people exposed to a highly dangerous disease… Beforehand I suspected that one or two homeopaths might offer pills to protect against malaria, but it turned out that ten out of ten were guilty of such irresponsible practice. This makes me think that there is something fundamentally wrong with the way homeopaths are regulated.
Now, Peter Chappell, you may remember, claims to be able to do wonders for just about everything, including AIDS and cancer, with not only his own magic homeopathy concoctions, but downloadable homeopathic MP3 files. Peter sports the designation FSHom (Fellow of the Society of Homeopaths) in a number of places, so, I rattle off a quick letter to them to see what they make of his practices. The Society of Homeopaths complaints officer, Patricia Moroney, replies that Peter is 'no longer a member of the Society of Homeopaths and therefore is not bound by our Code of Ethics and Practice. He is not entitled to FSHom."
My mistake.
In my defence, Peter Chappell carries the FSHom designation all over the web. Surely the Society of Homeopaths will be furious that he is still promoting himself as FSHom, whilst outrageously breaking their own code of practice, and try to do something about it? So furious in fact, that there could be no way that they would still be promoting his book on the society web site, under "Recommended Reading", and describing him as FSHom and 'a Registered Member and Fellow of the Society"? And so furious that there is no way that they would be holding an AIDS symposium on the 1st of December (World AIDS day) which will specifically give a platform to Peter Chappell's ridiculous healing ideas?

The second complaint I made was regarding Julia Wilson RSHom who holds a homeopathic asthma clinic and says that she has worked in a Kenyan homeopathic AIDS, TB and malaria clinic. In my opinion, her advertising literature advocated specific homeopathic cures for asthma that are superior to real medicine. The Society of Homeopaths found that no breach of their code had been made.
Let me repeat what I believe to be one of the difficult sections of the leaflet.
Conventional medicine is at a loss when it comes to understanding the origin of allergies. … The best that medical research can do is try to keep the symptoms under control. Although creams and puffers can provide temporary relief, they are not offering your child a cure.
Homeopathy is different, it seeks to address the triggers for asthma and eczema. It is a safe, drug free approach that helps alleviate the flaring of skin and tightening of lungs…
Leaving aside the self-contradictory nature of these claims about suppressing symptoms, it appears to me that Julia is saying that homeopathic approaches can do things that medicine cannot and that it offers a better approach. Julia, in her defence, says that 'absolutely no cure is implied'. Please re-read the above to make your own mind up. Specifically, she says to the SoH complaints officer that 'my leaflet makes no claims, stated or implied, that homeopathy can treat asthma…Absolutely no cure is implied' and SoH accepts this. "No further action will be taken". What do you think?
The response to my complaint also pointed out that the leaflet made clear that 'it does not claim superiority over conventional treatment, it is at pains to make it clear that homeopathy can be integrated with conventional treatment'. The only section that goes anywhere near such a statement is 'Homeopathic treatments are safe for children – and they work alongside conventional medicines such as creams and puffers.' Is that 'going to great pains' and advocating 'integration'? I think not. Is this why she talks of a 'drug free approach'?
As for her involvement in the Kenyan homeopathy clinic that claims to be a centre for treating AIDS and malaria, "[I] did not, at any point, claim to cure malaria, HIV/AIDS or TB. … Not only would such a claim contravene section 72 of the Code of Ethics & Practice, it would of course, be counter to the very way in which homeopaths practice'. It is well worth visiting the Abha Light Foundation's web site and attempt to understand if that is what Abha believe too.
I wish I could point you to a relevent page on the SoH website that publicised the outcomes of the above investigations, but their ethics and complaints procedures appear to be private and closed. It is worth comparing and contrasting this with the GMC and their conduct enquiries in doctors' standards. Full details of their current investigations and decisions can be found on their site. I would argue that the GMC was better protecting patients' interests by being open and public.
In closing, when dealing with homeopaths, it does look like we have to be very careful about words. Their world view is so far from reality that we can never be sure we are talking about the same thing. Many homeopaths do not recognise illnesses like AIDS, malaria and TB and their pathogenic origins . They see these illnesses as being symptoms of underlying imbalances in mystical energies, miasms, or fairy dust, or something. These 'life-force problems' are what homeopaths claim to be treating – not the disease. When they talk about 'treating' and 'curing' they are talking about the 'underlying reason' and the 'whole person'. Such pseudo-scientific subtlety will be lost on most people. And so, what look like contradictory thought process to us, make perfect sense in their Humpty Dumpty world. In a world where words mean whatever you want them to mean, it is difficult to see how any complaint against you could ever be upheld.
******************************************************************************