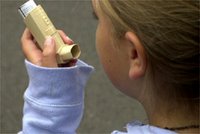 The Adverting Standards Authority has today found that a homeopath advertised their asthma clinic for kids by making untruthful, unsubstantiated and irresponsible claims. Archway House Natural Health Centre holds an Asthma and Eczema clinic for children, run by Julia Wilson, a member of the Society of Homeopaths.
Inasmuch, this is not news. The ASA make judgments like this every week. Their weekly published list today contains all sorts of findings against chiropractors and related quacks. But what makes this interesting is that this advert, in the form of a leaflet, has already been subject to a complaint directly to the Society of Homeopaths, who claim to regulate their members. Over a year ago, I was concerned that the Society's Code of Ethics was being widely ignored by their membership and there was no evidence that they took any steps to uphold their code which is designed to protect the public. If so, this was pretty serious. People would be visiting homeopaths under the impression that their membership of the Society of Homeopaths ensured that certain standards would be maintained and that they would not be misled or endangered as a result of the consultation.
I picked on one homeopath from their register pretty much at random. Not only was Julia Wilson making claims to treat asthma (which would be in breach of the code) but also she has spent time in Kenya in a clinic that dishes out sugar pills to prevent malaria and to treat HIV. One would have thought that a responsible organisation would want to rein in such dangerous excesses. This homeopath appeared to be in breach of several points in their code including treating named diseases and advertising in a way that claimed superiority to real treatments.
You can read about the Society of Homeopath's response here. Julia Wilson defended herself by claiming that her adverts (see here) did not claim superiority of homeopathy over conventional treatment, that she made no stated or implied claim that homeopathy can treat asthma, and that no cure was implied. She also said that she could not be held responsible for the Kenyan clinic's claims on their website and that she did not claim to cure HIV or malria when working there. I would suggest you read the leaflet yourself and see if this defence merits any credibility. The Society of Homeopaths wrote to me to tell me that they were satisfied that no breach of their code had taken place and that "no action will be taken."
Well, the Society of Homeopaths did take action. Their solicitor wrote to my web hosts demanding that I take down web pages that commented on this and other aspects of their lack of concern for the dangerous practices of their members. When I wrote to the Society's CEO Paula Ross asking for an explanation, I got a threatening letter back from their solicitor. Naturally, bloggers on the web went crazy, reposting my articles and condemning the behavior of the society, calling them 'Cowards and Bullies".
The ASA read this leaflet and decided that on four counts it was in breach of the CAP rules on advertising for being unsubstantiated, untruthful and irresponsible. They decided the leaflet did imply a cure for asthma because it denigrated conventional treatment – "puffers can provide temporary relief, they're not offering your child a cure. Homeopathy is different…". They asked Archway House for evidence that their treatments 'helps alleviate the flaring skin and tightening lungs of your child's allergic reactions". They could not answer this to any degree of satisfaction. Most strikingly, the ASA found the leaflet was irresponsible because it was likely to dissuade parents from seeking medical advice. A testimonial read "I was frightened by how much my daughter relied on her inhalers". Damningly, Archway house could not provide any evidence that the testimonials on the leaflet were real.
I have emailed the Society of Homeopaths to ask why their conclusions were so different from the ASA. I have also asked if they will relook at the complaint and take action against their member as it is a requirement of their code that member's adverts do not breach Advertising Standards rules. Importantly, I have asked if the public can have confidence in their code of ethics and complaints process. (Update: response, so far, below)
Does this matter? Asthma is not a trivial disease. Asthma UK report that,
A person is admitted to hospital every 8 minutes in England because of their asthma. That's on average 185 people per day and one in six people require further emergency care again within two weeks, yet 75% of admissions for asthma are avoidable and could save the NHS in England an estimated £43.7 million a year.
It is estimated that there are 1,500 deaths and 74,000 emergency hospital admissions for asthma each year in UK. A child whose parents go a homeopathic route rather than following the management plan of their doctor is being put at risk. The Society of Homeopaths do not appear to care about this. But people in the UK quite rightly have choices. When homeopaths take their sugar pills to Africa and tell them that they are better and cheaper than medicine at preventing malaria and managing HIV, then the delusion of homeopathy becomes truly murderous. If you want to believe the homeopaths that they act responsibly over this, then you should see the latest newsletters from the Abha Light Foundation in Kenya where Julia Wilson worked. They are handing out homeopathic remedies to 1,500 families and telling them that they are malaria prophylactics. 34,000 people die in Kenya each year from malaria. Over a third of children die before their first birthday from Malaria. Telling families that magic water pills can protect them will reduce the likelihood that they will seek proven safe alternatives, such as mosquito nets for babies. The Society of Homeopaths have never spoken out against this terrible western delusion inflicted on Africa.
In the year 2000, the House of Lords looked into the question of regulation of Alternative Medicine and made a large number of recommendations about how various treatments should be controlled. Eight years on and the government strategy is in tatters. The homeopaths have actively campaigned to be exluded from greater regulation and decided that they can regulate themselves. This is clearly not true. The deluded cannot regulate the deluded if the public want to be protected. The government has set up the Complementary and Natural Healthcare Council (better know as Ofquack). This has failed for a number of reasons. Firstly, few alternative medicine groups have wanted to join. As Ofquack will have council members that are not part of the alternative medicine communities that they will regulate, none of the practitioners want to be judged by anyone who does not share their delusions. And secondly, as Ofquack has failed to get up and running and will be entirely voluntary, there has been no compulsion for quacks to subject themselves to any meaningful scrutiny.
Prince Charles has been deeply involved in trying to set up Ofquack. The Prince's Foundation for Integrated Health put one of their own people into a group that would try to unite the homeopathic profession and create a single register that could be effectively managed. The squabbling between homeopaths ensured this failed. Ofquack appears to have abandoned any pretense that it can now regulate vast swathes of the alternative medicine industry. The Society of Homeopaths have now stated that they intend to create their own 'single register' – a move that has angered the rest of the UK homeopaths and is doomed to failure too.
So, in the UK, when a member of the public seeks the services of an alternative medicine practitioner, they are likely to see someone with letters after their name and a web site that says that they are members of professional bodies with a strict code of conduct. This is a thoroughly misleading picture. Homeopaths and other practitioners may well sign up to a code of conduct, but in the knowledge that it will never be enforced.
In the Guardian recently, the same comment was made in an article entitled "A Question of Ethics". The article noted that one of the most senior member of the Society of Homeopaths was a strong advocate for providing homeopathic 'immunisations' – the belief that magic water can protect people from dangerous diseases. The arctile concluded, "It seems that codes of ethics are good for window dressing while pragmatism is better for profit. ". The Society responded with a press release,
The Society would like to advise Guardian readers that any suspected breach of The Society's Code of Ethics & Practice should be formally reported to its Professional Conduct Department where it will be fully investigated.
Investigated maybe. Enforced? Doubtful. The codes are an illusion and we are being taken for fools.
*****************************************************************************
Update
I have had a reply from Jayne Thomas, Chair of the Board of Directors at the Society of Homeopaths:
As we have not yet seen the findings of the ASA adjudication to which you refer, The Society of Homeopaths is unable to comment on the specifics of this case.

However, we would like to reassure you that due process was followed in the handling of this case.

By their own admission, The Committee of Advertising Practice (CAP), have been delayed in finding an expert to assess the evidence base for homeopathy, which was submitted to them earlier this year.

The Society of Homeopaths is therefore awaiting the outcome of this assessment to inform future guidelines to our members concerning the advertising of homeopathy
So, we will have to wait for a more detailed response. I must admit that I surprised that SoH have not seen the adjudication yet. The ASA release a preliminary report to all parties several weeks before publication to allow the advertiser to respond and make corrections. Did Archway House really not consult SoH both originally and on the preliminary finding? The advertiser would also have been aware of the final outcome about a week before publication too. How do the SoH know that the ASA could not find an 'expert' to help them? In what way have SoH been involved here?