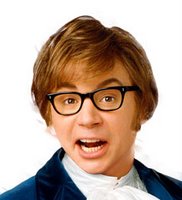 So, another vague and preposterous legal threat and my web hosts have caved like bullied ginger children. Pages have been taken down and then immediately duplicated to over 30 (at last count) web sites all over the world. The web tends to react like that.
This situation will not last. The Society of Homeopaths did not get away with it and nor will more minor bullies. To be told to remove a web page on the threat of 'one million pounds per day' (hooks little finger to mouth) is just plain daft, especially when we are not told why such offense was being taken.
Professor Dr Professor Joseph Chikelue Obi FRCAM(Dublin) has failed to respond to my simple request to document his specific concerns, and nor has his 'legal advisor' Tanja Suessenbach. And worse, neither have my web hosts, Netcetera, responded to my last emails to them. That has left me in a difficult position. Netcetera asked me to remove the pages until I have reached an agreement with Obi. He will undoubtedly now have no reason to speak to me now Netcetera have so easily complied. This leaves me with few options. Firstly, go digging and find a reason for Obi to back down and also, just simply move hosts. Positive Internet have offered to host this site for free – the hosts with a real backbone. (Just a few technical headaches to overcome first.)
But on to more fun things.
Part of Suessenbach's letter was to tell Netcetera in no uncertain terms that Obi was the owner of the Royal College of Alternative Medicine's (RCAM) Trademarks and she helpfully provided me with a copy letter of Good Standing from the Company Registration Office in Ireland and copies of Trade Mark registrations. This was quite ridiculous. Writing about a company in no way violates a person's rights under Trade Mark legislation. Nor does a letter of good standing provide evidence of the integrity of the directors. It just shows that the company is registered and is providing statutory returns.
The Registrar letter classed RCAM as 'normal'. So, the obvious thing was to get hold of those returns and a list of directors and their holdings, and see if that was true.
The Company Registration Office (CRO) in Dublin has a handy web interface (http://www.cro.ie/) for accessing such reports. A few euros lighter and I have the latest company returns from RCAM. The first is a Directors Annual Report which truly is a work of art in nice computer generated cursive script. Obi tells us that,
we are joyfully humbled to publicly announce an inspiring interim profit of thereabouts 415 Euros (before tax) which we ethically hope to double by this time next year.
The next quarter was somewhat better with a profit of 1628 Euros. No profit and loss or cashflow statements were provided as Obi sought an exemption due to RCAM's small size. So, it is a modest business to say the least.
Far more interesting was the latest register of Directors and their holdings. Joseph Obi owns all equity in the business, but Irish company law requires a company has at least two directors and a company secretary. So, first Professor Joseph Obi is listed as Wellness Consultant and Professor and gives his residential address as Wellness Cottage, Butlersbridge. That sets off alarm bells. What a coincidence of 'wellness'!
Fortunately, Ireland has another fantastic online resource: the Post Office Address Checker. In using this service, I have failed to find a 'Wellness Cottage' in Butlersbridge. Now I do hope I am mistaken as supplying a false director's address would be an offence and could lead to Mr Obi being disqualified as a director and fined.
The second director of RCAM is given as a Dr Andrew Ifeanyi Obi. His occupation is listed as 'International Medical Advisor', and his address is given as Suite 275, Thomas House, 47 Botanic Avenue, Belfast. Andrew Obi's signature is much more scripted than Joseph's.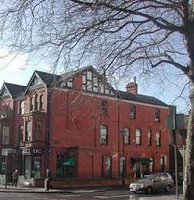 This is a picture of 47 Botanic Avenue, Belfast. It must have tardis like proportions to contain at least 275 suites. Most of them will fail to have windows, which must be a shame. Actually, this building has a number of purposes. It is home to Green Inc Film and Television, the TV production company set up by cheeky chappy Patrick Kielty. (Follow link with sound on for full humorous effect).
More importantly, it is also home to Belfast company Mail Boxes Etc. (You can just make them out in the photo.) This company provides business services included rented mailboxes. It would make more sense if Suite 275, was Box 275. Now, once again I do hope I am wrong because providing a mailbox for a residential address would also not please the company registrars in Dublin.
What is also a little irregular is that CRO insist that at least one director of an Irish company is resident in the Republic. Dr Andrew, even if he is in Belfast, does not appear to be, and Professor Joseph appears to be based either Gateshead and/or London. He has hired a London-based 'legal advisor' and many press stories about him do not mention his Irish residence. Being a non-resident director requires a hefty bond to be paid.
One last discrepancy that I do not understand is that I can find no reference to Dr Andrew Ifeanyi Obi on any of Professor Obi's web sites, including RCAM. Indeed Goolging various combinations of either 'Andrew Obi' or 'Ifeanyi Obi' reveals only dire warnings of aliases being used for Nigerian Advance Fee Fraud (419 scams). Now, of course this does not mean that Dr Andrew is involved in such things, but rather we have no idea who he is, what he does with RCAM, why his director report does not appear to list a real residential address, or even if he exists at all.
But we know from the Irish Independent that Banned doctor claims to head college that does not exist. The companies registered address is just another "standard call answering and mail collection service to give the impression that it does [exist]." RCAM is just a web site run by Obi, but registered as a trading company in Ireland. For what reason? To make it sound impressive in intimidating legal letters?
What does all this mean? I am not sure, although the concerned citizen within me compels me to alert my suspicions to the relevent authorities in Dublin. Joseph is being a busy man right now blogging away. Yesterday, he told the world that,
Supermodel Kate Moss has today firmly and comprehensively dissociated themselves from the Quackometer Blog.
What a shame. We were getting on so well. I bet she has gone back to that waster, Dougherty.
Now, what I suggest to Mr Obi, and I have written to his 'legal advisor' to this effect, is that he stops fantasising about Kate (that's my job) and writes to Netcetera and withdraws his threats, writes to Google and withdraws his demands to remove my site from their listings.
It's not too late to back off from this silly nonsense.