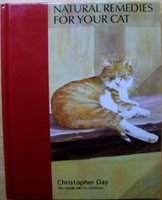 Some years ago, a well meaning but utterly deluded friend gave me a book entitled Natural Remedies For Your Cat by Christopher Day. It is a slightly disturbing tome that appears to recommend homeopathic remedies for pretty much everything – from fleas to gunshot wounds.
Rational cat lovers might find this book pretty disturbing. In many ways, it is a classic homeopathy text. It sees homeopathy as verging on the panacea, has a brief disclaimer telling owners to seek veterinary help and has a chapter on feline vaccination.
A cat's immune system is a very finely poised and delicately balanced yet powerful entity in the daily battle for life and health. (…) Deaths, severe illness and chronic mild illness have all been recorded as following closely on vaccination. (…) There is an alternative to conventional vaccination but it has not been efficacy-tested on laboratory animals. No proof of efficacy therefore exists. However, many breeders, show people, cat lovers and catteries now feel strongly that the alternative is as effective as, and, safer than, conventional vaccination.
Christopher Day is not some soft-headed amateur pet healer. Day is a fully qualified vet and paid up member of the Royal College of Veterinary Surgeons. Recently, his name has been popping up a few times. A friend in the pub said she was going to see him about a troubled horse that was clearly in a lot of pain. As tactfully as possible, I suggested that he had slightly unorthodox ideas and another vet might be more appropriate. I was told that "he was a qualified vet" and that "holistic approaches appeal to me because they ultimately have the patients best interest at heart". Apparently, they do not fob you off and they take their time. Fortunately, Christopher Day turned out to be far more expensive than 'mainstream' vets.
I have also been pointed towards him by a few homeopaths with the idea that a vet practicing homeopathy is somehow proof that it works. Animals do not know about the placebo effect, apparently. We shall explore this canard a little more shortly.
There is something important going on here. Day runs the 'Alternative Veterinary Medicine Centre' in Oxfordshire. He describes himself as a 'holistic vet' and offers the following treatments,
Homeopathy : Herbs : Acupuncture : Moxibustion : Aromatherapy (Essential Oils) : Tissue Salts : Bach Flowers : LASER : Magnet Therapy : Chiropractic Manipulation : Nutrition : Crystals : Ultra-Sound : Physiotherapy : Positive Health : Holistic Medicine : First-Aid : Preventive Medicine
His site says that he specialises in alternative medicine but does not shun conventional medicine "per se". Apparently, "it is our pleasure not to have to resort to it very often".
It is difficult to imagine a medical doctor who used homeopathy using such language. Indeed, Peter Fisher, the director of the London Homeopathic Hospital, can be quite circumspect and modest when talking about the capabilities of homeopathy. It is not possible to imagine a doctor writing books like this, offering clinics like this and eschewing conventional treatment without getting into trouble with regulations. In the human medical world, such total embracing of the alternative worldview is almost exclusively the reserve of your non-medically qualified private practitioner.
Bizarrely, if a lay homeopath were to set up a practice to treat animals without a veterinary qualification, they would be breaking the law. Homeopaths may practice freely on humans, but not on cats, budgerigars and whippets. Chris Day himself tells us on his web site that,
The Veterinary Surgeons Act 1966 was put in place to regulate the treatment of animals. Under its provisions, it is basically only veterinary surgeons who may legally diagnose, prescribe, advise on the basis of a diagnosis and perform surgery on animals.
There are exceptions to this. Various massage like 'manipulative therapies' are allowed but should be overseen by a vet. The RCVS web site says,
All other forms of complementary therapy in the treatment of animals, including homoeopathy, must be administered by veterinary surgeons. It is illegal, in terms of the Veterinary Surgeons Act 1966, for lay practitioners however qualified in the human field, to treat animals. At the same time it is incumbent on veterinary surgeons offering any complementary therapy to ensure that they are adequately trained in its application.
What does it mean for a homeopathic vet to be "adequately trained in its application"? Since homeopathy is a pseudoscience and without scientific justification, rational or adequate evidence base, how can you be "adequately trained" in it? The idiocy of this position does not go unnoticed within the veterinary field and has been beautifully spoofed by the The British Veterinary Voodoo Society.
The problems of allowing "adequately trained" homeopaths to have free reign on animals is that homeopathic thinking is diametrically opposed to accepted standards of care. Homeopathy is not a complementary therapy that works alongside real medicine. It is, and always has been, strictly alternative. Homeopathy is a 'complete system of medicine' that is in opposition to the principles of science-based thinking about health. One of the characteristics of homeopaths is to denigrate real medicine. It is how they differentiate themselves and how they appeal to people who feel they have been let down by conventional care.
The latest handbook for homeopathic vets, the Textbook of Veterinary Homeopathy (Saxton, J. & Gregory, P. Beaconsfield Publishers, Beaconsfield, Bucks UK. 2005) has this to say about mixing homeopathy with conventional treatments…
There is little doubt that most orthodox drugs impede the action of homeopathic remedies. This is not surprising when one considers that the action of most of these medicines is in direct contradiction to that of homeopathy; anything which suppresses a reaction of the body will act counter to homeopathy, and considering the subtle energetic nature of homeopathic medicine it is only logical that such powerful drugs as corticosteroids or NSAIDs will antidote its effects.
and,
Perhaps the most important issue here is to be aware that any orthodox Medication may interfere with the action of a homeopathic remedy and to take account of this in prescribing these medicines. Ideally, all orthodox medication should be stopped prior to commencing treatment with homeopathy.
This book was written by two vets, John Saxton and Peter Gregory, who are members of the Royal College of Veterinary Surgeons and Fellows of the Faculty of Homeopaths.
So, at least, homeopathy is a big no go for the amateur vet. The Animal Society of Homeopaths would be an illegal organisation. But, veterinary homeopathy is a strange beast. For a start, homeopathy relies on the concepts of 'like cures like'. A substance that causes symptoms in the well can cure the ill. And yet, homeopathic 'provings' are done on humans. Do these translate to animals? All animals? We know different substances can affect different species in wildly different ways. How does my cat's response to Sepia differ to mine? I think that maybe I am taking the principle too seriously. Homeopathy also prides itself on the time spent in consultation with their customers in order to come up with a 'holistic symptom picture' and an 'individualised' remedy. It is this consultation that gives a talking-therapy-like benefit to customers, not the pill iteself. Does Christopher Day spend an hour in a field talking to a herd of cows about foot and mouth and their feelings about the disease, the stresses in their lives, and their hopes for the future, before dropping a vial of plain water in their communal trough? Maybe not.
As far as I can see, Christopher Day is a genuine character who believes that homeopathy is a useful way of treating sick animals. It is my opinion that this is a deeply misguided belief as homeopathy is nothing but a pre-scientific magical belief system based on totally implausible premises and with an evidence-base that is far too weak to suggest that anything real is going on. In such circumstances, one would expect that a regulatory authority would have something to say about this, in order to protect the welfare of animals, prevent owners from wasting money and to protect the professional image of veterinary surgeons.
So, who is regulating animal homeopathy? Day is a member of three organisations. He is a member of the RCVS – he has to be in order to practice. He is a Fellow of the Faculty of Homeopaths, the club reserved for medically trained homeopaths (both doctors and vets) and so can carry the designation VetFFHom. Indeed, he is listed as the Veterinary Dean of the Faculty of Homeopaths. Day is also a member BAHVS, the British Association of Homeopathic veterinary Surgeons. Indeed, Day was for 25 years the Secretary of the BAHVS. Out of all these organisations, who is making sure homeopathy is being practiced responsibly and in the best interest of the welfare of animals?
The Faculty of Homeopaths, although quite outspoken about the excesses of non medically qualified human treating homeopaths, appears to welcome vets into their fold without question. The Royal College of Veterinary Surgeons appears to wash its hands and not want to interfere. We cannot expect BAHVS to take a meaningful role as their officers, like Day, hold the very beliefs that ought to be questioned. I see little evidence that suggests that anyone wants to tackle the inconvenient problem that homeopathy is a useless placebo therapy.
Of course, we hear that customer choice is what justifies the use of voodoo and homeopathy on animals. It would be wrong to restrict choice, when paying customers, like my friend in the pub, believe it helps their pets and farm animals. The big difference between animals and humans though is who is making the choice. The animals have no say and are silent in the matter. Choice can be such a weasel word and we should be suspicious when politicians use it. We usually do not want a choice of schools. We want our local school to be of a high standard so that we can send our kids their with confidence. We do not want a choice of hospitals. We would rather the closest and most convenient one for ourselves and our families was up to scratch. Choices like these is used to hide inequalities and injustices by people who will usually gain financially, socially or politically.
Giving people a choice between quackery and proper care for their animals hides a huge injustice. It adds no choice to owners since there are false options involved which actually detract from the animal owner's empowerment. The owner may well feel better for providing 'holistic' care to their animal. They may well feel superior and 'caring more' than leaving their animal to a standard vet, who may not be able to do too much. But, this is at the expense of the animal who may find it hard to tell us that the magic homeopathy water was ineffective. The owner, full of fresh expectations of improvement in their animal, interprets any sign to justify the expense of their 'alternative approach'. The usual thinking biases kick in such as post hoc reasoning after regression to the mean, wishful thinking and selection biases. Meanwhile, an animal may still be suffering.
Can it be justified to use a placebo on an animal? The debate about humans being given placebos is interesting. It is a valid discussion because placebos are a function of the recipients beliefs and a placebo may well do some limited good. In animals, such complex social and ritualised beliefs can only be marginal. The function of an animal placebo is to palliate the owner's anxieties and fears, not the animal's. This strikes me as unequivocally morally wrong.