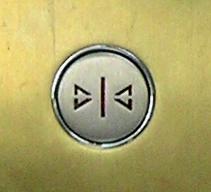 I read a rather disconcerting thing the other day. Apparently, the 'close doors' button on lifts (elevators, for my American friends) does not work. It is there to give us a sense of control in the tin box suspended on a rope. We press it but the lift control mechanisms decide when the doors should actually shut according to their pre-programmed cycles.
My reaction was of course total disbelief. For years I have been getting in lifts, pressing the button and then the doors close. My actions have been effective nearly every time. There is a near perfect correlation between my actions of pressing the button and the doors closing shortly thereafter. Case closed.
But stepping back for a moment and it is easy to see that my certainty may well be misplaced. I still believe that the button works but there is room for doubt. I can recall several times where I have had to press the button impatiently twice. Maybe if the door always closes after a fixed time I had pressed it the first time very soon after getting in. And of course, if the button was not working, then the doors would still close after a set period anyway. It is conceivable that my actions have nothing to do with when the doors close.
But would lift manufacturers really put a redundant button in there just to play some sort of psychological mindfuck on the users of their products? My doubts get stronger when I read that the button does work, but only when the lift is in 'fireman' mode and the maintenance key is turned. A little more plausible, but really?
So, I have now sufficient doubts to suspend my initial judgment of the effectiveness of my lift button pressing prowess. I could be kidding myself, but I am not sure. I do not want to fall for the post hoc ergo propter hoc fallacy. "After this, therefore because of this". Just because one event happens after another does not mean that the first event caused the second event. A dog barks at the postman and is convinced the barking makes the postman go away. You swear at the traffic lights (robots, for my South African friends) and they go green. I press the lift button, the doors close. I am ill, I take my homeopathy pills, I get better.
How we respond to such information helps to define us as to what sort of thinker we are. Human brains are finely tuned belief engines. Millions of years of evolution have honed our grey stuff to spot causation in the world and form beliefs about what causes what. It helps us survive when we notice that certain events always follow other events. Such knowledge helps us reliably find food, mates and shelter. But our brains are taking efficient shortcuts. We filter out and ignore failures and remember and reinforce successes. And most of the time this works. But beliefs formed in this way can lead to mistakes. My pressing the lift button may well be a false conclusion drawn from my experience because I have failed to spot hidden causes and alternatives to the obvious. Maybe it really is just the lift closing the door without my intervention. Maybe the postman will just leave anyway without the dog barking and maybe my cold will clear up without the homeopathic sugar pill having to remember any 'vibrational energies'. It takes care, training and caution to spot when our monkey brains might not be instinctively getting things right. And it is not easy.
James Randi gave a talk this weekend in London with Sue Blackmore, Simon Singh, Ben Goldacre and other sceptics. Everyone there was familiar with his work, but he wanted to remind us that even us die hard sceptics are easy to fool. He stood in front of the microphone and talked to us and then at the end revealed that the microphone was not on and the glasses he was wearing had no lenses in them. He could not see us. Our brains were inventing information about the experience to make sense of it. What sort of idiot pretends the standing microphone was on when really he was using a collar device? What sort of idiot wanders on stage without being able to see? What sort of idiot puts useless buttons in lifts? Or takes useless sugar pills for that matter?
Now, one factor that prevents us testing our cherished beliefs is our investment in them. For the beliefs we value and have spent time and money nurturing there is a natural aversion to testing them. We just do not want to find out that our effort was for nought. The greater the investment, the more inclined we are to only seek confirmatory evidence for our beliefs and the less notice we take of negative evidence. I can honestly say that despite the thousands of times I have pressed the close door button, I do not feel wedded to the idea that my actions have been effective. I am happy to admit that I may have been taken for a fool.
Maybe if you were an old fashioned lift attendant in a posh department store, you might have more psychological investment in your beliefs about button pressing. You have been doing it for years, helping customer up and down between floors. They have been happy customers and pleased that you shortened the journey by pressing the close door button when everyone was ready. They tip you. They would not tip you if you had actually been doing nothing. You spent three years training (by correspondence) on effective lift management. You have a diploma (unaccredited). Your parents are proud. WHO ARE YOU TO TELL ME THAT THE BUTTON DOES NOTHING!
So, there is only one answer: science. Test my assumptions. Collect some objective data and see if it confirms my expectations about my ability to influence lift doors. I can do a simple trial. I can time the interval between the doors fully opening when the lift in this building arrives at the ground floor and when the doors finally close before we move off. I can do this six times with a button press and six times without. There is probably no need to invent some sort of blinding mechanism as the opening and closing events are not overly susceptible to subjective interpretation and the lift will probably be unaware that a trial is going on. Maybe I will randomise the trial by tossing a coin as I step in – just in case there are trends or other factors that might make the interval different over the day. I will seek ethical approval.
Will you do the same? Can we settle this issue and see if we really are powerless and dehumanised in the face of the cold reality of vertical transportation mechanisms? Let me know.
(Mind you. I have always been a big fan of paternosters. Much more gentle, holistic and natural – and no need for reductionist, mechanical, electrosensitivity-inducing close door buttons. Why have they taken the paternosters away? Where is our choice?)