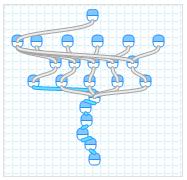 Some of the quackometer functionality has not been working too well over the past few months. The Am I a Quack or Not? function was very poorly and only working for a few searches per day. The reason being that the operation depended on some very old and unsupported Google technology that was about to be unplugged. So, I have now done the work to convert over to Yahoo search.
For the interested, I am now using Yahoo Pipes where I do about five simultaneous different Yahoo searches, based on the name entered, for different aspects of quackery and then merge, sort and filter the results to produce three pages that may be utter quackery. I then run each page through the Quackometer engine to see if the pages really are quackery or not. The resulting average of the quack scores gives a score for the name you entered. You can then check out the pages yourself to see if the Quackometer got it right.
So, it is working again (I hope). Other fun things to do are to install the Quackometer Toolbar Button. This allows you to highlight a name in a web page, click the button and find out if someone might be a quack. You can also use it to test the current page you are on for quackery, or search for information on a subject from reliable sources. What fun.