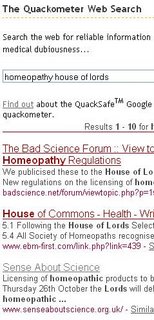 Le Canard Noir is pleased to announce the arrival of the Quackometer QuackSafeTM Search Engine. Do you quickly need to debunk the latest fraudulent claim? Do you need to see if others have insight into a quack? This is the Search Engine for you.
The Search Engine will only return matches from sites and blogs that are known to supply reliable information about quackery, quacks, medical fraud and health realetd pseudoscience. It is based on the newly available Google Coop technology, but unlike Google, will not return sites that swallow fraudulent medical claims whole.
Start QuackSafeTM searching here.
The Quackometer QuackSafeTM Google Toolbar Button has been updated to allow one button access to the Search Engine from the Google Search box on the toolbar. If you have already installed the toolbar Button, it will automatically upgrade itself in the background. To access thw Quackometer Search Engine, just enter your query into the the toolbar button and just click the little black duck icon.
To install the Toolbar button, click on this link and follow the instructions.
At present, there are about 50 sites that are included in the search. Selection of these sites is based on them being providers of critical thinking about the claims of quacks or their investigations into health fraud. Sites are not included that just provide general health advice or research. There are better places to find this information and the quackometer is not a health advisory service.
Wikipedia is also not included, as after consideration, its articles on quack related subjects often suffer from the 'BBC fallacy' – that the truth is found in a balance of opinions.
If the quackometer is failing to find articles from sites that you believe will add value, then please drop me a line.
If you wish to collaborate on this site and help improve the search results, then please drop me a line.