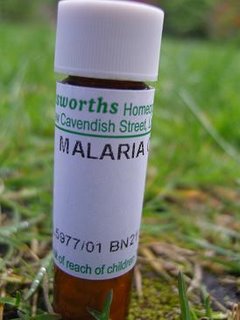 Neal's Yard Remedies has announced that it is withdrawing is Malaria Officinalis 30C homeopathic remedy from sale. This is the absolute minimum it could have done given that its Exeter Branch was recently caught out by the BBC South West programme Inside Out selling this remedy as protection against malaria. (I wrote about this staggering event recently.)
What reason do Neal's Yard give? Let's look at their press release in detail.
The BBC's Inside Out programme – Homoeopathy and Malaria

We love the BBC, but we all know from time to time they can be guilty of naughty editing, especially when it comes to showing people apparently storming 'out'. Our Medicines Director Susan Curtis was interviewed for the Inside Out programme last week, and unfortunately a lot of what she was trying to say was not shown. The most important point, and something we are very passionate about, it that as our health is so important, we advise that people seek professional advice on all matters of health.
So, we note that Neal's Yard remind us of how recently the BBC were discovered to be less than honest in their film report showing the Queen 'storming out' of the BBC filming of a documentary. So, Neal's Yard want to compare the 'misrepresented' Susan Curtis to the Queen. All I can suggest is that you watch the footage of the non medically qualified Medicine's Director 'hurriedly leaving' the interview. Make sure you pay attention during the bit where Susan Curtis rips of her microphone and says 'I have actually had enough" and then quickly leaves as the interviewer asks if what the company was doing was "criminal, unethical and dangerous". A full transcript can be found on 'thinking is dangerous'.
The statement claims that Neal's Yard ensures people "seek professional advice on all matters of health". We shall examine that a little more closely later.
Next in the press release,
We know there have been no clinical trials for the use of homoeopathy in the prevention of malaria but homoeopathy does have a good track record in preventing and treating other epidemic diseases. Susan said that there is no absolute guarantee that you will not get malaria with any treatment and that the most important factor is to take measures to prevent being bitten by mosquitoes.
Neal's Yard acknowledges that there is no good evidence that homoeopathy can prevent malaria. So, why does it sell it then? Malaria kills. By offering a prevention where there is no scientific evidence or reason to suppose that it will prevent malaria, you are simply putting lives at risk. Susan then claims that there is a "good track record in preventing and treating other epidemic diseases." This is bullshit of the highest order. There is no good evidence that homeopathy can prevent or cure any disease – it's just sugar pills. Homeopaths like to tell each other stories and myths about cholera epidemics in the 19th Century. Not good enough. Can you imagine a drug company offering evidence for a new drug based on 200 year old fairy stories? By saying that "no absolute guarantee that you will not get malaria with any treatment " it ignores the fact that there is good evidence that convential anti-malarials, properly prescribed, can do a great deal to protect you, whilst homeopathic sugar pills do absolutely nothing. Weasel words.
And on,
We do not advertise or sell the remedy as a prevention for Malaria. It is supplied on request by practitioners working in Neals Yard Remedies stores, and in fact, the practitioners have been trained to always explain that the remedy should not be considered as a guarantee of prevention of malaria. The name of the remedy is based on its latin name and not on its claim to cure or prevent an ailment.
Now this is one of the most beautiful bits of bullshit I have yet come across. I purchased a tub of Neals Yard Malaria pills. A picture of the product is shown above. So, I am supposed to believe that when the word 'MALARIA' appears on the label it is actually a very technical latin name which a mere lay person like me could not understand and in fact has nothing to do with the deadly disease spelt using the same letters in the same order. Let us remind ourselves what MALARIA CO 30C actually is. It is a homeopathically prepared 'nosode' dilution of the malaria parasite designed with the like-cures-principle in mind. The product is specifically designed to prevent or cure malaria, but is so dilute that all you end up with is the plain sugar pill and so cannot possibly do anything. There is 1 part 'remedy' to 1,000,000,000,000,000,000,000,000,000,000,000,000,000,000,000,000,000,000,000,000 parts water. (100 to the power of 30)
Well, did Neal's Yard sell this as a prevention or cure for malaria? The page from their web site has now gone. But, by the amazing powers of the interweb I can remind you what the page looked like here (also here). The product was being sold alongside Medicines Director Susan Curtis' book Homoeopathic Alternatives To Immunisation in which she describes how such a remedy could prevent malaria. And did my purchase come with a warning? Nothing. Not a word about the fact that I should be seeing my GP and taking anti-bite measures? Silence.
The press release ends,
However, as this is obviously a contentious issue which is causing customer concern, we have decided to withdraw the product, Malaria Officinalis 30c from sale with immediate effect.
I have a feeling that the real reason might be to do with the fact that the BBC passed on their information to Trading Standards and the MHRA, the body who make sure all medicines are licensed and marketed appropriately. Selling a homeopathic remedy with claims, implied or otherwise, without a license is a criminal offense. Even if you do have a license, you are only allowed to make claims for conditions that do not normally require a doctor's attention, like 'feeling a bit under the weather'.
The product sold to me by Neal's Yard was manufactured by Ainsworth's, the homeopathic pill company. Their web site still contains the same product. I am sure there is some anxiety there that they do not want the MHRA telling them that they cannot sell this stuff. Let's hope the MHRA are not aware of this.
But back to the main issue. This press release is almost a complete string of bullshit statements designed to obscure the fact the Neal's Yard were selling dangerous products. The company likes to portray its ethical nature, and wants to fill the gap on the high street now that The Body Shop have been acquired by a big multinational. Is this press release a one-off? Sadly not.
Their previous press release was an attempt to discredit the Cochrane review of vitamin supplements that showed that there was little evidence that certain vitamin supplements did you much good and that they even could be shortening your life. The Vitamin Companies and Health Food Industry came out in a massive PR battle to rubbish this study – without even reading it. Ben Goldacre covered this in this Saturday's Guardian where he showed that the Health Food Manufacturers Association had roped in various clueless celebrities to condemn the work. It was obvious that none of the celebrities had either read the work or understood it. The vitamin pill salesman Patrick Holford started saying that it was a 'conspiracy' by vested interests to destroy the vitamin industry whilst neglecting to mention that the Cochrane collaboration is independent and forbids its members from taking corporate funding for its studies and that Holford himself had taken around half a million pounds from the vitamin industry over the past year or so.
The deliberate obfuscation of this serious report is shameful. All have been at it, from Holland and Barrett to the 'mad-as-a-box-of-frogs' website What Doctors Don't Tell You. All of their criticisms were shallow and idiotic. Rather than issue a press release that said they would be "studying the conclusions of this important study and seeing how it affected their business", as you might expect ethical and responsible businesses to do, there was nothing but a universal knee jerk reaction of the type you might expect of the asbestos or tobacco industries.
Neal's Yard Remedies were no different. Their press release did not even give specific criticisms of the Cochrane review but of a previous piece of work by the authors. The Cochrane review was in part a response to these previous criticism and was ten times longer than the study criticised by Neal's Yard. The press release concluded,
there is considerable documented evidence both for vitamin deficiencies in the general diet (particularly for specific at-risk groups), and for the health benefits of vitamin supplementation when taken at recommended doses. Those individuals who wish to take vitamin supplements to maintain good health should therefore continue to do so, and should not be discouraged by the shoddy scientific study by Bjelakovic et al.
That is a shameful statement to make. The only thing that is shoddy is Neal's Yard criticism of a gold standard review that it looks like it has not even read.
Neal's Yard is portraying itself as wearing the mantle of ethical business. It is marketing bullshit. It likes to be seen as green, organic and 'carbon neutral'. What can be ethical about selling overpriced cosmetics to the self-indulgent? What is ethical about selling useless sugar pills for lethal diseases? The business has a new Managing Director, Jonathan Hook. He says "Our ultimate aim is to be entirely organic". Ex mobile phone salesman Mr Hook was shoehorned in by owner Peter Kindersley as Hook's father was an organic farmer, and Kindersley likes that kinda stuff. The company is pleased with itself that it is now 'carbon neutral'. But these claims of being organic and ethical do not take into account the context of their business. Would an atomic bomb be ethical because it has a lower carbon footprint than 100,000 tonnes of TNT?
On the subject of the wild claims Neal's Yard make about their health products, Jonathan Hook shows a hint of doubt. He said in the Times,
"All our products have a therapeutic intent as well as being beautiful," he says. "You can say: 'This is really gentle, it will do good.' You can't say: 'It will cure eczema.'"
Therapeutic intent. That's nice. But it is also bullshit. What Neal's Yard sells is shiny blue bottles for the gullible. Any more claims to be ethical and I might start getting angry.