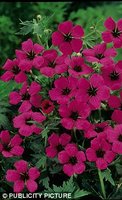 The newspapers today were delighting in reporting that a new cold treatment was being made available to us in Britian. Kaloba is an extract of the geranium Pelargonium sidoides, and has been "used by Zulus for hundreds of years".
The Telegraph tells us that "extracts are particularly good at reducing the amount of phlegm." Remarkably, the paper tells us that,
Research by the Cochrane Review showed it to be "effective in resolving all symptoms including headaches and nasal discharge in adults when taken for an extended time period.
The Daily Mail tells us that,
A herbal medicine used by African tribes to counter colds and flu has been given the go-ahead for use in Britain.

For hundreds of years, Zulus have taken extracts from the geranium plant to stop coughs and sneezes.

They say it is particularly effective at cutting phlegm.
To the Daily Mail's credit they do point out that licensing the pills in the UK does not require the manufacturers to produce evidence of efficacy. They say,
However, because it is a herbal remedy the manufacturers, who claim it can activate the body's anti-viral defences, do not have to prove it is effective.
Indeed, the MHRA have issued their own assessment and say that,
This registration is based exclusively upon the longstanding use of the extract from the roots of Pelargonium sidoides as a traditional herbal medicine and not upon data generated from clinical trials. There is no requirement under the Traditional Herbal Registration scheme to prove scientifically that the product works.
There are a number of odd things here that are worth noting. Firstly, the MHRA does not look at the use of this stuff within Zulu tribes to assess whether there has been sufficient 'traditional use' to determine whether it should be granted a license. They actually looked at evidence of usage within the EU – not amongst Zulus, but principally amongst Germans where this herbal remedy has been on sale for some time.
The second is whether there is any evidence at all for the effectiveness of Kalabo. The Telegraph were remarkably selective in quoting the Cochrane review about this plant. Far from being "effective in resolving all symptoms" as reported, the Cochrane review actually concluded that "There is limited evidence for the effectiveness of P. sidoides in the treatment of ARIs. (acute respiratory tract infections)". From the trials reviewed, there was a lot of heterogeneity of outcomes (read 'confusion') and that the 'significant' results came from an unpublished trial. So, it may be effective. But the evidence is too confusing to draw firm conclusions.
But the manufacturers Schwabe Pharmaceuticals and their sales outlet Boots will undoubtedly be welcoming the MHRA's decision to let this stuff loose on us and the misleading and (mainly) uncritical reporting by the nations finest newspapers are undoubtedly providing a good sales launch.