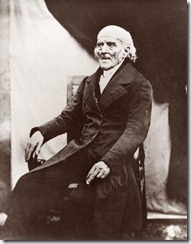 How are we to understand the persistence of alternative medicine beliefs? Despite the absurdity of many of the claims of the various superstitious medicines, we see very entrenched positions amongst believers, hostility to criticism and an imperviousness to external mainstream views. Why do people fervently lock themselves into such positions?
Over the past few years, as I have researched the the world of alternative medicine , one of the most striking aspects I have found is how few progressive views there are amongst practitioners. Particularly in the world of homeopathy, it is difficult to find people who express beliefs about their practice that take on board the criticisms that have been made over many years, and attempt to reformulate their ideas in light of modern views of science and health.
Instead, we see people dogmatically fused to positions usually taken by the founders of their belief system, and absolute hostility to anyone who dares question them.
I would not be the first to suggest that believers in alternative medicine often display the traits of members of cults. I have been in correspondence recently with a chiropractic student in the UK who describes how the abusive approach of tutors and huge fees for an MSc course ensured that students felt 'locked in' to following a commercial approach that they might otherwise be highly doubtful of.
Of all alternative medicines homeopathy, to me, looks the most cult-like.
But, it might be argued, this situation might also apply to more general vocational degrees. For cult-like pressure to apply to students, other factors may be required.
Homeopathy demands a strictly alternative philosophical approach to mainstream medicine. There is nothing 'complementary' about its views. Indeed, it defines itself in opposition to what it calls 'allopathy' and in doing so creates a straw man of what medicine is today. It lives in an "Us versus Them" world. Followers slavishly follows the 'teachings' of its founder, Samuel Hahnemann with the only internal debates being about how to interpret his words. They are zealous in their need to tell people that they hold the One Truth about medicine and people who question that are branded as corrupt shills for the conspiratorial pharmaceutical companies.
Over the past year,  I have been in conversation with perhaps the only homeopath I know that has been part of that world, has undertaken a full training, and yet decided to walk away and reject what it stands for. Her name is Wendy.
Wendy says she felt lost to her family for a while. Talking about these things is obviously painful to her, but her words are powerful in that they directly convey the trauma of her homeopathic experience. She has agreed for me to post some of her words. They are a small fraction of what I know she has to talk about, but they directly address this aspect of the cult-like nature of undertaking a homeopathic education. Wendy wishes that others, tempted to invest in a similar experience, have some insight into what others have gone through.
Wendy describes life inside the cult of homeopathy, a term she uses to describe the experience,
Homeopaths live in the same space as you but are in a different world, and they 'know'.
It is like living in a different culture.  Have you read some of these historical crime novels where they try to get you into how people thought then?  Margaret Doody is particularly good – Aristotle series.  Completely different assumptions and completely different 'knowledge'.   Homeopaths live in the same space as you but are in a different world, and they 'know'.  To come out of that world is a complete revision of assumptions, thought systems and thinking style.  It is very hard to do.  I think I've been trying to say that for a long time.  The larger the numbers have grown the easier it is for people to live in that world with others like them.
Wendy talks about how the training for homeopaths is vital for creating the cult-like mentality. Very early on she realised that questioning was highly discouraged. On her training, she says,
I wrote that I think that by month 3 or 4 I was buying into stuff I would not ordinarily buy into.  I never bought into soul or vital force but I'd lost any ability to challenge it within 6 months.  I did challenge homeopathic prophylaxis once, and did not get a satisfactory answer.  In homeopathy it would be 'judgemental' to say anyone is doing it wrong or say an idea is useless, which is why anyone can do what they like.  It would be judgemental to, for instance, campaign that prophylaxis has no backing in Hahnemann, or that the petrochemical miasm is just a figment of someone's imagination.  Remember [tutor] pointed it out – you can not criticise or challenge how people operate or what they do.  If they say it works for them – anything goes.  So you have this bunch of people, all working differently, solely around whatever ideas they get in their head.  As we say – 'whatever works for you'.  And no one ever discusses their results.  If they say it works, who are you to question.

If they say it works for them – anything goes.

My critical abilities were silenced within the first year – not by others – but because it would be considered judgemental in that society.
The discouragement of critical thinking left Wendy with no tools to evaluate good from bad. The authority of the tutors was paramount and critical thought was replaced with a general 'New Age' approach to reasoning which appeared to dominate the British lay homeopathy mind-set.
It is as if my left-brain got disconnected for a long time.  Ability to evaluate what ideas seem good to me and what looks like rubbish, went  – including evaluation of my own ideas.  The drama/wind-ups/illusions/influencing of the [tutor] period seems to have particularly geared there as I feel as I still had some common sense when I went in but it went quickly.
Self-belief – that your first stupid idea is the best one,  is what happens – because you only see good results (and part of the American New Age philosophies emphasises the positive) there is loss of reflection and insight.  This isn't just the natural 'looking for success' that we all do – it is emphasised by the 'positive-thinking' philosophy.

I see it as a form of intellectual wanking – because there is no relating back to reality; and people now pay £40 an hour to their homeopath for that.
I have sometimes written the homeopathy might be able to reform itself into a more progressive form by recognising that its strengths lie in it being a form of counselling. Wendy takes issue with this,
You've said they might make counsellors – but they're not trained as counsellors – they are doing amateur psychology based on reading a bit of Joseph Campbell or Jung or Louise Hay or whoever is fashionable this week.  Once again, whatever the first idea in their heads is what get addressed with a remedy.
Wendy has found the current sceptical blogging about homeopathy on the internet a useful tool in 'de-programming' and re-engaging with a critical approach to examining the claims of homeopathy. I know she does not agree with all that I might write, but the fact that we discuss and debate is important for her.
It's great to have a bit of sense in my head again and it's  good that you lads [the sceptics] disagree with one another sometimes because I get a chance to engage in some critical thinking and evaluation. Something that was missing for a long time.

Also, it was as if I got stuck there historically.  When I came round I hadn't moved on to 2009, I was still trapped in some issues that existed in the 90s but are no longer relevant.  I feel as if I lost a decade.  Somehow I got trapped in a world that wasn't mine and it was very uncomfortable.

As I say, I now see homeopathy as the disease.  I think it is a form of madness.  I feel adversely affected. I feel as if I lost a decade.  Somehow I got trapped in a world that wasn't mine and it was very uncomfortable. I have had to work hard to rid myself of cult thinking and am still in that process but I feel that I have support and the Cult Information Centre are very useful.
I feel as if I lost a decade.  Somehow I got trapped in a world that wasn't mine and it was very uncomfortable.
I have never argued that homeopathy should be banned, or that people, in most circumstances, should be denied the choice of taking homeopathy. But it is testimony like this that makes me wonder what the limits of tolerance should be to such matters. Homeopathy appears to be unreformable, and it would appear to be unlikely that any progressive and modern form the practice could emerge from its current lay membership. Homeopathy is so strictly defined by its opposition to modern mainstream medicine that it will always lie at the fringes in a pseudoscientific bubble. It will always cling to its core dangerous beliefs of its universal claim to the True Medical Knowledge and its panacea-like approach to the world. In doing so, it must attack and denounce alternatives – such as scientific medicine – without any form of compromise.
I believe that understanding homeopathy requires a mental model that describes it as a pseudo-medical and superstitious cult. This model best describes its practices and the behaviours of its members. The cult model explains why virtually no homeopaths have condemned the murderous practice of using sugar pills to treat fatal diseases like HIV and malaria. The first treatment Hahnemann tried was for malaria. There is no question that he could have been wrong. It is why we see such a strong and universal anti-vaccination stance among homeopaths. Hahnemann believed mainstream medicine was the cause of disease, not its cure. The dogma persists in the thinking of the cult.
It is worth noting, in this light, that its practices are still provided by the NHS and some universities still teach it as fact. Homeopaths are lobbying government to make it statutorily regulated. Any decisions made in these areas need to take into account the cult-like dark side of homeopathy if people are to be protected from its harms.