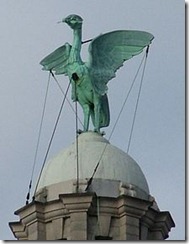 I do not have a crystal ball. And I have no idea how the current farcical reorganisation of the NHS will end up.
But last September, I was worrying that the emphasis on competition would allow GP consortia to commission quack services – if there is patient demand then there appeared to be little stopping them doing this.
And now, in the middle of this mess we see Liverpool PCT formally invite 'any willing provider' to be accredited to  "deliver a Homeopathy Service from 8 August 2011".
The tender says that it is "seeking to accredit suitably qualified and experienced Providers to deliver a Homeopathy Service". The contract will be initially for 12 months, but that "there will be no guarantees of volume or payment in the contracts awarded".
Currently Liverpool PCT offer a homeopathic clinic at the Old Swan Health Centre run by real doctors that have a desire to practice as if they were still in the 19th Century. I have been heavily critical of this clinic for offering superstitious forms of cancer treatment based on a mystical view of the properties of mistletoe. Called Iscador, the cancer injection is made by Weleda, more commonly known for their skin care products. Weleda is actually one of the commercial arms of the strange and mystical anthroposophical movement which is based on the superstitious teachings of Rudolf Steiner.
Weleda has a turnover of about $300 million per year. Just as Big Pharma has been supporting astroturf patient interest groups to lobby for specific treatments, so too has Weleda been supporting the North West Friends of Homeopathy. Some PCTs in the region, such as Wirral, have been threatening to cease funding homeopathy treatment, and the Friends have been lobbying hard to stop this happening.
So, what is going on here?
It is unclear to me who will be eligible to apply. Crucially, a lot will hinge on what the criteria are for "suitably qualified" providers. Homeopaths are delusional. They believe sugar pills can treat illness. A fully trained homeopath is not an expert, but just more efficient at delivering nonsense. If non-medically qualified homeopaths are able to apply, then not only are they delusional, but also tend to hold dangerous beliefs that will undermine public health messages and individual trust in medical professionals. You only need to look at prominent homeopaths' blogs, such as Steve Scrutton's (a registrar of the Alliance of Registered Homeopaths) to realise just how unethical and dangerous it would be to commission services from such people.
This should be a warning sign that something is badly wrong and that it could get worse as commercial pressures in the NHS drive commissioning towards cheap but ineffective services at the expense of us all. Yes, there will always be a minority that wish the NHS can provide the magic-du-jour treatment of their choice, but that does not mean that commissioning such services genuinely opens up patient choice.
Patient choice is meaningless unless it is based on genuine options.The option to be given pseudoscientific and superstitious alternatives to real treatments undermines the ability for medical professionals to be able to set out the evidence and rational for genuine treatment options. As I showed a few days ago, there is a hint in the data from a trial on homeopathy for cancer, that giving people the choice to descend into the world of magic medicine increases their propensity to decline genuine treatment options. That is a concern that needs investigating and understanding before we can even in the slightest way feel comfortable "integrating" quackery into public healthcare.