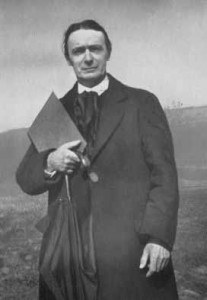 This morning, we discovered that pharmaceutical companies in Germany that manufacture homeopathic remedies, had being paying shills to discredit critics of alternative medicine. One of the organsiations was Weleda, an anthroposophical health care company founded by Rudolf Steiner.
Yesterday, on my blog post on the Steinerist Triodos Bank, a pro-Steiner commenter tried to discredit my interpretation of Steiner's views on race and geology by calling an academic who had researched these ideas a "Janus faced historian and intellectual con artist". I asked him to tone down his language before I would allow him to post.  It turns out that the person responsible was actually paid by a Steiner organisation to 'monitor the web'  for criticisms of Steiner schools and he has done so with associated legal threats against groups like Mumsnet.
When I first started writing about Anthroposophical Medicine and Steiner Schools, I struggled to understand the nature of this strange organisation that appeared to be behind so many schools, businesses, farms, banks and medical centres. There is not a great deal of independent writing about Anthroposophy. Much information has to come from places like discussion forums for 'survivors' of Steiner schools where parents have actually started to ask questions about what is going on in these schools.
What appears to be a common theme is that Steinerist organisations do not make a habit of being open about their anthroposophical roots. When I wrote about the proposed Frome Steiner Free School, I was critical that parents were being given no insight into the true nature of a Steiner education, instead relying on empty phrases such as it employing  "progressive approach to teaching that uniquely follows a child's personal development". Anyone investing in Triodos Bank, again, would have to work hard to uncover its Anthoposophical aims.
The only way I can really describe Anthroposophy is as an esoteric crypto-religious organisation based on a mystical and racist view of humanity and an astrological and clairvoyant view of understanding science.  Anthroposophy is full of barmpot ideas, such as the literal existence of gnomes, that the British Isles floats on the sea, homeopathy works, and burning mice ritually will protect your crops from them. Oh, and if you are good, you will be reincarnated as an Northern European Ayrian. And its adherents either don't want to know this themselves and most definitely do not want you to know this. Should its fundamental beliefs and aims become common knowledge then it would cause all sorts of problems, not least for Gove's new free Steiner Schools*. Adherents deny and spread disingenuous misinformation in order to soften criticism.
After Jeevan Vasagar wrote a rather watery article in the Guardian last May about the new Steiner Schools, I wrote to him asking if I could respond with a piece for Comment is Free highlighting some of the concerns about Steiner Schools, their secretiveness, and their anti-science. I got a response back from a CiF editor telling me that Jeevan's article 'had been critical enough'. It did not surprise me to learn that many journalists in the Guardian stable have anthroposophical links. We see senior journalist Yvonne Roberts tweeting that "Waldorf Steiner schools start at 3 but they also educate the whole lovely child not produce exam robots!" And media reporter Jemima Kiss tweeting an advert for a Steiner teacher. Various Steiner puff pieces have appeared in the Guardian over recent years, including Steiner parent Nikki Schreiber telling us that the schools are 'not full of weirdos'. And Adharanand Finn telling us that it is possible that the time for state funded Steiner Schools has come.
So, with that out of the way, here is some correspondence sent to me recently between a concerned ex-Steiner parent who wanted to alert the Holocaust Educational Trust about some of the darker associations of Anthroposophy. This, one might think, is important not least given the links between Steiner company Weleda supplying Dachau with 'experimental' medical supplies and the biodynamic garden set up in the same camp.
I hope you get to the end. There is quite a punchline.
Message: I am writing to ask if the trust are aware of the links between Anthroposophy and Nazism? Helmut Zander, historian of German history calls Anthroposophy 'the most successful alternative religion of the twentieth century'. Anthroposophy operates almost invisibly and is known by many different names. There are over 10,000 institutions and initiatives that have been founded that endeavor to apply the belief system – Steiner Waldorf education, Spiritual Science, Triodos Bank, the Camphill Movement, Biodynamic agriculture, Anthroposophical Medicine, Weleda, the Movement for Religious Renewal (also known as The Christian Community) and Eurythmy.

Anthroposophy is advertised as spiritual enquiry, the 'wisdom of man'. What is not made clear is that central to Anthroposophy is the belief that the soul reincarnates through a racial hierarchy from Black to Aryan via the actions of karma. The belief system was claimed to be gained by clairvoyant vision from Anthroposphy's founder Rudolf Steiner 1865 -1925

The reason I am writing to you is that many Steiner Waldorf schools are applying for public funding under the government's Free Schools initiative. I noticed from reading a number of the school newsletters that members of the HET have been invited to speak at Steiner Waldorf schools. I have also written to Michael Gove expressing my concerns and was told that diversity and parent choice are at the heart of his Free School policy, an adviser also referred to a number of disclaimers recently issued from the movement which myself and a colleague analyzed for Professor David Colqhoun's blog here:

http://www.dcscience.net/?p=3853

The historian Dr Peter Staudenmaier provides further analysis of the various disclaimers here:

http://groups.yahoo.com/group/waldorf-critics/message/13677

http://groups.yahoo.com/group/waldorf-critics/message/13673

http://groups.yahoo.com/group/waldorf-critics/message/9507

I have a copy of Dr Staudenamier's recent dissertation which I can email. In the meantime I hope the following articles may be of interest:

http://www.social-ecology.org/2009/01/anthroposophy-and-ecofascism-2/

http://www.egoisten.de/autoren/staudenmaier/frankfurt_memo/frankfurt_memo.html

http://www.social-ecology.org/2009/01/the-art-of-avoiding-history-2/

http://www.social-ecology.org/2009/01/anthroposophy-and-its-defenders-2/

http://www.social-ecology.org/2009/01/the-janus-face-of-anthroposophy-2/

Dr Staudenmaier writes:

"The Waldorf school in Stuttgart was founded as a bulwark against the corrosive powers of intellectualism and materialism in 1919, when our Volk was at its lowest point politically and culturally. Already at that time, when international tendencies were dominant, and despite facing strong hostility, the school consistently cultivated German spiritual life and built the entire education of the children on this basis. Eighteen years of experience have proven that through the Waldorf school, our children are being brought up to be hardworking, full-fledged members of the national community, healthy in body and soul. We are therefore convinced that the educational work of the Waldorf school can be successfully made fruitful for the cultural rebuilding of our Volk within the framework of the National Socialist state." (Eingabe der Elternschaft der Stuttgarter Waldorfschule, March 14, 1938; BA R4901/2521: 9-22)

The real difficulties arise when these worldviews are put into practice and implemented in concrete practical endeavors, like agriculture or health care or the education of children. Schools based on an esoteric belief system have a special obligation to delineate their underlying ideology clearly and plainly, without obfuscation and euphemism and to explain how they apply occult ideas in practice'.

http://groups.yahoo.com/group/waldorf-critics/message/19940

Steiner Waldorf schools state that Anthroposophy is not taught to the children, this statement is disingenuous. Anthroposophy underpins every aspect of the pedagogy in Steiner Waldorf schools and communities. The self-described "fastest growing education movement in the world" has given rise to a survivors group and critics across the world. Dr Staudenmaier pinpoints my main concern:

"What is worrisome about the Waldorf movements continued failure to address anthroposophy's racial legacy is not that Waldorf schools in the twenty-first century will start churning out little Hitler youths; what is worrisome is that Waldorf advocates and sympathizers may unknowingly help prepare the ideological groundwork for another unforeseen shift in the broader cultural terrain, in which notions of racial and ethnic superiority and inferiority could once again take on a spiritual significance that lends itself all too easily to practical implementation in a changed social and political context. For this reason among others, I strongly encourage those involved in Waldorf endeavors to take another look at the history of their movement and the doctrines at its core".

http://www.social-ecology.org/2009/01/the-art-of-avoiding-history-2/

I very much look forward to your reply.

Yours sincerely

XXXXXXX

 I received a reply nearly 2 months later:

Dear XXXXXXX
Many thanks for your email and apologies for the delay in replying, it has taken me some time to read through all the web links you provided.

I do appreciate your vigilance and concern about the influence of Nazism in UK schools, however having read extensively through the sources you provided, I must say that the assertions made about Steiner-Waldorf do not appear to be from reputable sources. As I'm sure you can appreciate, with the prevalence of antisemitic and Holocaust denial websites on the internet today, we are particularly aware of the need to scrutinise the neutrality and historical accuracy of all web sources – and I can assure you that the claims I have read are not ones which should give you any cause for alarm.

The Holocaust Educational Trust aims to educate as many students as possible about the Holocaust and its contemporary relevance. We work closely with many types of schools including faith schools, specialist schools and academies – and we hope that we will soon have the opportunity to engage with Free Schools as well. Of course if we ever have any reason to suspect any schools of promoting antisemitism in any way at all, we will take immediate and appropriate action.

Thank you again for bringing this matter to our attention.

Best wishes

xxxxxxxxx
The writer of the letter told me they were "completely baffled by his reply" and so she researched the person who worked for HET online. She found  he lists Brighton Steiner School on his facebook page.
I did a little more digging and found his wife used to work at Brighton Steiner School.
* On a side note, Gove approved the UK's first Steiner Free School in Frome within the past few days. The bid has been supported by local Steiner School leader, Emma Craigie, who just happens to be sister of local Somerset Conservative MP Jacob Rees-Mogg, and journalist  Annunziatta Rees-Mogg.