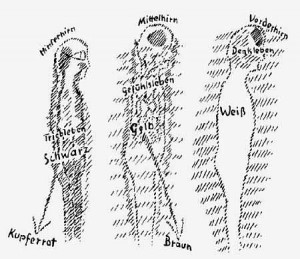 Last year, I wrote to my local MP, Lib Dem Tessa Munt, to raise concerns that the nearby opening of a state funded Steiner School raised a number of issues. Most importantly, that Steiner Schools are not open about the religious and occult nature of their philosophy and that this philosophy is based on an abhorrent racist view of human spirituality. Furthermore, children are likely to be exposed to pseudoscience, hidden spiritual agendas and nonsensical teaching philosophies.
Tessa Munt consulted with Education Minister, Lord Hill of Oareford, who today was promoted to Leader of the House of Lords, and wrote to me to say that "he would not have approved any school that raised concerns of the nature" I raised.  In short, what I was saying was untrue.
It has now come to my attention that Tory party strategists close to the Department of Education were well aware of the problematic nature of Steiner philosophies and discussed with the Steiner Waldorf Schools Federation ways of using PR to head off anticipated criticisms of new publicly funded Steiner Schools. It would appear that either Lord Hill, a former employee of Bell Pontinger, had been kept in the dark about these concerns and PR tactics or had misled my MP.
What alarmed me was coming across notes (see the excellent UK Anthroposophy website)  from a 2010 'pre-election' meeting between Steiner School representatives and Tory educational strategists. Whilst, the notes have been public for some time, (see also here) it is worth re-looking at them in light of Steiner Free School successes and the denials from Lord Hill that there is a problem with Steiner Schools.
The attendees at the seminar were as follows. Sylvie Sklan represented the Steiner Waldorf Schools Fellowship and is a Director at the state funded Hereford Steiner Academy. Also representing the Steiner movement was Emma Craigie, daughter of recently deceased Tory Lord, William Rees-Mogg and sister to Tory MP Jacob Rees-Mogg.
Representing, the Conservative Party interests were Rachel Wolf, who was a special adviser to the incoming Education Secretary Michael Gove. Once in Office, Wolf set up the Free Schools Network with a government grant of half a million pounds to assist candidate free schools applying to the government. Also in the meeting was Sam Freedman, an education advisor to the Conservative Party. (Sam tweeted today that "It's been a great pleasure to work with Lord Hill over the past 2.5 years. He'll be an excellent leader of the Lords.")
It is worth reading these notes from that meeting. What is most alarming for me was that there was a significant discussion about how Steiner Schools and the government would have to deal with the controversial nature of Steiner education and in particular the racist aspects of anthroposophy. The complaints from angry ex-parents were seen as an issue, but more importantly, the writings of  Rudolf Steiner were seen as the biggest  problem.
Sam Freedman responded to a question about anticipated problems with state funding of Steiner Schools as follows:
Not in terms of the way we want to legislate, but, I mean I'm sure this is something that you all know about anyway, there's a big PR issue, and if a lot of Steiner schools open quite quickly in the state sector, I mean I've been, erm, I've had all sorts of people writing to me just because they found out that I was coming to this meeting. Attacking. Attacking the Steiner Schools… Anonymously. Through social networking. People find out who you are, find out your account number and bombard you with articles, negative articles… This was pointing out all the things they think are wrong with Steiner movement, link after link after link. And that's just from me coming to this meeting, so you have to be aware, well I know you'll all be aware anyway, but this will be on a much, much bigger scale.
[ Just to remind you, if you are not familiar with the racist aspects of Steiner philosophy, Rudolf Steiner believed there is a spiritual racial hierarchy with 'spiritually lazy black people' at the bottom and blond haired Nordics and Germans at the top. Through karma, you could reincarnated to higher levels of this hierarchy  The goal of Anthroposophy, and hence anthroposophical schools, was to help in this spiritual incarnation process.
Before Rachel Wolf and Sam Freedman left the meeting, they discussed how Steiner teacher training should ensure that no racist elements were being taught (misunderstanding the nature of the problem: as long as Steiner's lectures are used, the racist, pseudoscientific and barmpot will be there.) and to ensure publicity images of Steiner classrooms were not filled with middle class white children. Freedman said the Steiner Schools should emphasise strongly that schools do not teach what Rudolf Steiner said. "He likened the situation to the fact that not all Christians believe every word of the Bible." Again, this either fails to understand the issue or is disingenuous and complicit with a common and misleading anthroposophical response. Steiner Schools commonly say they do not teach anthroposophy – but no-one is accusing them of teaching Steiner's words directly. What the problem is that the pedagogy is based on absurd and repugnant aspects of his clairvoyant visions – that his Steiner's methods are used, not his words taught. Anthroposophy is the underpinning of all aspects of Steiner Schools. Without anthroposophy, Steiner Schools are not Steiner Schools.
Wolf offered to give the Schools "free media training to prepare them for tackling the PR problems."
I find it astonishing that the response to a problem with the racist aspects of Steiner philosophy was to set up better PR rather than look at ways Steiner's insidious racism could be better understood and how it should be eliminated from schools.
The seminar then continued without Wolf and Freedman to discuss options. "Emma Craigie identified the key issues as being PR, accountability and assessment, admissions and funding, however PR was the main area of discussion."
It was acknowledged that the Steiner schools Fellowship would need to initiate and fund a proper campaign to counter the "poison" on the internet. A representative from one Steiner school felt that the politicians were very aware of the problem and that they would "run a mile in the opposite direction if they have a lot of people coming at them saying you're funding a weird cult that brain washes children."
Now, if the claims of racism, pseudoscience and occultism were untrue then indeed PR might be a good response to get the proper message out.  But what happened next in the meeting was quite astonishing.
An observer was asked which Steiner quotes he/she had seen online and elsewhere. The observer gave the example of the spiritual hierarchy of the races. It was acknowledged that the Steiner schools Fellowship should give a clear and categorical rebuttal of these aspects of Steiner's work. Clear statements should be made stating "We do not believe that human beings evolve through the races. We do not believe that blond hair bestows intelligence, etc…".
This technique was seen as inadequate though as,
It was felt that there may be some difficulty in making a blanket rebuttal of all Anthroposophy because many people throughout the Steiner schools system, especially teachers, strongly support many aspects of that belief system. If teachers were asked to make a blanket rebuttal of Anthroposophy, many of them may not do this.
In other words, we cannot deny these anthroposophical claims because the teachers in the school are in agreement with them.
It was suggested that instead a rather bland 'anti-racism' statement should be used,
It was agreed that a message along the line of "The Steiner School is committed to equal opportunities and is opposed to racism and all forms of discrimination" should be placed on all Steiner school websites and promotional material.
How the Steiner movement can make such a claim when it is acknowledged that racial aspects are at the heart of the belief systems of many of its teachers is beyond me.
The meeting appears to be characterised by discussions about how to spin away issues, hide uncomfortable truths and give the appearance of distance from  anthroposophy and Rudolf Steiner. It was noted that other countries called Steiner Schools, Waldorf Schools, which helped dissociation. At no point did it appear to be acknowledged that there might be a serious problem at the heart of Steiner education.
Today, several years later, and with the Tories embarking headlong on their Free Schools programme, we can see many of these tactics now in play.
Obviously, Lord Hill's refusal to acknowledge that there may be a problem in Steiner Schools left me very perplexed as to how he could come to such a conclusion when people around him were aware. We see Steiner Schools putting banal anti-racism statements on websites without acknowledging the specific concerns.  For example, Elmfield Steiner School says "Elmfield is aware that there are some concepts in the works of Rudolf Steiner that have been interpreted as nationalistic or racist." This rather underplays the fact that Steiner's writings were riddled with racism and that his racist spirituality underpins everything in anthroposophy. But to people who do not understand Steiner's beliefs, statements such as this mask the problem and create a sense that all is now well.
We also see new school applications  masking the anthroposophical nature of their school. The Fullfledge proposal calls itself an 'Ecology School'. The Proposed Haringey free school will be based on a "Steiner Waldolf ethos" without calling itself a Steiner School or explaining what Steiner's ethos actually was.
We see the Camphill Communities, specialist communities for disabled adults, say things like "Camphill is inspired by Christian ideals and the ideas of Rudolf Steiner, accepting the spiritual uniqueness of each human being, regardless of disability, religious or racial background'. Steiner did indeed believe in the spiritual uniqueness of individual humans but saw aspects such as race and disability as being very closely tied to a person's spiritual nature. This statement from Camphill is strangely disingenuous. Steiner saw disease and bodily imperfection as being closely tied to spiritual karma and a result of moral inadequacies in previous lives. The spiritual advancement of a person is also closely tied to their skin colour. Steiner believed humans arrived in Europe and India after the destruction of Atlantis. The Germanic peoples were the "Brahmin class" of Europeans destined to lead the continent to spiritual supremacy.
Today, The Bristol Post published an article about how the proposed Bristol Free Steiner School had 'huge interest'. After a few dissenting comments, we quickly saw anonymous Steiner supporters post comments that are uncannily similar to those proposed in this meeting. The comments deny the issue, distance the Schools from Steiner and propose that Steiner education has progressed without saying how. It's all misdirection.
Above all, the Steiner Movement and the Tories present at the meeting feared one thing: people discussing and criticising Steiner Philosophy. "If the issue becomes a big PR problem for Steiner schools, and the state is funding those schools, it will become a big PR problem for the state.", said one participant. For nearly 100 years, the Steiner movement has been able to operate without much of a spotlight on it, hiding in its esotericism and Steiner's instructions on secrecy. Now, with the plans to use public money to fund the schools and the easy access of people to find information on the web, it is inconceivable that concerns will not flare up. The BBC has started making small steps to uncovering the truth behind the schools. We can expect more. And we can expect a slick and rehearsed PR strategy to kick in very quickly.
Further Reading:
What Every Parent Should Know About Steiner-Waldorf Schools
Steiner Waldorf Schools Part 3. The problem of racism