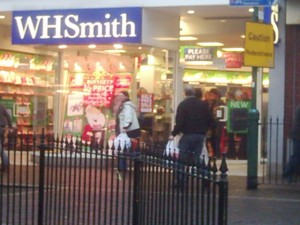 An almighty battle between quacks and sceptics appears to be underway.
Last month, saw the publication of a new magazine, What Doctors Don't Tell You. It is being distributed by many mainstream retailers such as Waitrose,  Sainsbury and WHSmith.
Those of you who read my blog regularly will realise that this magazine is the latest offering from Lynne McTaggart who produces the What Doctors Don't Tell You website. It is one of the most consistently misleading health sites in the UK, reveling in misinformation that routinely undermine readers' confidence in their doctor and to scare them into accepting questionable alternatives, such as vitamin pills. The website and magazine advertises many problematic health products that could harm people if used in place of real medicine.
The magazine has been examined by several bloggers now. "Letting Off Steam" looks at the questionable claims in the current issue such as in its article attacking vaccines, "your chances of getting cervical cancer are only eight times greater than your chances of being killed by an asteroid". Since there were 759 deaths from cervical cancer in the UK in 2009 and no reported asteroid deaths, we must either conclude that WDDTY is talking rubbish or the government is involved in a vast conspiracy to hide death from space.
I received a newsletter from WDDTY advertsing their new magazine saying that "The "world's most dangerous vaccine" now being offered to UK teenage girls".  It tells us,
why the UK has accepted a vaccine that has been rejected by India after an early trial, funded by Microsoft billionaire Bill Gates, led to the deaths of seven young girls and another 120 suffered debilitating side effects
That trial in India did indeed report deaths after the vaccine was given, but What Doctors Don't Tell You Don't Tell You was that these deaths included a drowning, a snake bite and the effects of malaria. The trials may well have been problematic for conducting experiments on children from communities unlikely to benefit (see Ben Goldacre's new book), but coincidental deaths from unrelated issues does not make the vaccine dangerous.
WDDTY consistently misrepresents fact to make its case. It does this often by taking half truths and presenting them as if they are the whole truth. I wrote recently about its scaremongering after the Fukushima incidents. It took the worse case scenarios of deaths and presented them as if they were likely scenarios.
Fear is the magazine's aim.
As such, I complained to WHSmith about them stocking the magazine. I said to them, "As a responsible retailer, I am surprised WHSmith stocks this title. I would urge your buyers to immediately review their decision to distribute this magazine and to pull it from your shelves."
They responded,
Thank you for contacting us regarding the magazine "What the doctors don't tell you".

As the UK's leading retailer of stationery, books, magazines and newspapers, we aim to offer our customers a wide choice of products, whilst also respecting customer views. Our customers often have widely differing opinions about the products we sell, so we aim to strike the right balance to meet the needs of all our customers.

We work closely with the magazine publishers to ensure that their products meet the expectations of our customers. Where we receive customer complaints about a certain publication, WHSmith commits to raise these concerns directly with the publisher.

Customer feedback is extremely important to us and I'd like to thank you for taking the time to share your concerns.

Kind Regards

David Trollope

Customer Services Coordinator
That is a non-reply reply. Saying absolutely nothing.
Meanwhile, WDDTY have noticed something was afoot. I was not the only person to complain. And they sprung into action to rally their crack quack troops.
Help us fight the bully boys

What Doctors Don't Tell You has just launched a 100-page glossy version in UK stores – and already it's being targeted by the bully boys who want the title banned.  They've even contacted our distributors, asking them to stop supplying the title.

These champions of free speech include Simon Singh (co-author with Edzard Ernst of the book 'Trick or Treatment') and his chums, including 'paranormal researcher' Hayley Stevens.

Singh has written to our distributors, Comag, to get them to stop supplying the title, while Singh, Stevens and fellow trolls are busy complaining about the title to retailers who stock it.  Singh inspired the Nightingale Collaboration, which seeks to stop all alternative practitioners from making any claims whatsoever on their websites.

Please support WDDTY and help ensure it remains on the shelves for everyone to read.  Let the retailers know they are doing the right thing in stocking it:

WH Smith
[email protected].uk

Waitrose
[email protected]

Sainsbury's
[email protected].uk

We need your support today.  Don't let the bully boys suppress every non-Pharma voice.

Thank you

Bryan Hubbard
www.wddtysubscribe.com
The Bully Boys were well into action today with Ron, the Sceptical Letter Writer giving a full guide as to complain to the Advertising Standards Authority about this magazine.
On twitter I have been accused of being against free speech and a fascist. Is this fair?
Well, I am quite happy for people to make the claims they do in WDDTY. They are wrong and I hope they respect my freedom to point out their stupidity and irresponsibility. If they break the law or advertising codes then I hope they respect my freedom to suggest to regulators that they ought to be paying attention.
But what of WHSmith and other retailers? I would hope that they took responsibility for what they sold. If a product could lead to significant harm then I am sure they would pay attention. Asking for WHSmith not to stock this is no more an affront to free speech than asking people not to shout 'fire' in a crowded theatre. We are all free to shout 'fire'. But if we do so in a context that could harm, then we should suffer the consequences.
This magazine will harm through its misconceived and astonishing advice. For it to appear as mainstream thought through the authority of it appearing on respectable retailers shelves will add to its harm. I am sure we can all think of possible magazine titles that WHSmiths would not stock (because, for example, they condoned violence, racism or illegality*) This ought to be one of them. Promoting dangerous nonsense as health advice will harm people.
WHSmiths can do the right thing now. Or they will have to do so after things have got uncomfortable and embarrassing. And that will happen after the ASA have ruled that almost all their adverts are breaking CAP guidelines.
* I was going to add, or because they objectified women's bodies, but then I realised that perhaps they would only be left selling Auto Trader and Chicken Keeper Monthly.
Update
3rd October
Simon Singh threatened with legal action for criticising health magazine
Writing on Twitter, Singh accused WDDTY magazine of promoting health advice that could potentially harm readers