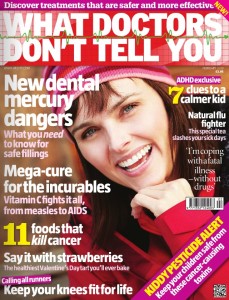 Today, the latest version of What Doctors Don't Tell you goes on sale in WHSMiths, Waitrose, Sainsbury and many other high street locations.
The February issue makes some of its most startling and irrersponsible claims yet.
The front cover proclaims "Mega-cure for the incurables – Vitamin C fights it all, from measles to AIDS".
That is quite a startling claim.
The feature article is by WDDTY founder, Lynn McTaggart, and follows the now familiar formula for this magazine – that there are cures that doctors are not telling you about for some reason – natural cures that work better than mainstream medicine and are natural and safe.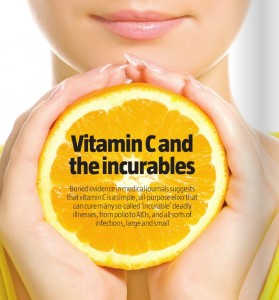 What is discussed is the folklorish research carried out many years ago by a few researchers convinced Vitamin C was a wonder cure-all. We are told about heroic researchers who cured all their cases of Polio with Vitamin C. The article suggests that many other vaccine-preventable and dangerous diseases can also be treated by the Vitamin. It lists hepatitis,  measles, mumps, rubella, chickenpox, tetanus and diphtheria.
WDDTY argues that the daily recommended amounts of Vitamin C are far too low. It is a common theme in alternative medicine circles that RDA's  are a conspiracy to keep our vitamin intake low and to keep us ill. The magazine suggests that doses many times higher are needed. Doses that range into the levels that start producing serious side effects in people.
These ideas are promoted by a fringe group of therapists who go under the name of Orthomolecular Medicine. Linus Pauling was supposed to be one of the founders of this movement with his incorrect and disproven ideas that Vitamin C could cure colds and other illnesses. Despite the paucity of evidence for these wonder claims, such ideas persist with one of the chief proponents of orthomolecular ideas in the UK being Patrick Holford.
Critics like me would suggest that the idea of selling massive doses, way in excess of the RDA, is just a marketing differentiation schemes that allows sellers to sells pills at vastly inflated prices for what would otherwise be a cheap commodity. Such promotional adverts latch onto the alluring but incorrect idea that because vitamin C is 'good for you', massive doses are even better.
The most startling claims in the article are those about Vitamin C being able to cure AIDS and cancer. (Remember, Patrick Holford was ripped apart by Ben Goldacre for claiming they Vitamin C was better than antiretrovirals for treating HIV).
The article begins with an anecdote about a patient with leukaemia supposedly recovered lung function after taking high doses of Vitamin C. (There are doctors in the UK who are prepared to offer unevidenced high dose vitamin C therapy for people with cancer). It goes on to describe how an Orthopedic Surgeon did experiments on HIV patients and claims vitamin C slowed and reversed the progression of the disease.
 The magazine admits that the evidence is just the 'preliminary results' of a few people, but adds,
If this early promising evidence for the use of vitamin C against disease were to be replicated in major studies, ascorbic acid would turn out to be the most potent all-purpose medicine currently available.

The fact that it has been so ignored – and even ridiculed – by mainstream medicine is no accident. If a cheap and simple nutrient were to be seriously considered as the modern alternative to conventional treatment and vaccinations, it would virtually eliminate the whole of pharmaceutical medicine.
Indeed so.
But this is of course just the standard marketing method of the vitamin pill business that has existed for a very long time. "My vitamin pills are better than your drugs".
And so to finish off, the article concluded with a box-out that can only really be described as an advertorial for a company selling high dose vitamin C tablets.
Under the banner "A new form of Vitamin C", the company  lyposphericnutrients.co.uk, run by acupuncturist, Jonathan Orchard, sells tablets with a 'liposomal encapsulation technology' that claims to deliver more vitamin C to the body. You can then visit the web site and buy sachets of vitamin C for £29.95 a dozen.

Since the launch of this magazine, there has been a lot of concern that distributors and retailers and helping sell not just a daft magazine but a  grossly irresponsible publication that offers medical advice that is unfounded and potentially dangerous.
The Nightingale Collaboration has been keeping tabs on how many of the adverts in the magazine are in breach of the Advertising Code of Practice in the UK. There are many investigations under way at the ASA as most adverts in the magazine look like they could be problematic.
After 5 adjudications so far, the number of breaches by advertisements in the magazine is looking like it could break all records.