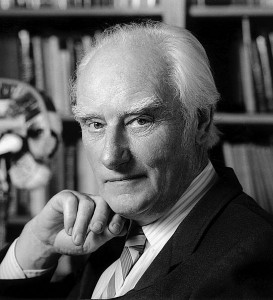 Yesterday, the family of Francis Crick, one of the discoverers of the structure of DNA, sold his Nobel medal for more than £1.3 million.
It was reported that the medal was sold to Jack Wang, "CEO of Biomobie, a regenerative medicine technology company located in Silicon Valley and Shanghai."
Wang is behind a company that sells a device called a "Bioboosti". The small elecronic orb-like device is claims to regenerate organs by transmitting "biological electromagnetism wave for cardio-cerebrovascular regeneration". The nervous system is supposed to 'conduct a regeneration coding signal to the brain". This is pure gobbledegook.
His company makes grand claims,
Bioboosti is an epoch-making innovative biotechnological product capable of postponing senility, resisting viral infection, and treating diseases. It is a significant breakthrough in the field of human regenerative medicine. In addition to the unique effectiveness in the rehabilitation of cardiovascular diseases, Bioboosti has also demonstrated a great potential in clinical applications for disease healing of other organs and rejuvenation of sub-health subjects. The multiple patents resulted from the research efforts on Bioboosti will surely benefit the whole population of our human beings.
This device appears to be indistinguishable from a range of quack electromagnetic devices that claim to improve health. Most notorious of which was the Q-Link pendant.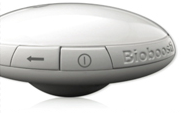 The difference would appear to be that each patient is supposed to sign up for membership and undergo "data collection in Bioboosti Center". Then they are given the magic orb that they then hold in their hands for "8-32 minutes every day" for up to 45 days whereupon they will revisit the centre for confirmation that all has worked well.
It would appear that you then can keep on using your orb in their 'anti-aging' programme with yearly check-ups.
No doubt all this comes at a price. Probably enough of a price for the company to splash out on Crick's Nobel Prize medal.
The company presents a lot of graphs from research that it claims has been done in China. Links to peer-reviewed papers though are not given.
The discovery of the nature of DNA gave us an answer to how life works. It showed how the recipes for life could be encoded in an atomic alphabet, read and transcribed by proteins, and replicated down the generations. It is undoubtedly one the pinnacles of human intellectual achievement.
Bioboosti appear to be making absurd claims that life contains some sort of electromagnetic coding that can regenerate cells. It is a shame that the symbol of the highest award for scientific  discovery  has ended up in the hands of people who appear to have not yet understood the nature of life and who make claims that directly contradict these discoveries.
If true, Wang does indeed deserve a Nobel Prize and a medal. I have a very strong feeling though that he was wise to buy one as the chances of gaining one through merit are non-existent.