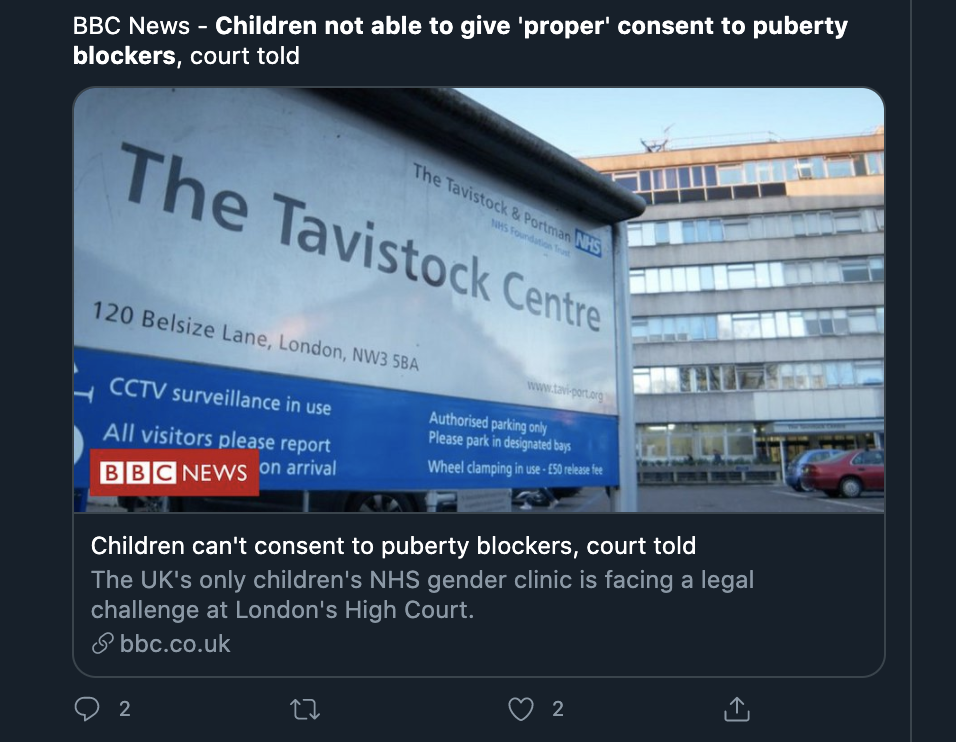 A Judicial Review is being brought in England by ex-patient Kiera Bell against the NHS Tavistock Gender clinic.
At dispute is whether or not children can consent to the life-changing effects of taking puberty blockers as result of believing they are 'transgender'.
On either side of this case are two very different world-views.
1) The first sees being trans as some sort of deeply intrinsic human state where our True Gender and Self is somehow at odds with our material body. Our 'gender' is fixed and real, whereas our sex is arbitrary.
2) The second sees being trans as adopting a social identity, and is a social response to a psychological need or desire, or as a result of some sort of psychological distress which focusses around our sex, sexuality and societies reaction to that.
People who hold something like world-view (1), such as many doctors at the Tavistock, and campaigners and activists like Mermaids, see the goal of the clinic as enabling children to become their True Self as fast and smoothly as possible. That means 'affirming' beliefs that they are not the sex they were "assigned at birth" and embarking on a medical pathway to "transition". This involves stopping "the wrong puberty" and moving to cross-sex hormones and surgery as soon as the law will allow.
For people who hold world-view (2), the goal of medical intervention is to reduce or remove the any psychological distress and help the young person accept their body, their sex and their sexuality. If this is not possible, then as an adult they may decide on transitioning.
There are big problems with world-view (1). It is entirely based on the metaphysical idea and ideology of people having an "innate gender identity". This is an incoherent idea with little or no good evidence for it.
By transitioning children, it is thought that this in itself will reduce psychological distress and remove suicidality. There is no good evidence that this is true. In fact, evidence suggest long term that it is not true.
The other big problem is that when world-view (2) is applied to care, most children desist as they mature and go through puberty. This is not something that persists into adulthood.
However, if you do put children on puberty blockers, then symptoms do not subside, and almost all go on to full medical transition. As such, it is a rare medical treatment that knowingly persists clinical symptoms and locks people into a medical pathway.
Proponents of puberty blockers explicitly say that they are given as a sort of 'pause button'. They keep the children's body in a child-like state, so that secondary sec characteristics do not develop, like breasts, larger penis, body hair, voice changes and do on. Future cross-sex hormones have a 'cleaner slate' to work with.
But humans undergo many changes that produce adults including bone development – and importantly, brain development.
This is ideological medicine.
And with the case of Kiera Bell, she went along the pathway, but as an adult realised her psychological issues were deeper and her dysphoria a symptom of other issues. She wanted to de-transition.
But such treatments are not reversible. They can leave you infertile of course and your body will not have gone through a natural puberty resulting in body and brain developmental issues.
And as this Judicial Review will explore, can a child consent to that treatment that will have great impact on their lives, maybe unable to ever orgasm, with risks to their health and wellbeing?
When the best available evidence suggest that such a pathway can only ever be considered as 'experimental' with unknown risks and outcomes, with such huge potential for life-change, can a child ever give informed consent?