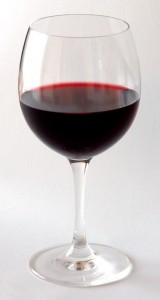 An ancient spiritual rite of initiation takes place. The foreskin of a newborn infant is to be removed. That area of the body that is most sensitive to touch and serves as protection to the infant's penis it to be sliced off with a knife. It will be traumatic and will hurt the child enormously. The child may suffer complications, some life-threatening, and may curtail his sexual pleasure in the future. To calm the baby before the cut, the parents are told to bring some religious red wine and give it to the baby before the ceremony.
This is not a scenario from long ago or from a distant land, but is based on the instructions of a Surrey based doctor who is to perform the cut. On his page about pain relief, he says,
To give the baby sweet, red wine prior to the procedure. (Kiddush wine is ideal). This is very effective in calming the baby. Ideally it is given about 15 minutes before the circumcision and I will give it on arrival if you wish. You will need to provide the wine.
This is not the only pain relief option. Parents, for example may also use EMLA cream, a local anasthaetic. The label for this product makes it quite clear that the product should not be applied to the genitals of children.
This is not the only use of red wine that can be found in the rituals of circumcision.
In one form of the ceremony, the ritual circumciser cuts the boy, takes a mouthful of red wine and then places his mouth around the bleeding penis and sucks. The wine and blood is then spilled over the wound in the belief that it is the life giving force. The practice is defended as helping prevent infection. Except the opposite is true and babies can end up receiving viruses such as herpes. Neonatal herpes can kill and babies do die from this custom. One might think that this practices be stopped, but even in New York, where a law was passed to insist that parents were simply made aware of the risks of the practice, fierce opposition came forth from religious leaders suggesting that was an infringements of their religious rights. Apparently, many rabbis have said they will ignore this law and not seek informed consent.
Such circumcision rituals can be found in many faiths and cultures. It is seen as a right of passage and a mark of belonging to a particular group. Risks from ritual cutting are significant. In South Africa, boys are expected to undergo initiations which include genital cutting. The BBC reports that hundreds of boys have died in recent years. In the UK, one would think that modern medical practices prevent harms and deaths, but often the procedure is done with little medical supervision. A Manchester boy died last year after a nurse performed a home without any form of anaesthetic just using scissors, forceps and olive oil. Goodluck Caubergs bled to death. A few years previously, a Slough infant suffered a similar fate.
Deaths are just the tip of the iceberg and many complications can happen. On web sites such the Surrey doctor's, he reports a very low complication rate in his surgery. However, researcher Laura MacDonald reports in the Guardian that complications could be very common but research appears patchy. Later in life, many researchers report that between 18 and 37% of men report sexual harm from circumcision.
Why are we not appalled by these practices and demand that parents do not inflict such practices on their children, who have no say in what happens, have to suffer the pain and problems and live with the consequences for the rest of their lives? If we had never heard of circumcision before but had found groups of adults performing this superstitious blood ceremony in our communities, there would be charges of assault, child cruelty and imprisonments, I am sure. But there are not because adults' superstitious cultural beliefs are more important that the well-being of these children. That is the only explanation. We do nothing for fear of offending private belief.
Apologists claim that such procedures offer health benefits such as reduced HIV transmission. Such claims are disputed. But even if true, such a decision to undergo this operation should be left to consenting adults based on their own perceptions of risk, benefits and their intended behaviour. There can be no justification for forcing this on a child who cannot say no when the real intention is to perform the ritual for spiritual reasons.
In the UK, there has been focus on how no one has been charged with the ongoing practice of female genital mutilation despite legal prohibition. There is of course the problem that tightening restrictions drives these practices underground. There is no easy answer to that – but awareness of the issues is a good first step. I would suggest that one step is to see the problem as affecting all infants and children and that this is not in principle a gender issue. Ritual cutting of infants, who are unable to make their own decisions, and causes them severe pain and distress, and might harm or kill them, and is only done for their parents superstitious beliefs, is inherently wrong. And we should not be afraid to say so.