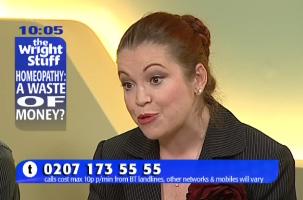 Professor Jayney Goddard is the president of the Complementary Medical Association (CMA), "the world's largest professional membership body for complementary medicine" and has been elected a Fellow of the Royal Society of Medicine. She studied homeopathy at Imperial College for five years and has won numerous awards. According to various sites, she is "considered to be among the world's leading experts in complementary and integrated medicine."
Impressive stuff. No wonder she was invited onto today's The Wright Stuff to debate with Simon Singh on the subject "Homeopathy: A Waste of Money". Indeed, Jayney Goddard is a regular guest on the show and boasts an impressive appearance list in other shows, including being resident 'Expert' on Discovery TV. But Jayney appeared to state a number of surprising factual errors and have some over optimistic interpretations of the research literature (and I will come onto these). How could such a eminent expert make such mistakes? I thought a little background research might be in order.
So, President of the CMA, "the world's largest professional membership body for complementary medicine". What is the CMA? Well, the CMA web site does not appear to be what I expected. It offers some articles, sells a few books and food supplements and offers marketing services for members. Looking at Company House records, the CMA is registered address is Chase Bureau Services, a supplier of 'off the shelf companies' and other company secretarial services. So, no 'head office' for the CMA then. The web site for the CMA is registered to a private individual with an address given in a residential block of flats in Wandsworth. I'm disappointed. The CMA is not sounding so grand as I first thought. However, the CMA does usefully offer viewers of the Wright Stuff options to buy products that Jayney mentions on air. It looks to me like Jayney Goddard is president of a shop.
So, what about being Professor Jayney Goddard? We are told that Jayney was "recently awarded a Professorship from Mahendra Sanskrit University in Kathmandu, Kingdom of Nepal". The university was set up to promote the Sanskrit language in Nepal. However, when I tried to contact the University to find out more about Jayney's Professorship, I found their website is permanently down. Unfortunately, it would appear that in 2002, a hoard of women Nepalese Maoist rebels reduced the University 'to cinder' and destroyed all the ancient Sanskrit texts, University buildings, furniture, and all university records. The rebels had previously planted a 'crude but powerful bomb' there too. It is not clear if Jayney Goddard makes frequent visits to fulfil her Professorial duties.
And what of these claims to have studied homeopathy at Imperial College? The University is one of Britain's most prestigious degree level teaching and research institutions. It does not offer a degree in homeopathy. Elsewhere we are told that her qualifications are "diploma in hypnotherapy and is a Licentiate of the London College of Classical Homeopathy". No qualifications from IC then? This is a puzzling one.
And finally, Jayney says she has been elected a Fellow of the Royal Society of Medicine. What does it take to become a Fellow of the Royal Society of Medicine? The answer looks to be about £356 for a London resident. You can join online. I filled in the form and elected myself to become a Regional Fellow for £287. Bargain! Le Canard Noir, Fellow of the Royal Society of Medicine. Magnificent! My mum will be so proud. It looks like Jayney could become a Fellow as her 'presidency' of the CMA is obviously a 'senior management' role in healthcare.
There is so much more on Jayney's CV that we could explore. But enough for now.
So, what of these errors she made on the Wright Stuff? Simon Singh was arguing that the totality of scientific evidence for homeopathy showed that it was ineffective and a placebo based therapy – unsurprising given that it is just plain sugar pills. Jayney tells us though that 'outcome trials' are the way to measure homeopathy. These trials almost always give you positive results for homeopathy – they are just not very good as they do not compare homeopathy against any control group. It is impossible to know if the effect was caused by homeopathy or it was just people getting better on their own. Simon argues this, so Jayney went into animal experiments and this is where she lost the plot.
There is just some research printed recently, I think it was actually in Immunology which is one of the worlds leading scientific journals and it showed that mice exposed to something causes Chagas disease (guffaws) … these mice were treated homeopathically, prior to being infected. It was a properly run double blind placebo controlled trial – the gold standard that Simon is actually talking about – and what actually happened was the untreated mice died, the mice that were treated did not get the disease.
Wow. But is it true? Well, no.
The research was done, but not published in Immunology. It was published in the in-house comic of the Faculty of Homeopaths, Homeopathy – a rag with as much scientific integrity as the Beano. The paper, "Effects of homeopathy in mice experimentally infected with Trypanosoma cruzi ", did not say that the untreated mice died or that the treated mice did not get the disease. It reported that more mice died in the control group but that this was not statistically significant. But the main criticism would be that the statistical certainty of effects were low (only p<0.05) and that multiple measurements were being made in five groups that would undoubtedly result in many false positives. If Professor Jayney Goddard thinks this is the best evidence for homeopathy, then we can be pretty sure it does not work. What is certain, is that this TV show was not the right forum for discussing p-values.
But Jayney went on to discuss homeopathy for childhood diarrhoea. She talks of trials 'all over the world, in developing countries' where children with diarrhoea have been treated with homeopathic medicines and also placebos and Jayney claims that the children who have been treated homeopathically had shorter periods of diarrhoea. Jayney tugs the heartstrings and tells us that the poor children of Burma, after the recent cyclone, could benefit enormously from such treatment. Undoubtedly, it is the sceptic scientists like Singh who get in the way of saving the children. Again. Is this true? Again, no. Diarrhoea and homeopathy is really just one researcher's passion – Jacobs. She has been involved in a number of trials in places such as Nepal and Nicaragua. Individually, these trials did not show a strong significant effect for homeopathy. But when Jacobs did her own meta analysis on three trials, she claims to be able to show a statistically significant effect. Jacobs suggests that "larger sample sizes be used in future homeopathic research to ensure adequate statistical power".
As meta analyses go, doing your own analysis on just three papers that you have been involved with is not really showing multiple independent confirmation of your result and is unlikely to be sufficiently self-critical of the work and take adequate precautions usually found in competent meta-analyses. Tellingly, Jacobs did go on to do another larger trial in Honduras in 2006. The conclusion was,
The homeopathic combination therapy tested in this study did not significantly reduce the duration or severity of acute diarrhea in Honduran children.
Showing his own biases, the paper did not discuss the possibility that homeopathy could not work, but rather that the homeopathic pills had been stored incorrectly and so on.
In discussing the Chagas and diarrhoea trials, Jayney Goddard misled her TV audience. It would have taken half an hour for Singh to untangle that lot, even if he had the relevant papers to hand. Given the the show host was acting like a moron pretending him and his friends did not need protection in malarial areas, Simon Singh did not have a chance of getting clear science across.
The most telling moment came when one of the other guests asked,
Simon, you've got trials that prove your case, Jayney, you've got trials that prove your case, which makes it very difficult for us to know where the truth lies.
Well, if Simon's colleague, a real professor of complementary medicine from Exeter University, Edzard Ernst, had come on, then perhaps there could have been a rational and fruitful discussion about the role of homeopathy in the NHS. But instead of Professor Ernst, we had to have a Professor from a long-since burnt down Nepalese Sanskrit University who runs a web site selling homeopathic books and pills. That, in my opinion, creates the obvious confusion shown on this show.