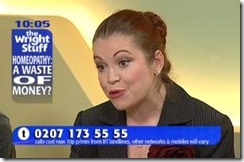 This time, Jayney Goddard, who calls herself the President of The Complementary Medical Association, is calling on homeopaths and other quacks to provide evidence for her to take to the ASA that they are being very mean to them.
She has been circulating an email asking for evidence that the ASA has really hurt the feelings of people who make livings from selling superstitious and pseudoscientific forms of treatments. And hurting people's feelings is bad.
Let's remind ourselves what the ASA are really doing. Last night, I wrote about how the ASA investigated one of the UK's largest homeopathic pharmacies that had been selling 'remedy' kits for travellers to prevent them catching fatal diseases. These kits do not work and by promoting such things, and denigrating real vaccinations, they put people's lives at risk. If a few feelings are hurt upon the way then so be it.
Goddard claims she is meeting the ASA this Friday. She is taking along an advertising executive called David Hawkins who she describes as "a multi-award winning advertising and brand creation genius". (Prizes for anyone who can detail these awards).
Also along for the ride is Dr Robert Verkerk and Meleni Aldridge from the Alliance for Natural Health. The ANH is an industry lobby group who work mainly for food supplement companies and spend much of their time lobbying the EU and governments to give such retailers an easy legislative life. They do this, of course, under the banner of 'health freedom' and people's choice to 'alleviate suffering' through 'natural health choices'.
It may be worth – just for the fun of it – going back a few years to when I first wrote about Jayney Goddard.
She had been appearing on TV – debating with a certain Simon Singh – about whether Homeopathy was a waste of money. She was very impressive and had lots of 'research' at her finger tips. She sounded too impressive and her online  list of qualifications, awards and distinctions were too good to be true.
Jayney had been describing herself as having a "Professorship from Mahendra Sanskrit University in Kathmandu". She was "the world's largest professional membership body for complementary medicine" and has "been elected a Fellow of the Royal Society of Medicine". She "studied homeopathy at Imperial College for five years and has won numerous awards".
A little digging revealed that the Mahendra Sanskrit University  had been destroyed by Maoist rebels many years before. It also became clear that being a Fellow of the Royal Society of Medicine required little more than a cheque for a few hundred pounds, and that, of course, Imperial College had never taught homeopathy. Indeed, the University, I understand, wrote to Goddard to stop her making these claims.
All very impressive stuff.
It would also appear that Goddard is well known to the ASA as someone complained about her last year for advertising what appeared to be a very dodgy multi-level marketing scheme with very misleading claims. Well worth reading about on Sceptical Letter Writer's blog. The ASA found that her company, Magic Bullet TV Ltd, had misled with its advertising and made unsubstantiated claims. Note, that Jayney does not mention her own direct experience with the ASA in her email below.
Anyway, that leaked email in full…
Dear Colleague,

I am writing to you regarding an extremely important issue that directly affects all of us who are in any way involved in complementary medicine and natural healthcare.

As I am sure you will be aware, many practitioners of a variety of disciplines have received letters from the Advertising Standards Authority which notify them about complaints raised about their advertising (particularly on websites etc.).  This 'anti-natural healthcare' campaign is being run by a selection of well organised groups who are committed to destroying our profession and seem, to all intents and purposes, to have enlisted the help of the ASA to do this.

Over the last few weeks I have been contacted by countless practitioners who have felt that these letters have been extremely distressing.  This is of course, totally unacceptable.

I am meeting with the ASA this Friday to address this situation and various regulatory matters – and before I do so I need your help – as soon as possible please:

If you have received an ASA letter please could you tell me the following:

Please tell me in your own words whether (based upon the letter you received) you believed that

a)      the ASA is a legal body – with legal powers?

Please respond Yes or No

b)      whether you felt that the letter you received was in any way alarming or threatening?

Please let us have your comments

c)       whether you felt that you are being blackmailed in the letter you received by the threats of 'sanctions' and 'bad publicity'

Please let us have your comments

(We will, as mentioned above, be raising other regulatory issues in the meeting too and we will report back on these in due course).

Please rest assured that any responses to my questions will be treated with the utmost confidence and your identity will not in any circumstances be divulged to the ASA – or any other body.

If you have not received a letter from the ASA yet – but you know someone who has please would you be so kind as to pass this email on to them.

Due to the highly organised nature of the wide ranging attacks on our profession it is now time for us all to work together to address these issues – the wellbeing of our clients depends upon our being able to offer our valuable treatments. If we are unable to advertise – then complementary medicine and natural healthcare is in grave danger.

I will let you know how the meeting goes.  I anticipate that this will probably be the first of several meetings – however, present at this first one will be representatives from The Complementary Medical Association (The CMA) including Dave Hawkins (formerly Planning Director of the world's largest advertising agency and who has worked extensively with the Code of Advertising Practice Committee and the ASA throughout his career), Dr Robert Verkerk and Meleni Aldridge from the Alliance for Natural Health (ANH) and myself.

Lastly – let me finish by thanking you in advance for your help in this matter – it is a crucial time for our profession.  (I'd also like to apologise if you've received this email more than once forwarded from other people – it simply means that friends and colleagues of yours are on the ball and believe that you may be able to help with this extremely important issue).

Warmest wishes

Jayney Goddard

President, The Complementary Medical Association

PS Time is of the essence – so please can you respond to me ASAP!