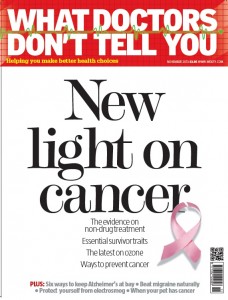 The latest November issue of What Doctors Don't Tell You has appeared and has delivered on its promise to devote an issue to cancer treatment with homeopathy and other quackery.
It has been a tense month for the magazine owners as an impromptu campaign has happened where people have been writing to High Street retailers, such as Tesco and Sainsbury's warning that the magazine contains serious health misinformation and a dangerous approach to healthcare. The magazine has seen this action as conspiratorial attack by Big Pharma lead by the bogeyman charity Sense About Science. The issue was picked up by the mainstream media and reported in the Times, radio and TV.
Much was made in the campaign about the forthcoming November issue in that it was promised to focus on cancer and homeopathy, a deadly combination.
The November editorial is long and angry. It starts
A small group of people tried to prevent you from reading this issue of What Doctors Don't Tell You. They pressurized shops to stop selling our magazine and they were prepared to go to almost any lengths to achieve their aims, including the stagemanaging of an 'independent' news article in a major newspaper that contained malicious falsehoods about us and our work.

Why? Perhaps because we'd announced the next issue as a 'cancer special' that would include interesting new research about homeopathy.
Their whole tone is paranoid and conspiratorial placing Sense About Science at the centre of a pharmaceutical company plot. It says,
So why have we upset Sense About Science so much? There is, of course, the most obvious reason: our information threatens the revenues of some of its benefactors, most notably the pharmaceutical industry.
This is obvious nonsense and defamatory. Sense about Science does not receive money from the pharmaceutical industry, much less is it controlled by their agenda. Indeed, their biggest campaign at the moment is against pharmaceutical company secrecy over medical trials and a call to publish all trials – something that many companies are resisting fiercely.
What WDDTY do not address is the real and explicitly stated concern of the campaign: that WDDTY publishes woefully biased, misleading and dangerous nonsense about medical matters; that it seeks to undermine the relationships people have with doctors and uncritically promotes the pseudo-medicines such as homeopathy, vitamin pills and other quackery.
The editorial makes a claim that denies this:
Our job in these pages is not prescriptive but investigative—to dig out the best research we can about the 'other side of the story' on both conventional and alternative healthcare to allow our intelligent readers to make their own informed choices and decisions.
This is quite obviously not true. And indeed they exposed their true agenda in an email to their supporters last week: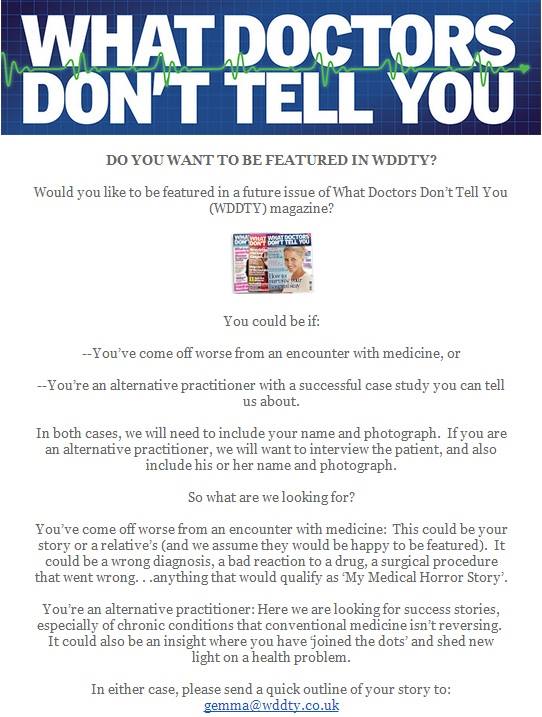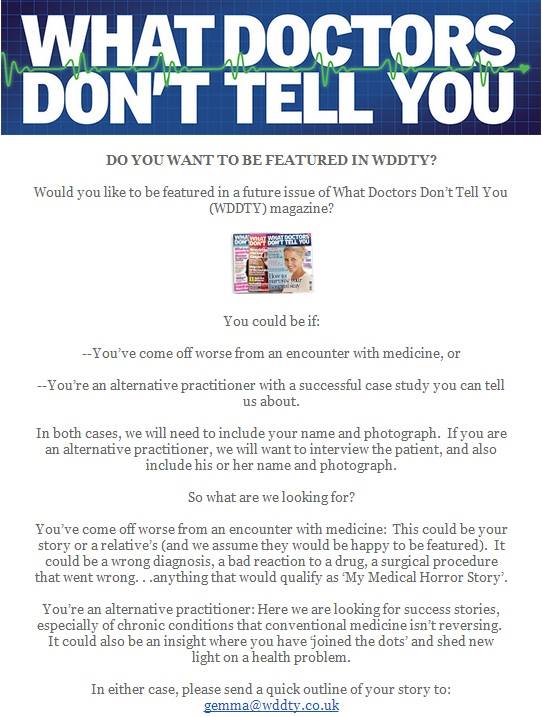 Their agenda is explicit: they want to revel in medical horror stories and promote anecdotes about pseudo-medicine. Their use of scientific evidence too just furthers this agenda by misrepresentation of results and cherry picking studies. To pretend that they are some sort of objective independent voice giving medical information that may not be coming through your doctor is just a blatant and evil lie.
I do not use the word evil lightly. But in this case, I cannot think of another word that is better. If people accept the attitudes and information given in this magazine then they could seriously harm and even kill themselves.
Their articles on cancer in this issue are probably their most wicked yet.
The main article, under the index headline "The evidence for homeopathy", starts off by admitting that doctors call it "nonsense on stilts". But then goes on to repeat absurd claims that Indian doctors are successfully using this absurd quackery to treat cancer. So, WDDTY tell us that we should not think of homeopathy as nonense:
Judging by how it is used in India—where doctors routinely use it even for life-threatening diseases like cancer—we perhaps have a little way to go yet.
Several commentators guessed they would use the Banerji cancer claims to push their agenda. That some homeopaths in India make absurd and dangerous claims about how sugar pills can treat cancer successfully cannot be used by responsible people as evidence that it is effective. It is only evidence of the irresponsible and cowardly tolerance the Indian government has for pseudomedicines.
That dubious positive results exist for homeopathy should not amaze us. Given the fanatical and cult-like world of homeopathy it is not difficult to see how a country the size of India will come up with people with sufficient PR skills and a complete lack of insight to make outlandish claims for this quackery. WDDTY does not stop at homeopathy.
They conclude that,
It is perplexing why good medical studies—which are supported by the US government and leading American academics—are not being recognized, let alone discussed, in the West.

Surely cancer is so serious a threat that every avenue needs to be explored with an open mind and not left to the drug and academic cabals. Conventional medicine does not offer any genuinely effective solutions and yet continues to block anything that might, especially something as "impossible" and "nonsensical" to their science as homeopathy.
In those few words, WDDTY displays its distorting techniques. It claims questionable, unreplicated, implausible medical studies are 'good'. It tries to attach the authority of 'leading academics' to the research. It posits a conspiracy of silence against such research. It portrays doctors as 'close minded'. It treats lightly the straightforward science that shows homeopathy is impossible and nonsensical. It pretends that real medicine does not have any real solutions. This is a dangerous mix that will lead people to make very bad decisions.
In order to lend credibility to the claims of homeopathy, another article discusses, "How might homeopathy work?". Here is a dreadful article reporting the thoroughly discredited work of Jacques Benveniste and Luc Montagnier.
The magazine claims,
If solutions with active substances are diluted to the point where there's virtually none of the original substance left, as they are with homeopathy, the only way such a medicine could work, so the argument goes, is if there's both a special quality to water and an ability by molecules to leave behind essential 'information' as a 'memory'. Now, increasingly, scientists believe that both these requirements may be true.
This is a straightforward falsehood. There is no good reason and no good evidence to believe water can have the properties demanded by homeopathy. And scientists have rejected this notion long, long ago. That a few mavericks and eccentrics have clung to such notions does not mean these ideas have any credibility whatsoever.
Recently, someone posted their own personal story of how belief in Alternative Medicine can have disastrous consequences. 
My mother and grandmother tried to brainwash me and my siblings with that homeopathic alternative BS for years. I eventually saw through it, but my little sister wasn't so lucky. Then she noticed a lump in her breast at 26. And guess where my mom took her for treatment. That's right. The witch doctor's office.

When she told us my dad (long divorced from my mom over this and other reasons) and I begged and pleaded for her to go see an oncologist. They flat out refused for 8 months, instead electing for vitamin C infusions and a bunch of other alternative nonsense. I explained to both of them that I had consulted with real Medical Doctors and the consensus was that if this lump really was cancer then this effective lack of treatment was killing her. But they'd say, "you just don't understand." 8 months later the afflicted breast had more than doubled in size. We're talking A cup on one side D on the other. Not until the tumor burst through the skin did they finally go to the hospital. Of course by then it was way too late.

The doctor we spoke too said that they only saw untreated cases this bad in the homeless and old people with dementia. My sister died days after her 28th birthday of one of the most treatable forms of cancer because she believed in their bullshit. Fuck alternative medicine and the charlatan pieces of shit who sell it.
We do not know how many stories like this there are. This might be extreme, but every day that someone delays seeking real medical help, or ignores the advice they have been given by competent practitioners, decreases their chances of survival. The harm caused by pseudo-medical beliefs is a difficult issue to quantify. What we can do is act as if this is causing harm and seek to minimise it.
That is why we should keep up the pressure on the supermarkets and newsagents that sell this irresponsible rag. So far, in the last month, Waitrose have confirmed they will no longer be selling it. Sainsbury's have also made the right noises that it may no longer continue to stock it. Tesco have stuck their head in the sand and chosen profit over their customers' lives,
Although we cannot be held responsible for the editorial content, we do stock this publication as there is demand for it and by not stocking the magazine, we would be removing the choice of a legally produced product.
This is despite a clear commitment to "create a store environment that encourages and promotes healthier choices". WDDTY fails that very miserably.
Let's keep the pressure on. We are moving forward slowly but surely. This is a campaign that will save lives.
As always, a full set of resources can be found at Josephone Jones.