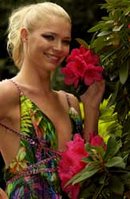 A big thanks to quackometer correspondent, a broadcaster, journalist and nutritional therapist, Suzi Grant for bringing me to the attention of the wonderful sounding healing technique of Phytobiophysics®. (please don't sue me…) This is a technique that is being promoted by the Institute of Phytobiophysics which follows the Mossop Philosophy through its products and courses. The Mossop philosophy is supposed to:
harnesses the vibration energy of plants to release energy blocks in the human body so that balance is re-established for all levels of consciousness; spiritual, emotional, mental and physical.
So far, just the usual pseudoscience, sounding a bit like a Bach Remedy. However, the Mossop Philosophy is based on the 'discoveries' of Professor Dame Diana Mossop. Wow. Regular quackometer followers will now just how much flaunted titles excite the little black duck. A Professor and a Dame! That has to be worth a little dig.
So before we inquire a little deeper, just what are the claims of Prof. Dame Mossop and the science of Phytobiophysics?
The Professor apparently suffered from malaria and did not respond well to real medicine as it was at the time. During some convalescence in the Far East and some 'organic nutrition', the Dame became convinced that illness was caused by 'unhappiness' and that plants provided the 'vibrations' to cure us. Much 'research' followed before Diana was able to bring forth her extensive range of healing flower products to the world.
The Dame now runs a web site selling flower essences, a bit like Bach Remedies, but somewhere (its a bit confusing) vodka is used rather than brandy and the flower vibrations are 'amplified' and not 'diluted, as in homeopathy'. One has to wonder just how much vodka is not reaching the manufacturing stage.
Now, flowers are nice, and I might not mind too much, but PDDM (I can't be bothered to type her full name all the time), claims that her pills (manufactured by a homeopathy factory, apparently) are much stronger than homeopathic pills (not hard) and bach remedies (for brandy lovers only) and can cure viral diseases. Oooh. Scary. Viral infections can be lethal and need proper medical care. We are are now getting into danger territory – the sort of territory that gives rise to HIV deniers and the bonkers thinking of some unfortunately misguided African politicians that will undoubtedly end in the deaths of millions of people unless some very clear thought is applied. Whilst I see nowhere on PDDM's web site to suggest that she is in this genocidal thought camp, claims for viral cures really do need to be backed up with sound evidence. The stakes are high. Who knows who will misuse this technique.
Anyway, the web site and her biography leave many questions unanswered. But for my correspondent, Suzi Grant, Prof Dame Mossop is someone I "might like to talk to … before deciding it is also 'quackery'". Suzi is a journalist and so I would like to apply some journalistic techniques here. Basically, checking my facts, not taking anyone's word for it, and asking the obvious questions.
So, here are the questions I would like to ask the Professor Dame…
You claim to have been made a Dame in 1993 after being "honoured with a Knighthood by the International Order Knights of Malta of St John of Jerusalem for her contribution to medical research".

– So, you were not made a Dame by the Queen – the usual route? I can find no mention on the web of the International Knights' Order you talk of (is this organisation the same as the Knights Hospitaller?) and no mention of anyone else similarly honoured. Does this organisation exist? If they do, why their secrecy? Why are you allowed to talk about them and no-one else? Puzzling.

You claim to be a Professor, but I see in your biography no mention of any academic degrees.

– What subjects have you studied at postgraduate level? Who awarded your Professorship? To me it looks like the only organisation that could have done this is the 'Institution' you set up yourself to sell your products. Did you award the title to yourself? Most web retailers do not call their founder a Professor. Puzzling.

You claim that your 'Institution' is "affiliated to the Open International University for Complementary medicine". Looking at the Open International University web site, it would appear that the sole function of this organisation is to organise a shin dig for various complementary therapists once a year. This university would appear to have no students, no lecturers, no premises and no courses. Puzzling.
You claim your bizarrely unique Dameship is for your 'contribution to medical research' and yet nothing appears to be published on this. You claim to be "the author of seven unpublished books". Why are they unpublished? Why hold back your knowledge from the world if it really is so important? How did the da Vinci Code people who gave you your Dameship know you had made a contribution to medical research?
On that note, how do you yourself know what you claim to be true? What experiments have you done? Where have you published your papers, Professor? I can find no mention of Phytobiophysics® on pubmed. Surely, you are not telling me that Phytobiophysics® has no independently peer-reviewed and published work in respected medical journals? Puzzling.
You claim that "unlike bacteria, viruses are electrical in nature – they interfere with the electrical field forces of the body". Those are all words in a gramatically correct sentence, but they appear to make no sense. Are you aware of viral theory? In what possible sense are viruses 'electrical in nature'? This looks like classical pseudo-scientific gibberish and as the black duck would say, you don't appear to know the meaning of the words. Is the consensus and well established view of viruses being either fragments of DNA or RNA wrapped in a protein caspid wrong? A nobel prize becons if you are in any sense right. Puzzling.
Why do the flowers have to be picked at the full moon? So you can see? Why not take a torch? Or even do it during daylight? What if it is cloudy? Deeply puzzled.
I could go on. But the depth of ridiculousness is far too much for one blog. Next time perhaps…
I will end on an odd observation. Diana Mossop (I shall drop the titles for now until I get my answers) claims to have helped supermodel Jodie Kidd through a bit of a crisis. Great. Good Stuff. But didn't my last suspect Professor, the Distinguished Provost of the Royal College of Alternative Medicine, Professor Joseph Chikelue Obi also have thing about supermodels, only this time Kate Moss?
What is it with supermodels? I must investigate…