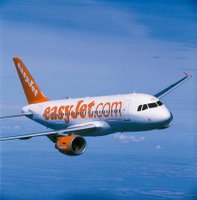 Le Canard Noir has a hectic international life, flitting around the world in luxury, from hotel to beach, from fine restaurants to top spas. And all I have to do is occasionally blog from wherever I can get WiFi access. Such are the benefits of being a Big Pharma shill. (Keep the cheques coming in – my stocks of champagne are getting low for Christmas).
However, yesterday was a little more mundane with a 4am foggy dash to Luton for the first easyJet flight to Edinburgh. A quick meeting there, and then back in the afternoon. So, in my caffeine starved, befuddled and yawning state, I had found myself flicking through the easyJet in-flight magazine. Something I usually avoid, but I was late and had to run past the magazine shop to board the plane. I was going to do my Xmas shopping in the duty free shop, but that will have to wait now til Saturday.
Now I was not expecting investigative journalism, insightful political analysis or even peer-reviewed papers. No, I would have been happy to read about some groovy bars in ski resorts, boutique hotels in city break destinations and even flick through the vanity surgery adverts and pictures of expensive villas in Mallorca (do I really need another one?) What I was confronted with was a shed load of quackery. Astonishing amounts for one small in-flight magazine.
Let me give you some highlights…
Top tips on avoiding a cold. Dubious vitamin C advice, superfoods (aarrrggh), and my real pet hate – drink at least 2 litres of water per day.
A new concept of 'Wine Therapy'. Apparently wine contains lots of essential 'pure essences' and 'natural ingredients'. A new spa has opened up to exploit the curative properties of wine – the Caudalie Vinotherapie Spa near Bilbao.
A review of the 'Bliss Energy Mask'. Some sort of facial stuff that has vitamin C and a 'shot of oxygen'. Marvelous.
Top tips for healthy skiing, including laying off the cheese (is that possible in the Haute Savoie?)
One of those standard 'Surviving Christmas' articles including great advice from a Boots the Chemist nutriquack and a reflexologist.
Stress relieving tips including taking herbal supplements and Bach Flower Remedies.
Hangover remedies from around the world – placing parsley on your head and eating marinated fish is the thing, apparently.
and my favourite,
The amazing benefits of inhaling copious amounts of smoke in an Estonian Smoke Sauna. Don't forget to thwack yourself with birch branches too.
So, is there any harm in this? Directly, I doubt it. At worst, a lot of the advice is pretty soulless and is just missing the point of having a good ski holiday or a weekend in a spa drinking wine. Even inhaling smoke in a sauna is unlikely to be that bad and the invigorating experience of the sauna is going to be stress relieving and fun. Indirectly though, the trotting out of old canards about drinking loads of water and the thinking that vitamins in cosmetics is a good idea, just adds to the noise of uncritical and lazy health advice in the media.
For me, what this represented was just the depressing reality of the mainstream acceptance of the views of reflexologists as being valuable, the acceptance of the pseudoscience of oxygen rich facial creams being unchallenged, and the need to subvert life affirming activities, such as skiing, spas and saunas with meaningless health advice.
It is just low cost journalism for a low cost airline. I guess with everything else on these low cost airlines, we mustn't grumble.