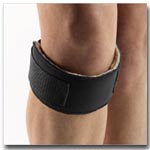 Today, the Office of Fair Trading has published its findings into a company that promotes the use of Magnetic Bandages for healing wounds and treating pain. According to the OFT press release,
Magnopulse Limited, a company which manufactures and sells magnetic therapy products for humans and animals, including leg wraps, back pads and neck wraps, pet collars and pet beds, has agreed to change its advertising following action by the OFT.
It looks like Magnopulse have been bad boys an girls by making claims about their products that really do not hold up, according to the OFT. And, it looks like Magnopulse do not agree with this finding. However, they have agreed a compromise with the OFT, and so Magnopulse adverts will change (just after the stock of old ones has run out). I guess the disagreement was over the evidence for the claims being made. After all, their web site is full of articles showing how effective magnetic bandages can be. Is this just down to an interpretation of evidence and an over-zealous regulator? Who is right here?
Now, as I have said many a time – the words 'magnet' and 'healing' do not belong together. Spotting these words near each other earns Canard points on the Quackometer. There is
plenty written on this subject
and I don't want to go over old ground. What caught my attention was the extent to which Magnopulse tried to publish 'research' on their web site. This obviously looks impressive and is a step up from the usual testimonials found on quack web sites. If this research is good then I will undoubtedly have to adjust the quackometer accordingly.
Let's look at one of the 'published' studies on the Magnopulse web site, Effects of 4Ulcercare on Leg Ulcer Recurrence and The Potential Cost Savings to The NHS.
How could the average person tell if this was good or bad research? At first pass, the results look quite interesting – a huge reduction in leg ulcers for people who have used the bandages.
But the reality is a lot more shaky. And in fact, there are a number of big give aways – and luckily, we don't have to get too technical, understand trial procedures in detail, or have a PhD in statistics.
First, how do we know that it was the bandage that caused the reduction in leg ulcers? There is no control group to see how people would do without magnetic bandages. This is fundamental. All experiments need a control of some sort. This has none. In fact, what is going in here is just a group of researchers ringing up customers and asking them if they feel OK and how their ulcers are ('Not too bad dear, mustn't grumble'). Were the patients receiving other treatments that might have cured them? We don't know. What if they had done nothing and just let them heal? Again, no idea. And so on.
Bizarrely, the study excludes people it rang up whose ulcers had not healed and then claims that "no subjects had ulcers that failed to heal or got worse whilst using the device". It should add of course, "apart from the ones we excluded because their ulcers did not heal." This is a bit like excluding all grey haired people and then claiming that magnetic bandages give your hair a natural rich colour.
The big giveaways are though that this 'paper' looks like a targeted mailshot to the NHS. It is concentrating on how much can be saved by buying these bandages. The paper is not published anywhere and ends with a URL of where you can buy the products. It is marketing.
Other studies have been published on the site and written up for journals. But it looks like their are some commonalities here in that the studies appear to all suffer from major methodological flaws which mean that it is impossible to draw conclusion from them. Even the NHS was compelled to issue a critical analysis in 2005 after several newspapers flaunted the companies products on the back of dodgy studies. (No prizes for guessing which paper…)
The writer of just about all these reports appears to be a Dr Nyjon Eccles BSc MBBS MRCP PhD. Nyjon runs a clinic in London that appears to offer all sorts of naturopathic and 'alternative' views on medicine.
Here is one example of Dr Nyjon Eccles fabulous pieces of pseudo-scientific, cancer-curing quackery:
LYMPH DETOXIFICATION – This is achieved by non-invasive scalar, oxygen-fed light beam therapy. This helps to detoxify the tissues by assisting the body in dissolving lymph blockages and restoring normal lymph flow using the Nobel quantum scalar technology coupled with oxygen for enhanced healing potential.
One has to ask why someone who promotes herbs for cancer patients, detoxification programmes, nutritional therapies and other dubious techniques is being used to look into the effectiveness of magnets in bandages? One possible explanation is that Dr Eccles may have 'alternative' standards of evidence and may not be quite so rigorous in his testing as would be expected, thus leading to good marketing material, even if the bandages are ineffective.
Now notice, I use the word 'may' in the above sentence. Dr Eccles may be a very thorough researcher with just one or two minor slips (we are all human). On the other hand, he may be thoroughly useless. For all I know, he may have two heads, and may be a baby murderer. And yes, I don't know for sure. I may just have unfounded suspicions.
'May' is a great word. And I am sure it the favourite word of Dr Eccles and all those at Magnopulse today. The Office of Fair Trading has allowed them to continue to advertise as long as they use this word in front of claims of effectiveness. For example,
The OFT's action was settled on the basis that Magnopulse Limited and its officers, Derek and Wendy Price, have given undertakings to the court that they will not make advertising claims stating or giving the impression that: magnetic products will produce a therapeutic effect for those who wear or use them (as opposed to saying that they may have such an effect and/or some trials have shown that there may be such an effect and/or some consumers have reported such an effect)
So, I wish I could get the quackometer to spot all these 'mays'. It is another good giveaway that something is not right with health claims. Magnopulse may go on making dubious claims and may continue to trade and may rip people off. I am rather left with the impression that the OFT may be a waste of space.