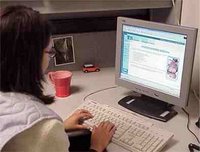 A press release today from the Economic and Social Research Council talks about recent research on how the public evaluates the information on health websites. The concluding message is simple:
When searching for health advice online, consumers often reject websites with high quality medical information in favour of those with a human touch.
This is not good news for NHS sites, drug company sites and other sites that might try to stick to the facts for whatever reason. Sites favoured by the subjects in this research were those that included stories from people with similar conditions who had used the particular advice or products, in other words, sites with lots of testimonials. The public quickly reject sites with adverts on, such as on drug company sites. This is in spite of the fact that the researchers found these sites to be quite reliable. This is not surprising considering how tightly regulated such companies are. Telling porkies when you are Big Bad Pharma often gets found out and costs millions.
More surprising is the rejection of NHS sites. Essentially, these were seen as being too boring. It looks like it is all about having plenty of personal stories on your site. You have to be more 'Hello!' and less 'Newsnight'.
The researchers were worried about the results of these findings,
"The tendency to particularly trust sites that contain contributions from like-minded peers could have dangerous effects on some groups of consumers, such as those with anorexia, by reinforcing unhealthy behaviour patterns",
explained Professor Briggs. I would add another concern. Relying on testimonials and anecdotes leaves the consumer defenseless in the face of quackery.
Professor Briggs has drawn up a set of guidelines for sites if they want to be noticed by consumers. These include the "use [of] engaging stories about people with similar experiences".
"The great strength of the Internet is that you can find people who have had the same problem that you have and see how they have coped with it – to forget about that, or to act as if it's not happening, is missing the point."
But that is exactly how quacks make their living. By relying on the unwary to believe the testimonials they have about their products.
Any quack can find testimonials. The mind-tricks behind the placebo effect and cognitive biases mean that it does not matter how stupid your proposed cure is, someone, somewhere will endorse it for you. If you can find one person to endorse it, then you can find many. In addition, most quacks can find a celebrity or two to add their testimony behind the product and really add to its credibility. Just look at today's top ten quack pages on the quackometer. You will find a testimonial rich environment and an evidence free zone.
If I were to compile a list of how to spot a quack web site, near the top would be "Look out for an over-reliance on testamonials". If reliable health advice sites were to adopt the same strategy, then this rule of thumb would be useless.
Spotting good websites is hard. Of course, having good references to independent and reputable peer-reviewed journals is important, but may be too difficult for most people to evaluate. Sense about Science, the UK charity, try to educate people, mainly journalists, on how to
spot good evidence
on sites. Maybe 'brands' like the NHS could make better use of showing more testamonials, but even the NHS can be seen to be endorsing
state-sponsored quackery
. High street brands like
Boots
and Holland and Barret are of course in league with the quack, selling all sorts of dodgy products. A real dilemma.
Of course, I would say that all you have to do is install the
quackometer toolbar button
in your browser. When you find yourself on a suspect website, hit the button and the quackometer will alert you to potential nonsense.
I wish it was that simple.