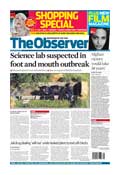 Denis Campbell, the sports journalist, who raked up MMR fears in the Observer and got it all horribly wrong, is now back on the health theme debunking various health fears that crop up in the papers.
I spat out my coffee when I saw this in the Observer. My contempt for the paper is growing.
Denis says,
It kills you; no, it does you good. Hang on, here's another report that says …

Denis Campbell looks at the muddled world of medical research. Office printers are as likely to give you cancer as smoking. Men who eat cauliflower or broccoli once a week have less chance of prostate problems. The biggest female binge drinkers are women in their forties, not teenagers and twentysomethings – at least in Cardiff.
And it was reported that sunshine is actually good for preventing breast cancer, then the common perception was that too much sun gave you skin cancer.

These were among many media reports last week detailing new medical or scientific research on key health issues. Some involve real breakthroughs, others are more questionable.
Poacher turned gamekeeper.
Campbell goes on to list a whole host of modern worries including mobiles, wifi, coffee, vitamin C and so on. He gets some stuff wrong, but let's not worry about the minor details, when Campbell is quite capable of generating real howlers.
Of course, what is most conspicuous by its absence is the press role in generating false fears about MMR and autism, and particularly this sports writer's role in those fears. This article is just barefaced cheek, hypocrisy and cowardice.
Campbell quotes,
'The public ends up very confused,' says Professor Jack Winkler, a sociologist of science at London Metropolitan University. 'Every week we are told about some new wonder ingredient in our diet that's different to the one we read about a year ago.'
Why not discuss your own role in this and the role of the press who consistently print 'leaked reports', do not care if a result has been peer reviewed, or is just a marketing press release? Why not discuss the way you distorted unpublished autism figures?
Campbell, isn't it about time you and your paper apologised for your own contribution to health scares? Its been a month now and your blatant mistakes have not yet seen an appropriate correction and apology.