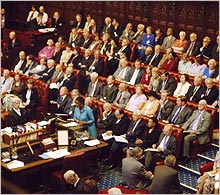 Homeopathy is under threat within the NHS. A good thing too. But homeopaths are mounting a campaign to help ensure our health service spends its money on voodoo. Some MPs are calling for a debate in parliament in support of homeopathy. You can find out if your MP is on the 'deluded list' here.
The Early Day Motion being signed by MPs says the following,
That this House welcomes the positive contribution made to the health of the nation by the NHS homeopathic hospitals; notes that some six million people use complementary treatments each year; believes that complementary medicine has the potential to offer clinically-effective and cost-effective solutions to common health problems faced by NHS patients, including chronic difficult to treat conditions such as musculoskeletal and other chronic pain, eczema, depression, anxiety and insomnia, allergy, chronic fatigue and irritable bowel syndrome; expresses concern that NHS cuts are threatening the future of these hospitals; and calls on the Government actively to support these valuable national assets.
Currently, there are 197 signatures. My guess is that most MPs have little idea about just how idiotic homeopathy is. My feeling most of them would sign to improve 'patient choice' and a because of a general low level support of 'complementary medicine' that might please a few constituents.
Why not write to your MP? If they are on the list, then ask them to withdraw their support. If they are not on the list, then ask them for their support in stopping NHS funded quackery. An easy place to start is here.
Here is my letter.
Dear Mr Vaizey,

As a constituent of yours, I was disappointed to see that you have added your name to EDM 1240 on "NHS Homeopathic Hospitals". I understand that the motion states that homeopathy can offer 'clinically-effective and cost-effective solutions to common health problems'. Whilst I am fully in favour of patient choice, I would draw your attention to why homeopathy has no place within the NHS.

Homeopathy could simply be dismissed out of hand on the basis of its utter implausibility. If you are unaware of the 'science' behind homeopathy it might surprise you to realise that homeopathic remedies are nothing but water/alcohol drops or sugar pills. There is no active ingredient in them. It is therefore not surprising to see that the best science so far shows homeopathy to be no better than a placebo.

Now, placebo benefits for minor ailments may be acceptable. But in order to achieve benefits, the practitioner must either lie to their patients or be deluded. Neither option gives 'choice' to the patient or is acceptable in a health service that is to offer patient-centric care and informed consent.

Homeopathic sugar pills may be safe, but the thinking that goes with it most definitely is not. Homeopathy undermines patient trust in real medicine and doctors by offering false alternatives. Homeopaths struggle to define boundaries in what they do as they do not accept scientific evidence as meaningful to them. This is witnessed in the forthcoming Society of Homeopaths symposium on homeopathy and AIDS to be held in London on the 1st of December. I am sure you are also aware of the BBC Newsnight investigation into the widespread practice of homeopaths giving dangerous advice to travellers about malaria prevention.

NHS support for homeopathy gives credibility to an irresponsible profession. I urge you to withdraw your name and to oppose the continuance of state sponsored quackery.

Yours sincerely,

Andy Lewis
I will let you know what I get back.