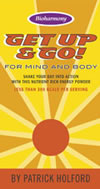 Bertrand Russel said,
What a man believes upon grossly insufficient evidence is an index into his desires — desires of which he himself is often unconscious. If a man is offered a fact which goes against his instincts, he will scrutinize it closely, and unless the evidence is overwhelming, he will refuse to believe it. If, on the other hand, he is offered something which affords a reason for acting in accordance to his instincts, he will accept it even on the slightest evidence. The origin of myths is explained in this way.
Myths are at the heart of what this site is about. Why do people prefer myths to reality? Why do myths persist in the face of obvious alternatives? It is therefore with great delight that I discovered two new sites about myths last week.
In a cosmic coincidence that would even make the hairs on the back of the neck of Rupert Sheldrake stand up, the first site to appear was called holfordmyths.org, and the a day or two later another site called holfordmyths.com. Spooky.
The first site appears to cover much the same ground as HolfordWatch but is not so much a blog but a brief description of problems seen in Holfords work. The second site is far more interesting. It points to one of Patrick Holford's sites and looks like it is attempting to correct the myths that he sees are out there about him.
But what is immediately obvious, is that the myths Patrick is trying to dispel bear no resemblance to any of the criticisms made against him – with the odd exception. Let's look at them in turn…
Myth: Patrick Holford has no qualifications
No one has ever accused Patrick of having no qualifications. What critics have said is that he has no relevant qualifications. Patrick has a 2:2 in Psychology and failed to complete a Masters degree. Upon this he has built a nutritionist empire.

Myth: Patrick awarded his own qualification in nutrition
It is well known that Patrick's only Nutrition qualification came from the very institution he set up – the Institute of Optimum Nutrition. On Patrick's site, he says, "Patrick was awarded his Diploma in Nutrition in 1998 by the Board of Trustees". Patrick says he ran ION from 1984 to 1998, so this award looks very much like a goodbye thank-you gift. All OK. But thanks to DCScience, we can see Patrick's recent CV says that he gained his DipION in 1995. DCScience points out more discrepancies on the CV.
UPADTE (16/1/08):
I have just realised that it is not just the CV that says that the DipION was awarded in 1995. Patrick's online
'About Me'
page says it too. It looks like the myths page is out of step with the rest of the story. What is even more intruiging is that
HolfordWatch
report that a book called 'Dirty Medicine' by Martin Walker reports that Patrick's DipION was being talked about as far back as 1989. Now, by the look of Walker's book, you might want to take anything in there with a pinch of salt. More myths just could well be created.
Myth: Anyone can call themselves a nutritional therapist
Patrick says that "The term 'nutritional therapist' is regulated by the voluntary professional organisation the British Association of Nutritional Therapy (BANT)." However, he fails to make clear that BANT are not a statutory body and have no authority to stop anyone calling themselves a nutritional therapist. You can read more about this on HolfordWatch.
Myth: Only dieticians and doctors are qualified to give diet advice
Again, he says, "The DipION foundation degree is a three year course which provides considerably more qualification to advise an individual about their nutritional needs than either a medical training or a dietetic training." This would be a hard claim to justify. Much of the DipION training is based on highly disputed views on nutrition that HolfordWatch explores regularly. If you are ill in hospital, it is the advice of dietician you will be given, not someone with a diploma from Patrick's college. Unlike a nutritional therapist, you can also be sure that a dietician will be struck off and loose their job if they give bad advice. They will not be able to practice again. Nutritional Therapists do not come with such a guarantee.
Myth: Patrick Holford is Dr Patrick Holford
No critic has accused Patrick of misusing the title 'Dr'. Some fawning journalist might have given him this title. However, this little bit of 'mythbusting' allows Patrick to remind us that he is now Professor Patrick Holford. This was quite a controversial appointment by the University of Teesside due to his mundane academic qualifications and minor published academic record. He has been asked by the University to describe himself as a Visiting Professor at the University of Teesside, in the School of Social Sciences and Law and to make sure he does not associate himself with nutrition or mental health, like he does here. You can read what the real Professor of Nutrition at Teesside has to think about this at DCScience.
Myth: Patrick Holford owns a vitamin company and/or is a vitamin salesman
This is quite an extraordinary one. He says, "Patrick Holford neither owns, nor has shares in any vitamin company", but fails to mention some huge facts. Patrick has always been associated with Vitamin sales. This year Patrick saw the entire issued share capital of Health Products for Life sold to NeutraHealth (BioCare) for £464,000. £200,000 of this is deferred until later this year depending on performance, no doubt. Patrick was appointed Head of Science and Education for the vitamin sales company. Patrick
has failed to
disclose interests
before about his interests in vitamin sales. Patrick may not work at the check out of Holland and Barrett, but just about everything he does is promoting in some way supplements and vitamins, whether it is books, web sites, talks and TV appearances. Have a look at Bioharmony, a South African vitamin company, and see how Patrick Holford is definately not a vitamin salesman.
Myth: Patrick believes that vitamin C cures AIDS
Patrick claims he has never said this and this has been done to death. See
Bad Science
for the gory details.
But just to remind you what Patrick really said, 'AZT, the first prescribable anti-HIV drug, is proving less effective than vitamin C'.
Myth: Patrick recommends eating oily fish three times a day!
Well, I have never claimed he does. It would be a rather dull diet.
True: Patrick opposes fortification of food with folic acid
That may well be. But his companies have sold much higher doses of folic acid in supplement form. It took a HolfordWatch post to ensure
Health Products for Life
provided appropriate warnings on their web site.
True: Two ASA rulings were upheld against 100% Health
Absolutely true. Patrick claims this is a blow against his freedom of speech. The ASA thought it was because he was
making
untruthful
and
unsubstantiated
claims
.
Myth: Pharmaceutical companies are looking after your health
This is perhaps the one area where Patrick's critics might find some common ground, but probably not in the way he thinks. Pharmaceutical companies are like all other companies. They are obliged by legislation to maximise a return to their shareholders above all other considerations. This may create unpleasant side effects in some of their activities. But in this, they are no different from any other publicly listed company. It is just that somehow we hold them to unreasonable higher standards because they are involved in health. It is our democratic laws that create these so called monsters. However, within such companies, I am sure there are thousands of people who do care deeply about creating better drugs for people that will improve and even save their lives, and will be working on modest wages with little recognition. Patrick, like many alternative medicine advocates, likes to conflate the misdeeds of pharmaceutical corporations with the programme of evidence-based medicine. In this he is spreading the biggest myths that we cannot trust our health care workers and the drugs that have proven to be effective. Patrick has co-authored a book called "Food Is Better Medicine Than Drugs". He is wrong and this is a myth. Food is food and drugs are drugs. Yes, diet can contribute to health, but vitamin pills and supplements are a very minor part of the answer to a good, long and healthy life.

Here we see Patrick's greatest mythologising: a reductionist and nutritional answer to life's most difficult issues. Poverty cannot be corrected with fish oil pills. Mental health issues need good medical care, not just a bag of vitamins. HIV is not going to be tackled with Vitamin C, no matter how much we wish this to be true.

I think I shall end with another Bertrand Russell quote about myths,
There is something feeble and a little contemptible about a man who cannot face the perils of life without the help of comfortable myths.
Nutritionism
is the comforting myth of our age. I wish Patrick would help dispel that myth.