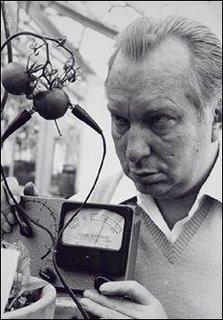 Here is an odd one. Why would Patrick Holford's Food for the Brain charity have associations with a Scientology linked organisation? His charity is working with schools to improve the 'mental health' of children. Should we be alarmed by this? What on earth has Scientology and Patrick got in common?
My last rather large post concentrated on the philosophy of Patrick Holford, Optimum Nutrition and Nutritional Therapy. I made a comment that "Optimum Nutrition has more in common with Scientology than science." I want to explore that thought a little more, because it highlights the similarities between the strange cult of L Ron Hubbard and the thinking of Nutritional Therapists. More worryingly, is how the Scientologists appear to have taken a significant interest in Patrick and his disciples, and how the two worlds overlap.
Now, most people know Scientology as a rather strange cult that appears successful in attracting Hollywood megastars to its fold. However, its religious status is disputed in many countries (it is not recognised it the UK) because it has a number of peculiarities that appear rather odd for a religion. It does not really have a concept of 'god' and has been described as a 'pay-as-you-go religion'. The more you give to the 'Church', the more it will reveal to you of its teachings about psychology, aliens and other sci-fi stuff. $100,000 gets you quite high up in the church hierarchy. It is as if the Church of England did not tell you about the resurrection until you had pretty much re-mortgaged your home. A tenner in the collection plate will give you teaser stories about talking snakes and whales swallowing people.
This wierdness is much more understandable when one looks at the history of the cult. Scientology did not really appear to start off as a religion at all, more of an alternative psychology. In the late forties, L Ron Hubbard, the founder and former science-fiction writer, published a book called "Dianetics: The Modern Science of Mental Health". Hubbard, like many people of the time, was shocked at what appeared to be the brutal practices of the psychiatric profession. The care of people who suffered from severe mental illnesses, such as schizophrenia, was at best, basic. Locked in asylums, rarely seen by a doctor, sufferers from mental illness were left in often appalling and inhumane conditions. Their desperate carers often turned to desperate measures to try to help, such as lobotomy and electric shock treatment, and often with terrible results. Abhorrence at such tragedy led Hubbard to conclude it was the psychiatrists themselves who were to blame and that mental illness was a product of other physical causes, rather than brain malfunctions. Dianetics is very much a product of the time with its emphasis on psychometric-like testing, 'scientific electropsychometers' with dials and flashing lights, psychoanalysis-like thinking, and a preference for lifestyle explanatory factors in illness, such as exercise and (importantly for us) nutrition. Dianetics was claimed as a cure for all sort of 'problems', such as schizophrenia, depression, atheism and homosexuality. Not only could these 'illnesses' be cured, but IQ could be raised by 50 points too. Only later did Dianetics start taking on religious qualities, and Scientology was born. By then the 'science' of Dianetics had turned into the unchanging and unchallengeable dogma of a new religion.
Now, as we have seen, Patrick also started out studying psychology, and also quickly became interested in how nutrition could help solve mental health problems. This conviction led Holford to set up his own Institute where he could train his followers and also set up his vitamin supplement businesses. L Ron Hubbard also got into the supplement business too, selling his own multivitamin which he called Dianazene, a mixture of iron and Vitamins C and large quantities of niacin. This concoction was supposed to drive out radiation from bodies and cure cancer. (The Cold War was setting in, and radiation was the scare; now we have mobile phones and Wi-Fi). Hubbard used the technique of a questionnaire to diagnose 'problems' that Dianetics could cure, an approach that survives as a major recruiting tool today for Scientologists. Patrick is also keen on the use of questionnaires to diagnose mental health problems and the required vitamin regime to solve problems on sites like Food for the Brain and its daughter site, the Brain Bio Centre.
Now, despite the philosophical similarities, it would be silly to say that there are not big differences between Holford and Hubbard. In particular, Hubbard went on to declare Dianetics a religion and to set up the Church of Scientology. It was a very profitable move; religions have certain tax-exempt statuses around the world. But, still at the core of the religion was a rabid hatred of psychiatrists and their methods. A principle recruitment technique was the promise of clearing psychological problems for recruits, to give them a higher IQ and a better life. The Church houses a museum of 'psychiatric crime' in L.A. called the Museum of Psychiatry: an Industry of Death. The Church preaches that allergies and vitamin deficiencies are a major component of causing mental health and that drugs are an evil inflicted upon patients.
Patrick has not set up a religion, but he does write books with titles like, 'Food is Better Medicine than Drugs', 'Optimum Nutrition for the Mind' and 'Mental Illness – Not All In The Mind'. He goes into schools to improve IQ's, rid children of mental health issues through providing allergy testing and food supplements, and betrays his dislike of mental health professionals by describing medication as 'mental straitjackets' in his emails to parents. This is not surprising as both Holford and Scientology rely on ideas from Orthomolecular Therapy and the research of people like Dr Carl Pfeiffer. Where Patrick differs most markedly is that he does not tell his followers that psychiatrists are aliens that were present at the dawn of time and have piloted space ships throughout the cosmos to destroy our souls. At least, I can't find reference to this on his website.
Now, if one is familiar with the techniques of Scientologists, you might think that nutritional therapists, who have been trained by Patrick's Institute of Optimum Nutrition, or people who have just bought into his books and ideas, might make rich pickings for church recruits. After all, no need to convince them that psychological problems can be cured by vitamins and that doctor's should be distrusted. There is at least one interesting documented case of this happening.
Melanie Herff was a German from Hamburg who studied Nutritional Therapy in London. She returned home to Germany, fresh with her diploma in hand, only to contacted by a group called Safe Harbor. This organisation runs a web site called alternativementalhealth.com which claims to be the 'world's largest site on non-drug approaches for mental health'. Its approach rang true for Melanie, and being so well qualified, she was quickly elected to the position of chairwoman of the local group.
However, Melanie started doing some research and 'became alarmed' at a few things. Melanie became worried that Safe Harbor was nothing but a front for Scientologists. Funding and supporting front organisations is a technique used to full extent by the Church. There are web sites out there dedicated to exposing suspect organisations. The approach is good for the Church, in that it can it expose people to its ideas without frightening them about evil spirits trapped in volcanoes, or something. Safe Harbor was set up by a very prominent Scientologist called Dan Stradford who apparently has reached the level of Operating Thetan – Level VIII. This is as high as it gets (unless you believe there are secret levels…) You have to have paid a lot of money to get that high up. It is archbishop level for Scientologists. You get to read the last part of Hubbard's science fiction. (Imagine if you had to pay over $100,000 to read the last Harry Potter book?)
So, Melanie left the group, a bit frightened by what she thought was going on. Scientology in Germany is very controversial. There have been lots of attempts to curtail their activity and limit their status. The Germans are understandably cautious, given their history, of semi-religious, irrational and secretive organisations. In the UK we appear to care a little less.
Now, what is not understandable is that Melanie has been back in the UK and has worked for an organisation with links to Safe Harbor. That organisation is none other than Patrick's charity, Food for the Brain. Melanie has been involved with the schools project, the initiative that Patrick has been promoting on Trevor MacDonald's TV programme. The Food for the Brain web site links to Safe Harbor and describes it as part of its Global Affiliations network. It is not clear what 'Global Affiliations' means. Is it just a link for further information, or is the affiliation deeper? Maybe Patrick and the charity trustees do not know about Safe Harbor's links with prominent Scientologists, even if one of his colleagues was so alarmed by this she apparently left the organisation.
But, what is even less understandable is that Patrick appears to have deeper ties to the organisation. On the Advisory Board page of the Safe Harbor site, the first name that appears is that of Patrick Holford. Maybe it is just the similarity of opinions on mental health that has lead him here, but one would have thought that a schools charity would not want to be associated with such a controversial organisation and that the charity would have done its homework.
It is maybe not surprising that Scientologists would endorse Patrick's thinking on vitamins, and even, he, theirs. Whilst avoiding the venomous hatred that Scientologists display towards mental health workers, Patrick's advice on sites like Food for the Brain is not exactly a ringing endorsement of the medical profession. His advice for conditions such as schizophrenia would be strongly disputed by doctors and has more in common with Scientologist 'Dr' Tom Cruise's advice to Brooke Shields over her depression. To talk about such a dangerous and destroying condition with advice about niacin and Vitamin B, without prominent and unequivocal instruction to follow the advice of your GP and other qualified medical professionals is an action that should be condemned. Mental illness kills. Even moderate problems can be very dangerous and make lives a misery. The teachers and governors who allow these messages to be taken into schools need to know that this advice is, at the very least, widely disputed.
Some Scientology front organisations are particularly violent in their hatred of psychiatrists. One in particular stands out, the bizarrely named Citizens Commission for Human Rights. The message of this group, explicitly funded and run by the Scientologists, is that giving drugs to people for mental health problems is a denial of their 'human rights'. The group spreads misinformation about the nature of psychiatric drugs, highlighting their side-effects and denying the benefits of such treatments. It promotes a Holford-like approach to recovery through exercise and nutrition and it accuses a whole profession of dastardly crimes including fraud and murder. The CCHR gives awards to people who are promoting its message, for example, to singer Isaac Hayes, the scientologist who quit South Park for their piss-taking about the cult.
It is therefore no surprise that the CCHR also says it has given an award to 'GMTV's nutrition expert Patrick Holford'.
So, should we be alarmed? Of course, Patrick does not appear to be a paid-up Zenu-loving OT-VIII Scientologist. But the messages he gives out are highly similar to the cult, and it does look like there is some mutual appreciation going on. As I commented previously, the message that mental health problems should be addressed through the wishful thinking of vitamin therapy is dangerous, and that badly behaved school children can be turned into little-angels though fish oil supplements is disputed and unproven. More worryingly, the idea that science and medicine should not be trusted and might even be malevolent forces in this world will lead to kids growing up with dangerous health delusions, and may even lead them into the arms of cult organisations.
The overall aims of the Food for the Brain charity should be encouraged – improve kids' school experiences and health through good nutrition. However, it appears to be seriously letting its mission down through failing to stick to sound science. The web site HolfordWatch is documenting many concerns. The charity has decisions to make. It should drop its links to questionable organisations and philosophies, give unequivocal support for mental health professionals, restart unscientific schools trials, forego needless and expensive supplements, abandon misleading allergy tests, and embrace mainstream diatary advice.
In short, make the choice: science or Scientology?