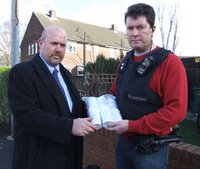 You know, I do not believe that most of the people that feature on this site are fraudsters. No, the truth is far worse than that – most homeopaths, reiki practitioners and herbalists actually believe what they say and that makes then particularly dangerous. But there are people whose motives are particularly hard to believe are just plain deluded. I fear 2008 is going to feature quite a number of more 'interesting' cases.
I have been keeping an eye on Andrew Harris and his site http://www.triamazon.com/ for six months or more. He also uses a site called http://www.thiskillscancer.com/. Apaprently, Triamazon is a,
NATURAL SCIENCE PROVEN SAFE NON-TOXIC product that is effective against many cancers and is also far superior to chemotherapy as it does not harm healthy cells.
Harris sells 'half a course' of 100 pills of Triamazon for about £250 a bottle from his home in Altrincham. He says,
Skeptics please see… The official independent "Research White Paper" on the proven effectiveness of selected Acetogenins, by clicking on this link below… http://www.iupac.org/publications/pac/2003/pdf/7502×0259.pdf
Clicking through to this paper reveals information about the synthesis of acetogenins. Nothing about clinical efficacy. The Alliance for Natural Health issued a warning saying that the pill was Graviola (Annona muricata). You can buy Graviola tubs for about £20 or less if you look.
Just about every day I have been getting Google alerts for triamazon as it has been advertised around the web on bulletin boards, chat rooms and in press releases. Typically, such messages say things like:
Andrew Harris an ex-cancer patient exposes the big pharma industry cover-up of a natural cancer killing miracle with astounding incriminating conclusive independent evidence available via a direct link to pubmed archives on his website. Andrew is the founder of www.thiskillscancer.com His strong entrepreneurial background in business, marketing, research and management is combined with his personal experiences in having gone through 14 lots of conventional toxic combination chemotherapy to actually surviving cancer through an alternative natural, non toxic, immune system boosting, cancer killing miracle.
Leaving aside the issue of whether triamazon can do anything for cancer, advertising cancer cures is illegal in the UK under the Cancer Act of 1939. Trading Standards are tasked with upholding this act and have been aware of Triamazon for many months now. Indeed, Andrew Harris has been aware of it too as his web site has, at times, appeared with a disclaimer that his site was intended for doctors only – an attempt to wriggle out of the Cancer Act's glare. It was not fooling anyone.
Yesterday, at 7.30 am a house in Sale was visited by Trading Standards, the MRHA and the Police and the raid seized 'quantities of an unregistered drug called Triamazon' and a 48 year old was arrested. The Medicines and Healthcare products Regulatory Agency (MHRA) have teamed up with police to take part in a number of dawn raids around the country as part of an 'Internet day of action'.
It has been slow, but it is good to see that existing legislation can deal with some of the worst sorts of quackery out there. Taking money from desperate and scared people in exchange for worthless pills, has to rank amongst some of the lowest scams imaginable.
If you see similar sorts of things on the web, the Consumer Direct site is a pretty good place to start.
*************************************************************************
The Mirror Now Cover this too:
Police swoop on cruel internet cancer "cure" pill conmen
*************************************************************************
Update. 10th September 2008