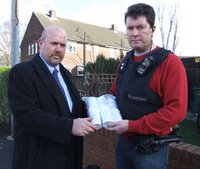 You may remember in January that I reported how dawn raids had been conducted on the house of a man selling a quack remedy called Triamazon. Well, today the BBC report that Andrew Harris of Sale, near Manchester, was 'convicted under the Cancer Act of 1939 of taking part in the publication of adverts offering to treat people for cancer.'
Triamazon appeared to be a fairly mundane herbal remedy, ordinarily costing a few quid, that Harris was repackaging and selling for £500 for a 'full course'  to desperate people with cancer. The Cancer Act of 1930 makes it illegal to make such claims or offer advice and treatment.
Most quackery is pretty harmless – taking money from the gullible. But peddling useless pills to the desperately ill, in my opinion, has to be the lowest form of quackery. For this offense, Harris was given a two year conditional discharge and ordered to pay £350 costs.
I am hardly a 'slam 'em away and throw away the key' sort of person, but I feel this is somewhat light. A conditional discharge means that Harris will not be punished unless he commits further crimes within two years. 
His web site is still up. However, a notice has now appeared saying,
Due to Legal Reasons This Site is Temporarily Unavailable
Pending an Appeal on Human Rights Issues.
If you would like to contact Andrew Harris Personally
Please Send him an Email at …
We apologise for any inconvenience caused.
Please re-visit us soon.

Clearly, Harris believes some sort of miscariage of justice has taken place and his human rights have been abused. Quite what rights have been trampled upon is not clear. Telephone numbers and email addresses are still on the site asking for people to contact him. The rest of the site is still up with all the old claims being made (see here). I am not a legal expert, but my best guess would be that this would be in breach of the conditions of discharge.
Adverts for Triamazon have been appearing all over the net in message boards and through free
press releases,
directing traffic to this site. Most of the claims about this product are still out there on the web. Funnily, shortly after I reported on the dawn raids, the same press release company hosted a number of threatening and libelous diatribes against me and this site. I also received an email and comments from someone claming to be Harris, saying "I will have a private investigator to locate you", and "you owe me a hug
[sic]
apology you are damaging my name and a good truthfull
[sic]
 business with your slader
[sic]
carry on and we will see what your actions will cause you to lose legally." Hardly prophetic words. I hope that no-one is tempted to repeat these sort of threats and menaces.
Also, I hope that the web site does not continue to trade given that this would surely be in breach of the conditions of discharge. That would just be plain foolish.
---
Update
The site has changed again. Harris is now pleading the following:
The MHRA (Medicines Healthcare Regulatory Authority) raided me and took Triamazon for testing back in February 2008.
My solicitor has exhausted every avenue in an attempt to get the results of the MHRA testing on Triamazon, even though I have a right under the freedom of information act, they will not hand over the test results also the MHRA have not issued any health concerns regarding Triamazon 8 months after the raid.

The complaints which were made were about me breaking the cancer act NOT about Triamazon as a product. I have customers who are going to call you to speak with you about how good Triamazon is.

…

I have been turned into a criminal for blowing the whistle and for helping people.


Speak to Keith Dyson Solicitor or better still speak with LOUISE BLACKWELL QC of Cobden House Chambers Manchester, she is working on this case as the cancer act 1939 violates the articles 9, 10 and 14 of the human rights act.

She will confirm that Triamazon is a viable therapy for cancer,

If my pills are worthless as stated then why am I not in jail for committing deception!
The Manchester Evening News reports an interview with Harris…
"I would like to see the drug made be available to all cancer patients and discrimination against alternative medicine ended. I have been branded a charlatan for no reason. The case has ruined my life."