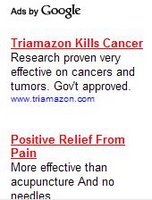 After yesterday's raids by the MHRA on suspect dodgy pill sellers and their 'Internet Day of Action', perhaps one of the largest profiteers from such schemes will get away with it.
Google has been quite happy to take money from triamazon.com to show adverts for the site and the hugely overpriced food supplement pretending to be a miracle cancer cure.
This is despite the fact that Google has a clear policy that it will not do such things. As part of its advertising terms it says that it will not take adverts for:
Miracle Cures
Advertising is not permitted for the promotion of miracle cures, such as 'Cure cancer overnight!'
Furthermore, by taking money for such adverts, Google will be in contravention of the Cancer Act of 1939 which says,
No person shall take any part in the publication of any advertisement—

containing an offer to treat any person for cancer, or to prescribe any remedy therefor, or to give any advice in connection with the treatment thereof
People do get prosecuted under the terms of this Act. Trading Standards have a duty to enforce it. However, as Trading Standards tend to be highly fragmented across local councils, none of them appear to want to take on the Google giant. I believe Westminster Trading Standards as their UK address is given as,
Google UK Ltd
Belgrave House
76 Buckingham Palace Road
London
SW1W 9TQ
United Kingdom
Phone: +44 (0)20-7031-3000
Fax: +44 (0)20-7031-3001
However, Westminster undoubtedly have many higher priorities making sure dodgy plumbers do not rip off senile old ladies who live on Buckingham Palace Road.
I have complained to Google before about similar issues and also to Trading Standards. Ignored, so far. Google should be policing their own noble 'do no evil' terms, and if they cannot they should be prosecuted where they flout the law. Perhaps the MHRA, as part of their Internet day of action, could tackle one of the largest advertisers on the web. Google has the power to make or break such companies. The MHRA ought to be concerned.