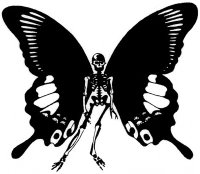 Watching the antics of quacks is funny and I hope some of that humour comes across on this blog. Sometimes, however, humour just appears to be so misplaced. Las Mariposas Clinic, in Torremolinos, Malaga, Spain, is a clinic that offers homeopathic and nutritional cures for cancer. They promise,
"Unique methods that induce the natural remission of cancer and other illnesses"
Nothing about this is likely to be funny. The clinic was brought to my attention by an email. Simon wrote,
A friend of mine recently passed-away from cancer. Unfortunately she had decided to turn away from conventional medicine and seek some alternative interventions.

She was a regular visitor to spain and heard from other expats about the "las Mariposas clinic in malaga. Like all other alternative"specialists" they took advantage of her desperation to live and said they could treat her. The hospital bills costs thousands and I am convinced they added to her suffering and pain.
So, a little investigation appeared to be entirely justified. The clinic has several English language web sites and appears to be well targeted at either the ex-pat community (half a million Brits in Spain). A directory web site tells us,
Their fee for cancer therapy and counseling is 10,000 Euros, which provides all homeopathic medicine that could be needed, consultation and treatment, HLB – high blood resolution analysis to allow them to tailor their approach to your specific endogenic (immune) status and hormonal needs, EAP (Electro-Acupuncture) treatment, and Dr. Budwig's protocol (They claim to be the only ones in the world to be trained and authorized by Dr. Johanna Budwig). This is a once in a life time payment. However, additional herbs, vitamins and minerals that are needed are not included in the consultation fee. Depending on the type of cancer and how advanced it is, it could cost an additional $200 to $300 the first month. The recommended stay is a minimum of two weeks.
So, what do you get for your 10,000 Euros?
Well, first of all, you are offered "very accurate diagnosis". Mariposas offers a number of techniques as they claim,
"One size fits all" is the approach that many take in treating death dealing cancer, almost everyone gets the same prescription. Not so at our clinic! Las Mariposas clinic takes into account that each human body is unique with its own set of DNA and its own particular level of endogenic defenses. No two people are alike when it comes to personality and the same is often true of our state of health and in how our body reacts to different therapies.
To gain this unique diagnosis, the clinic says it uses a number of techniques. The first is,
HLB (High-Resolution Blood) analysis. What is HLB? Well, most laboratories will magnify a blood sample up to 1,200 times and then work with these results. However by using a HLB microscope we are able to magnify a fresh and a dry blood sample up to 18,000 times its normal size.
Wow. If they have achieved optical magnifications of 18,000 times then they have made the most significant breakthrough in optical microscopy ever. Diffraction in microscopes optical systems limit resolutions to approximately 1,500 times. Secondly, they apply a microscopy technique called 'Dark Field Analysis' which removes background light from the image. How all this improved diagnosis is not made clear. The 'Enderlin' technique has at least one paper written on it that concludes,
Dark field micoroscopy does not seem to reliably detect the presence of cancer. Clinical use of the method can therefore not be recommended until future studies are conducted.
This all sounds like a lot of pseudoscience designed to impress prospective customers. Just to confirm this, they also say that they apply "Energetic Frequency Testing" which involves homeopathy and 'holistic kinesiology' to improve diagnosis. I can't help feeling they are making it up as they go along.
So, when you have your improved diagnosis, what do Mariposas do with you? It's a right ragbag of ideas…
drinking water to ensure the urine is transparent
consuming 'celtic sea salt'
daily infrared saunas to remove 'toxins' – the root of all disease
EFT to 'erase and neutralize past emotional upsets and trauma'
homeopathic cancer treatment – homeopathic snake venom – a 'natural' chemotherapy.
homeopathic antibiotics, anti viral and anti fungal medicines
a diet of flaxseed oil and cottage cheese
A masterful portfolio of quackery, if ever I have seen one. There is too much going on in this clinic to tackle it all in one blog post.
Who is behind this clinic? There are no names on the web sites – something that ought to set off alarm bells. If this clinic was operating in Britain, it would undoubtedly be breaking the law. Being in Spain, and offering an English language service, nicely sidesteps this troublesome issue. Malaga is a short £40 flight away. What is also most noticeable is that the way in which homeopathy is described would flout the conduct codes of most homeopathic registrars in the UK. Now I know, they do not enforce their code of conducts, but neither do organisations like the Society of Homeopaths speak out and warn people about the dangers of such clinics. Their complicit silence is damning.
I asked Simon, the original correspondant, what he knew. He said,
The director of the clinic is a Dr Raymond Hilu. My friend consulted with this guy over a few months and he regularly told her that he had never lost a patient.
Hilu is difficult to track down. A number of other names crop up. The cottage cheese diet ideas appear to originate from a Dr. Johanna Budwig of Germany who appears to offer her own cancer curing protocol and be associated with the clinic.
How do people fall for this? I guess it is difficult to know how you would respond if you had a life threatening illness and that your doctors were struggling to manage it and may even be telling you that your choices are limited. To see a glimmer of hope in people who tell you that there are more 'natural and better' ways of dealing with serious illness, must be compelling. Hope is so important. If all that stands in your way of saving your own life is 10,000 Euros then it must appear to be very cheap.
And the Mariposas clinic does offer a money back guarantee. How could you go wrong? I asked Simon what he thought about this guarantee,
I don't think either my friend, or the family, requested any money back. For several reasons I suppose: my friend died, the family just wanted to move on, the family didn't know their legal rights regarding getting money back etc…

As I indicated in my original email, until directly observing the experience of my friend I didn't realise how unscrupulous and dangerous these people are. The clinic has been operating for a number of years…they simply must know their treatments don't work.
It is also likely that if conventional treatment is also been followed, then any remission, temporary or not, will be seen as proof that the clinic is doing what it says it can do. And as the web site contains no terms and conditions to this offer, it would have to be taken with a pinch of salt. Who would actually decide if an improvement had been made? The persons GP? The Mariposa Clinic. I am sure we can guess.
I shall leave the last words to Simon,
I have always regarded alternative medicine as, by and large, quackery. However, I did not think they did that much damage. This view has now changed.

Andy, I have learned a lot from this experience. That people's desperation leads them to try anything and that alternative therapists abuse this despair for financial gain. The most important lesson is that I now firmly believe that doctors, nurses and consultants could do a much better job when they are counselling patients who are diagnosed as terminal. Granted doctors, nurses and consultants cannot offer hope as the alternative therapists can, but they could communicate how such treatments have no scientific support and are ineffective. Most importantly they should communicate that alternative treatments more often than not place an unnecessary monetary burden on patients and their family…
Yes, and this would be much easier if homeopaths and their ilk did not routinely undermine the authority and respect due to the medical profession. Their shrill shrieks that homeopaths do no harm is just not tenable.
*************************************************************************
Update: 10 October 2009
It would appear that the clinic is now trading as the 'Budwig Center'. Same thing. Different name.