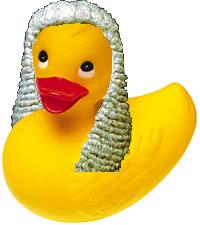 Hot on the heals of New Zealand Chiropractors trying to silence David Colquhoun and the The New Zealand Medical Journal, we learn today in the Telegraph that the British Chiropractic Association has issued a writ against Simon Singh for an article he wrote in the Guardian entitled Beware the Spinal Trap. 'Dr' Antoni Jakubowski of the BCA said that this was not a decision they were taking lightly. If justice is forthcoming, it will be a decision they regret.
The original article is no loner available on the Guardian site, but here are some excerpts that so offended the chiropractors.
This is Chiropractic Awareness Week. So let's be aware. How about some awareness that may prevent harm and help you make truly informed choices? Some practitioners claim it is a cure-all but research suggests chiropractic therapy can be lethal.
First, you might be surprised to know that the founder of chiropractic therapy, Daniel David Palmer, wrote that, "99% of all diseases are caused by displaced vertebrae". In the 1860s, Palmer began to develop his theory that the spine was involved in almost every illness because the spinal cord connects the brain to the rest of the body. Therefore any misalignment could cause a problem in distant parts of the body.

You might think that modern chiropractors restrict themselves to treating back problems, but in fact they still possess some quite wacky ideas. The fundamentalists argue that they can cure anything. And even the more moderate chiropractors have ideas above their station. The British Chiropractic Association claims that their members can help treat children with colic, sleeping and feeding problems, frequent ear infections, asthma and prolonged crying, even though there is not a jot of evidence. This organisation is the respectable face of the chiropractic profession and yet it happily promotes bogus treatments.

But what about chiropractic in the context of treating back problems? Manipulating the spine can cure some problems, but results are mixed. To be fair, conventional approaches, such as physiotherapy, also struggle to treat back problems with any consistency. Nevertheless, conventional therapy is still preferable because of the serious dangers associated with chiropractic
I will leave you with one message for Chiropractic Awareness Week – if spinal manipulation were a drug with such serious adverse effects and so little demonstrable benefit, then it would almost certainly have been taken off the market.
There is nothing here that cannot be defended by evidence or is fair opinion. The chiropractors will not want you to know that they are peddling useless therapies based on ridiculous pseudoscience and all with the risk of serious injury to you.
This is a disgrace and I hope it backfires massively and is the start of the end of this massive fraud on the public.
*******************************************************************************
This is going to be big. The story is being covered in…
The full original article can now be found on this Russian server (Thanks, Svetlana)
http://svetlana14s.narod.ru/Simon_Singhs_silenced_paper.html
and Gimpy's fuller analysis with references for each claim…

a day at the pharmacy blog covers it too now.