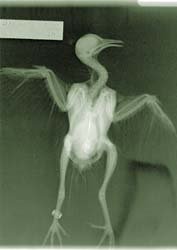 Chiropractors have an air of respectability about them. They style themselves, 'Doctor'. They wear white coats and have brass plaques outside their offices with lots of letters after their name. My friends look at be puzzled when I say they are quacks. But that is what the evidence says. Their practice is founded on strange ideas about mysterious things called 'subluxions' and pseudoscientific beliefs in 'inate intelligence' running through our nerves and bones. We think of chiropractors as being for bad backs, but their founding beliefs state that cracking bones can be a panacea. You will still find chiropractors claiming treatments for all sorts of weird and wonderful things.
The evidence for the effectiveness of chiropractic is not good. What evidence does exist suggests it is just another placebo treatment. It might work for lower back pain – but probably no more than a couple of paracetamol. And the risks of bone cracking can be quite severe with deaths reported by stroke. More minor adverse reactions appear to be quite common.
In the UK, chiropractors can thank their regulated status for much of their standing and freedom from ridicule that other quackery attracts – like homeopathy. Chiropractors are statutorily regulated. You need to be registered to call yourself one. You can even call yourself Doctor as long as you do not imply that you are medically trained – but that is hard. Brass plaques. White coats. X-ray machines. My best guess is that most people think of chiropractic as a branch of medicine. It is not. It is quackery and a business.
Some times though we see them for their true colours. The New Zealand Medical Journal has just been threatened by a law suite for publishing research into how chiropractors (mis)represent themselves to the public by using the title 'Dr'. Professor David Colquhoun wrote an editorial that put chiropractic deception into a wider context of their education and business practices. The response of the New Zealand Chiropractic Association was to get their lawyer to threaten to sue. The Medical Association has responded admirably by calling their bluff and asking for their evidence that what was being said is not true. "Let's hear your evidence not your legal muscle."
That is how it should be. As Ben Goldacre has responded, the real medical world is full of self-criticism – often very harsh. The way to respond is with science and argument – not with lawyers. Legal threats are a business technique, not the actions of medical practitioners. They expose their true self by calling their lawyers.
As Professor Colquhoun notes, since the invention of chiropractic, their business acumen has been sharper than their scientific and medical expertise. Consultancies on how to grow your bone crunching businesses are rife in the US. As Rose Shapiro notes, its all about building "high-volume, subluxation-based, cash-driven, lifetime family wellness practices."
In the UK, we have similar chiropractors-turned-business gurus too. 'Dr' Terry Chimes, ex drummer with the Clash, is perhaps the highest profile. This year he has launched his 'Chiropractic Heaven' consultancy. Chimes promises to tell you the 'The Secrets of the World's Most Successful Chiropractors'. He does this over 120 weekly modules – all brimming with 'golden nuggets of wisdom '. And he claims to be able to 'Quadruple Your Practice in a Matter of Months. . . Ethically'.
Not all chiropractic business skills could claim to be ethical. Occasionally, the General Chiropractic Council of the UK is embarrassed enough to step in. In one case, a chiropractor was found to have "abused the trust of his patients, and coercing them, through alarmist scare tactics, into excessively protracted and unjustified treatment plans". Chiropractic lends itself to such approaches: it deals with long term chronic conditions, such as back ache, uses mysterious and unverifiable X-ray diagnostic techniques to alarm customers, and recommends long courses of treatments. The chiropractor in question was accused of using unjustified courses of X-rays and misrepresented the gravity of the customer's condition. The chiropractor was removed from the chiropractic register, but simply re-invented himself as a 'osteomyologist' – a sort of renegade and unregulated chiropractor in all but name.
It is amazing that all chiropractors cannot be charged with using unjustified X-rays. Since, their bone crunching cannot be showed to be medically effective, X-rays cannot be medically justified, and so applications of X-rays are in direct contravention of IR(ME)R regulations which demands medical justification for all exposures. One has to wonder how chiropractors get away with X-raying patients. One factor must be is that statutory regulation of chiropractors directly lead to their inclusion in the list of health workers who were allowed to refer for X-ray. Not that means that their referral is likely to be justified.
Such are the perils of regulating nonsense.