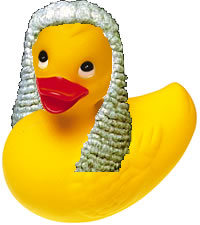 People who work in public healthcare, or are involved with the promotion of health practitioners or techniques, do not have an absolute right to a reputation. It is most important that the claims, behaviours and results achieved are subject to the highest levels of public scrutiny. It is only in doing so that we can be confident that our healthcare providers are doing more good than harm. In pursuing that scrutiny, some reputations may rise and some may fall. The reputational cost to a few is a price worth paying for better healthcare for all.
The English law of defamation would disagree with me though. The law allowed the British Chiropractic Association to bring a libel case against the science writer Simon Singh for suggesting in the Guardian that many of the techniques they promoted were 'bogus' – that is, not based on a sound scientific footing and lacking credible evidence. Most people would have caved and apologised. It is not rational to defend a libel claim in the UK, as the economic considerations will mean that you will almost certainly lose a shed load of money – win the case, or not. But Simon Singh did not make an economic decision – he made a principled decision – that what he wrote was defendable, important and in the public interest. The BCA did not count on attacking a principled man – with money to defend those principles.
Two years later, and hundreds of thousands of pounds spent on lawyers, the BCA have now dropped their case. They state that this is for economic reasons, "to avoid further legal costs being incurred by either side". However, they acknowledge that Singh was given a very reasonable way of defending himself in this case that would meant it would be unlikely the BCA would win.
But in dropping the case, the BCA are still insisting that they have been defamed and that they would still have a strong case if they chose to appeal. They are even claiming that they have been 'vindicated'.
This is absurd and demonstrates the irresponsible and unthinking nature of the BCA.
I cannot see how the current leadership of the BCA are in any position now to take chiropractic forward.
They claim in their press release that "The BCA takes seriously its duty and responsibilities to members and to chiropractic patients." This precisely what they are not doing. In their attempt to defend their reputation, their members and their customers are the very people who have been ignored and let down, with disastrous consequences.
Simon Singh made a very simple allegation: he stated that the BCA were happily promoting treatments for children and babies for which there was not a jot of evidence. If this claim was true then the BCA were involved in activities that could be seriously detrimental to public health. The BCA chose not to defend their approach to chiropractic but instead decided to sue the writer, knowing the outcome would almost certainly be his bankruptcy. Their chiropractic patients were never featured in their response – and they still are not.
The BCA would appear to wish to carry on as if they have been involved in legal error – not of their making – and nothing else. They have been the unfortunate victims of a byzantine legal process. But this is of course absurd. The BCA had many chances to restore its reputation – most notably by taking up the offer to publish their own account of their reasons for promoting chiropractic for children in the Guardian. But they did not. They could also have simply ignored the minor comment piece in the Guardian. Instead, their actions look like the deliberate attempt to punish a critic of their trade who has written books and spoken publicly about the shortcomings of chiropractors. Confident of an early victory, I am sure they felt that this would sent a message to people not to write about chiropractic in less than glowing terms. For this, they have been resoundedly and quite rightly condemned.
In failing to achieve their aims, they have now ensured many more people do not see chiropractic as just a small branch of the medical profession that looks after backs, but as a bizarre, cult-like pseudomedical trade who make spurious healing claims with little regard to evidence. Their reputation has been trashed. However, not all chiropractors can be characterised as medical know-nothing chancers. There are many who would appear to value the move towards evidence based medicine and want to work with other medical colleagues on the mutual basis of good evidence and responsible practice. The BCA are letting these chiropractors down badly.
Instead of trying to spin this defeat into what it is not, the BCA should be trying to repair the profession that now sees about a third of its members under professional investigation by the regulating authorities for making unsupportable claims. I cannot see how the current leadership of the BCA are in any position now to take chiropractic forward. If the leadership care about the reputation of their members they should resign and make way for new hands who are committed to evidence-based chiropractic, no matter how limited their scope of practice may then turn out to be. This is the only approach that is in the best interests of chiropractic customers. Any other path will simply be seen as either the protectionist practices of a guild of unscrupulous charlatans.
The reputation of the BCA is now worth nothing. But the wellbeing of their customers is well worth defending. Only new chiropractic leadership can ensure that the interests of their paying customers are placed at the heart of their trade and help steer reasonable chiropractors through the regulatory mess that the current incumbents have got themselves into.
************************************************************************************************
And on a personal note to Simon. We both became fathers three weeks ago. I believe our babies were born 10 hours and 23 minutes apart. I am sure that you are finding this is a time of great wonder. With the collapse of this case, I hope the only lost sleep you are now getting is when little Hari decides to complain about something. Far better than the back quacks complaining. Well done on this case. You are a true superstar.