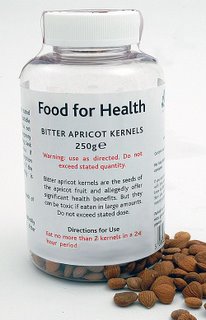 So. Today. I had a quite jaw dropping conversation in my local branch of Julian Graves. For my American readers, Julian Graves is a shop that sells large bags of nuts, seeds, dried fruit, food ingredients and confectionery. I quite like them. Low on packaging, low on branding, and excellent value for money for kitchen basics. And they are not too puritanical in their outlook. You can buy enough liquorice allsorts, for a couple of pounds, to make a family of six sick.
But passing their window, I see a big stack of jars (pictured left) on offer at half price for £3.49, containing a quarter of a kilogram of bitter apricot kernels. The label contains a dire warning not to eat more than 2 in 24 hours. How odd! Now, some spices are not good for you if you eat large amounts: nutmeg springs to mind. But these kernels are not a spice. What are they selling this for? It hardly looks edible to me.
So, I walk in and as the shop assistant what these bitter apricot kernels were for. She responded straight away, "They are good for some sorts of cancer". OMFG!
Is that all? Apparently, yes. They are not food – they are far too bitter to eat. What is more, the disclaimer is there because they produce amounts of cyanide when eaten. Eat too many at one go and it will be your last visit to Julian Graves and that is not too good for repeat sales.
I am not too sure about the legality of this conversation. The Cancer Act of 1939 says "No person shall take any part in the publication of any advertisement containing an offer to treat any person for cancer, or to prescribe any remedy therefor, or to give any advice in connection with the treatment thereof." As this was a conversation, maybe it falls outside this act. I return home and check on the Julian Graves website about what they say. It is worth repeating their page in full…
You have been requesting them in your hundreds and now they are available online and in stores.

We are the first UK retailer to sell this controversial product which many people believe may offer significant health benefits.

The kernels, seeds of the apricot fruit, are one of the highest sources of vitamin B17 – also known as laetrile -which, it is alleged, may help protect the immune system.

But the kernels have a very bitter aftertaste and can be toxic if eaten in large amounts. Yet, as more data becomes available – particularly on the net – about the benefits of vitamin B17, people will probably be willing to accept the bitter taste in the belief that these kernels may help maintain their health.

But it's important to stress that – to date – no medical or scientific research has been carried out on the kernels so their 'perceived' benefits cannot be proven in any way.

As a responsible retailer, we do not make any claims about the product's 'alleged' powers. All we can do is make them available and ensure the potential problem of eating too many in one go is highlighted.

We strongly recommend that if people want to know more about bitter apricot kernels and vitamin B17, they should go online and do their own research.
They end with the statement,
If you firmly believe in the power of bitter apricot kernels, we would love to hear from you. Please email us at [email protected]
Staggering stuff.
Where do we start? The most obvious thing is that there is no such thing as vitamin B17. A vitamin is a nutrient that the body requires in tiny amounts. B17 is sometimes called laetrile. This compound was called Vitamin B17 by an Ernst T. Krebs who claimed it was a vitamin, mostly so that it could be sold as a food supplement and avoid medicine laws. He claimed cancer was caused by a lack of 'B17'. Laetrile is pretty big stuff in the USA with many alternative medicine hucksters offering it in one form another. The web is chockablock with misinformation and wild claims about the stuff. This makes the Julian Graves request to " should go online and do their own research" pretty despicable.
What do reliable resources say about laetrile? The Cochrane Review says,
RESULTS: No RCTs or non-RCTs were found, so no abstraction of outcome data could be performed in this systematic review AUTHORS' CONCLUSIONS: The claim that Laetrile has beneficial effects for cancer patients is not supported by data
from controlled clinical trials.
Bandolier at Oxford come to a similar conclusion,
The bottom line is that there is no conclusive evidence of efficacy, but considerable evidence of toxicity, especially that associated with cyanide poisoning.
Cancer Research UK give warnings to cancer sufferers,
Your doctor may tell you that there are no further conventional cancer treatments available that could cure your cancer. But treatments to control your symptoms are still possible. The news that your cancer can't be cured is very difficult to accept. And in this situation, many people consider alternative therapies, including laetrile.

There isn't enough proof that laetrile is an effective treatment for cancer or any other disease. Most of the websites promoting laetrile base their claims on unsupported opinions and anecdotal evidence.
Their web site is full of sensible advice on this quackery.
Julian Graves have previously got into trouble over selling apricot kernels. The Food Standards Agency stepped in previously to stop their sale as there was no warning that eating only a small handful could potentially be fatal. The Daily Mail reported,
The chain pulled them in line with FSA advice but would start selling them again with a revised dosage recommendation if the food watchdog gave it permission to do so.
Has the FSA allowed them to sell this dangerous and useless product? The product is not just dangerous because of the cyanide poisoning thing, but it allows desperate people to engage with dangerous web healing fantasies. There is no other use for this product and Julian Graves appears to be happy to assist.
A few weeks ago Julian Graves was acquired by American pharmaceutical company NBTY after troubled Icelandic conglomerate Baugur sold them on. Their CEO, Scott Rudolph, said,
The acquisition of Julian Graves is an integral part of NBTY's strategic plan to enhance its position as the number one supplement retailer in the UK and gain geater market share. We continue to seek acquisitions which generate growth and further entrench NBTY as the worldwide leader in the nutritional supplement industry.
Julian Graves has not really been big on 'health' supplements up til now. NBTY already own Holland and Barrett and GNC in the UK. They dominate the industry of useless pills that trade of web rumours for their effectiveness. A few dayas ago I speculated they might be interested in troubled UK supplement pill pushers Neutrahealth. I think we can be expecting to see a lot more irresponsible supplement nonsense in the shop that used to sell chocolate covered banana chips.
*******************************************************************************
Follow up
We hear back from JG about how they justify the sale of this poisonous fruit food waste cancer quackery cure:
Julian Graves' Mendacious Defence of Cancer Quackery
Northern Doctor writes about what eating apricot kernels can do to you.